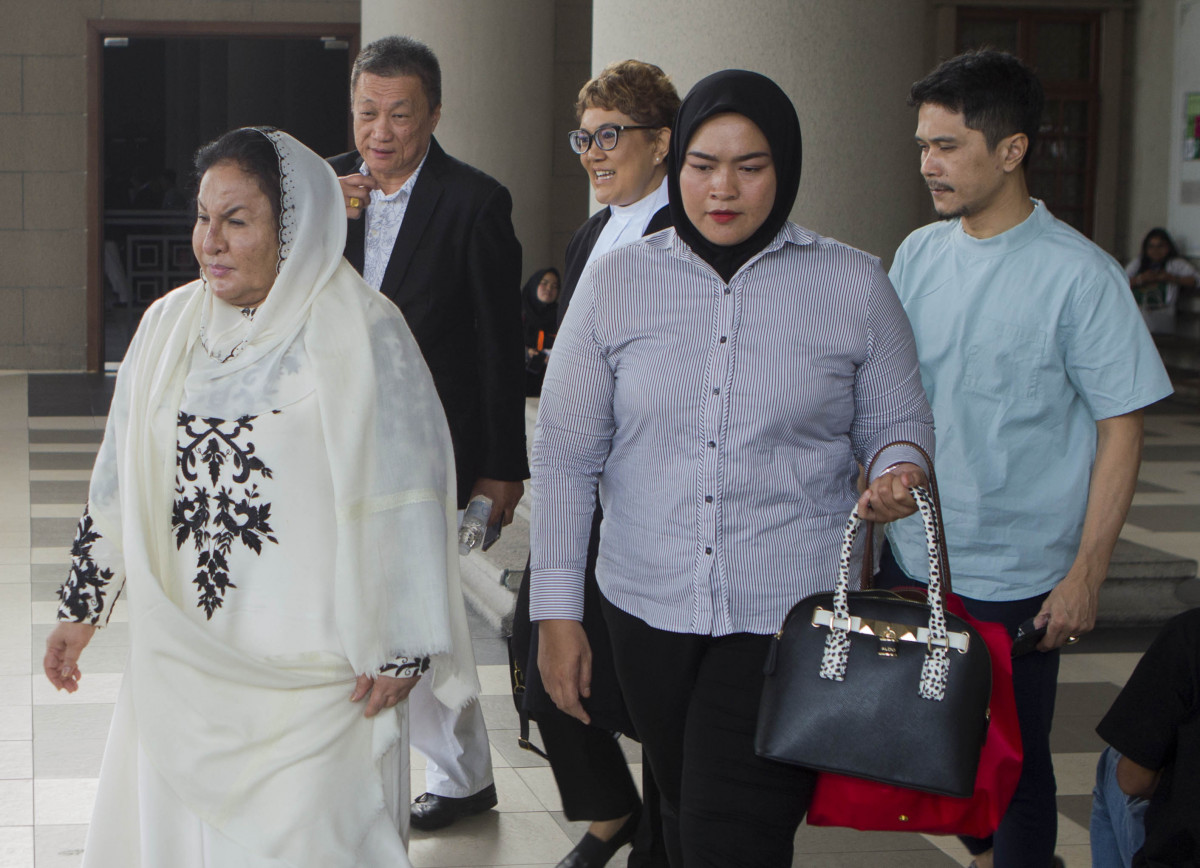 KUALA LUMPUR (May 10): Lawyers representing Datin Seri Rosmah Mansor claimed today that a legal provision that requires their client to declare her assets before her trial for 17 counts of money laundering is heard, is unconstitutional.
This, they argued in the High Court, is because it infringes the right of former premier Datuk Seri Najib Razak's wife to a fair trial and the right for her to remain silent.
Rosmah's legal team, led by Manjeet Singh Dhillon and including Rajivan Nambiar, Reza Rahim, Datuk K Kumaraendran and Datuk Geethan Ram Vincent, said their client is innocent until proven guilty and should not be subject to such moves by the prosecution.
They said Sections 49(1)(a) and 49(3) of the Anti-Money Laundering, Anti-Terrorism Financing and Proceeds from Unlawful Activities 2001 (AMLATFPUA) that compels her to reveal or disclose her movable and immovable assets, which may expose her to criminal charges if there is no compliance, amounts to a violation of her rights.
"Our clients have the right to remain silent and the privilege of self-incrimination. This section cannot take the fundamental right away under Article 5(1) and Article 8 of the Federal Constitution as the court can decide to strike down that particular provision or section if they find the law to be unconstitutional," they said.
"The applicant has the right to remain silent after she is being cautioned. That is her right which cannot be infringed on. There is her right to remain silent and a right not to incriminate herself," the lawyers added.
Failure for Rosmah to abide with the notice that was issued to her under Sections 49 (1) (a) and 49 (3) would subject her to face a maximum fine of RM3 million or five years jail, or both, if she did not comply in giving the list within 30 days.
Rajivan further said that Rosmah's defence could be prejudiced if she is to comply with the notice as she had already been charged.
It was reported on March 8 that the lawyers filed a notice of motion to strike out the notice issued on Rosmah late last year after she was charged, as it violated her constitutional right and amounted to a fishing expedition by the prosecution before the trial starts.
Her defence has managed to extend the 30-day requirement by filing this notice of motion.
Requirement is at pre-trial stage
Former Federal Court judge Datuk Seri Gopal Sri Ram, who is appointed to lead the prosecution along with DPP Datuk Dusuki Mokhtar, said Section 49 is a pre-trial requirement and hence it does not infringe the former premier's wife's rights of having a fair trial.
Sri Ram said the provision under Section 49 empowers notice to be given to her to disclose her assets and source of funding of the assets when there is reasonable suspicion that there is violation for money laundering.
"The public prosecutor is entitled to issue the notice asking the accused to make the disclosure of all properties she owns and the source she used to purchase all the properties that she owns.
"This is a pre-trial requirement as the trial has yet to start and this is still under the investigation stage," the former Federal Court judge said.
He added that in the course of investigation the authorities can ask an accused person to make the disclosure, especially in money laundering cases.
"The AMLATFPUA is a special law to combat money laundering which is international in nature. Only the person in possession of the property will have the personal knowledge over what the property is and the source of the fund to make the purchases," Sri Ram said.
He further said Article 5(1) on her right to a fair trial does not come to play here as this is a pre-trial stage and investigators are entitled to do anything within their means to gain information before the start of the trial.
As for Section 49, Sri Ram said it is not discriminatory as it is a proportionate response to the harm (money laundering) that it seeks to address.
The former judge further told the court that the defence has not shown any circumstances how the law is said to be unconstitutional and hence their notice of motion should be dismissed.
Justice Mohamed Zaini Mazlan fixed May 24 to deliver his decision. On that day, the court would also hear the prosecution's application for a joint trial in this money laundering case with the graft charges that Rosmah is facing in the solar project case.
Rosmah had claimed trial to 17 counts of money laundering and failing to declare her income, involving more than RM7 million, to the Inland Revenue Board.
She also faces two counts of receiving bribes totalling RM1.5 million in the implementation of a project to supply and install solar energy at 369 rural schools in Sarawak two years ago, which she had also claimed trial.
Earlier today, the prosecution amended one of her graft case at the Sessions Court to change the venue of the alleged offence from her private residence in Langgak Duta to the then prime minister's official residence in Putrajaya.