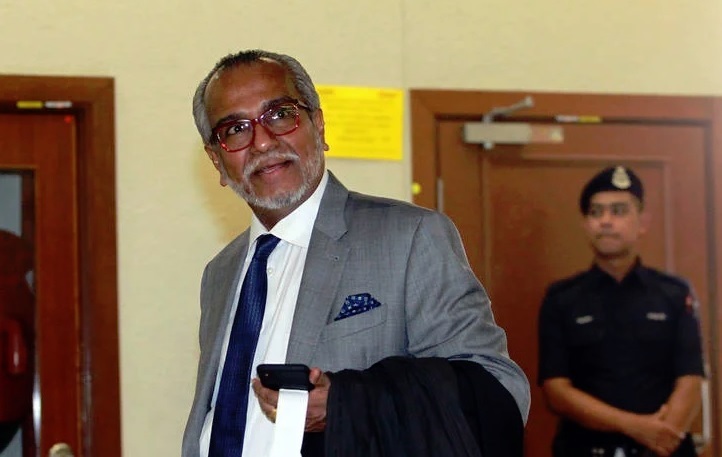 KUALA LUMPUR (May 17): Senior lawyer Tan Sri Muhammad Shafee Abdullah (pictured) told the High Court here today that the defence in Datuk Seri Najib Razak's RM27 million money laundering case involving SRC International Sdn Bhd is considering striking out the three charges.
Muhammad Shafee informed Justice Mohamed Zaini Mazlan that they are seriously considering the matter as the trial dates for the case was fixed today.
"This case, there is no predicate offence in these set of charges and we are considering to strike out these charges," Muhammad Shafee told the court, adding that if this is done, they will file a proper application.
A predicate offence is a crime that is a component of a more serious crime or in other words the main charge.
Deputy public prosecutor (DPP) Budiman Lutfi Mohamed, who appeared with DPP Mohd Ashrof Adrin Kamarul and DPP Muhammad Izzat Fauzan, said they will address the striking out application when it is filed.
"Can the court now fix the trial dates," Budiman said.
As a result, Justice Zaini fixed June 2 to 4, June 9 to 11, June 15 to 18, June 23 to 25 next year as the trial dates.
Initially, the prosecution in Najib's SRC case wanted the three charges to be tried together with the former premier's seven other charges involving RM42 million in SRC but the plan had to be removed.
This is due to procedural matter as the Pekan MP was first charged in the RM27 million SRC money laundering case at the High Court and not the lower court.
As a result, the three charges were withdrawn and Najib was formerly charged at the Sessions Court on Feb 7, and the case was later transferred to the High Court.
He is charged with three counts of money laundering involving RM27 million, which he is alleged to have received at AmIslamic Bank Bhd's Jalan Raja Chulan branch on July 8, 2014.
Najib is accused of committing the offences at AmIslamic Bank Bhd, Bangunan AmBank Group, No 55, Jalan Raja Chulan, on July 8, 2014.
Besides this, Najib, who was formerly Barisan Nasional chairman, is presently facing trial on seven other charges comprising three for money laundering, three for criminal breach of trust and one for abuse of power with regard to the RM42 million of SRC funds.
Najib is accused of committing the offences between Dec 26, 2014 and Feb 10, 2015.