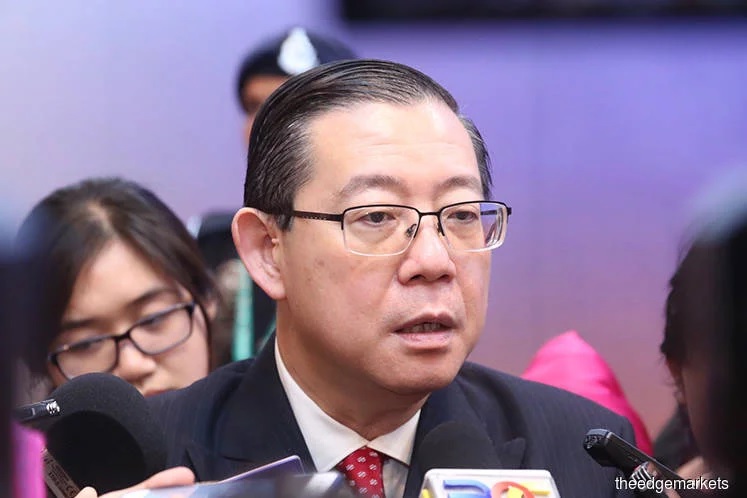 KUALA LUMPUR (May 17): Finance Minister Lim Guan Eng sees Malaysia's first quarter 2019 (1Q19) gross domestic product (GDP) on-year growth of 4.5% as a "positive sign for the future" because the figures had beaten market forecast.
"If we look at the first quarter, it seems a bit slower because it is the beginning of the year. But the 1Q19 GDP (growth) has exceeded the expectations of international and private financial funds, the consensus of which stood at about 4.3%," Lim told reporters after the Securities Commission Fintech Roundtable session here today.
"It seems that foreign investors are not influenced by certain reports that are not very positive, investors are still seen investing more compared with the previous quarters. We are also confused about the increasing number of foreign investors," Lim said.
As Malaysia's 1Q19 GDP growth exceeded expectations of international funds, Lim describes the growth as "impressive". He said the 1Q19 GDP growth could have been better, if not for production supply shocks.
"It is not because of the market, but because of unfortunate incidents that has happened," he said.
With the ongoing US-China trade tension, which is seen having downside risk impact on the Malaysian economy, Lim said Malaysia wants to avoid being caught in the middle of the trade war between the world's two largest economies.
"The first thing that we want to do is not be caught in the middle. We also want to offer ourselves as a safe haven, which is acceptable to both China and the US, and that we must also be able to inspire confidence that we can deliver," he said.
He noted that investments have been coming into Malaysia as a result of having a neutral stance. As such, banks should be more forward-looking to help the economy grow further, according to him.
Lim said the government hopes banks can play their part by allowing more lending, not only for first-time homebuyers, but also for businesses.
"I believe that they (banks) can do so much more and by not doing it, they are not playing or maximising their role in order to make sure that the economy will move at a sustainable pace," he said.