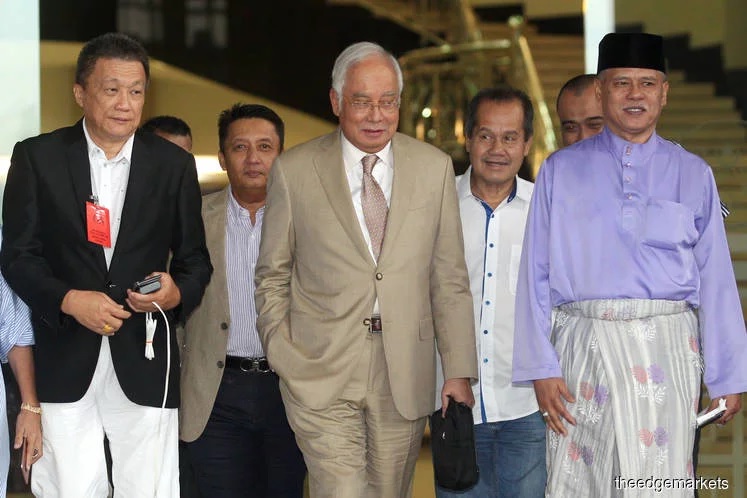 KUALA LUMPUR (May 17): The prosecution in former premier Datuk Seri Najib Razak's SRC International Sdn Bhd trial says it will be calling in 40 more witnesses to testify in the upcoming days of the proceedings.
During case management today, High Court judge Mohd Nazlan Mohd Ghazali had set dates starting from end-May till mid-August for the trial.
"So how many days in total? Did anyone bother to keep track?" asked the judge.
"I think in this case, the number of days is not the issue. How long the witnesses will take will determine the length of the trial," responded DPP Datuk V Sithambaram.
"How many more witnesses? Any indication?" asked Justice Mohd Nazlan.
"We foresee about 40 more witnesses," said Sithambaram.
The remaining dates for the proceedings this month will be on May 28 and 29.
The trial will then continue right after the Hari Raya Aidilfitri break from June 10 to 14, although the proceedings on June 14 will be only for the first half of the day, as it is a Friday.
Proceedings will continue the following week from June 17 to 20, with a half-day proceeding on Friday, June 21.
The half-day suggestion was proposed by Sithambaram, as he said it foregoes the need to find more replacement dates for the two Fridays.
Although Najib's lead counsel Tan Sri Muhammad Shafee Abdullah said he already had other matters to attend to on the two Fridays, he agreed to the dates.
"I will need to rearrange my schedule, but that's fine," said the lawyer.
In the following month, the trial will be from July 1 to July 3 and then from July 8 to Aug 15, except for Fridays.
Najib is facing a total of seven charges for the SRC trial — three for money laundering, one for abuse of power and three for criminal breach of trust — relating to RM42 million of funds of the former 1Malaysia Development Bhd (1MDB) subsidiary.