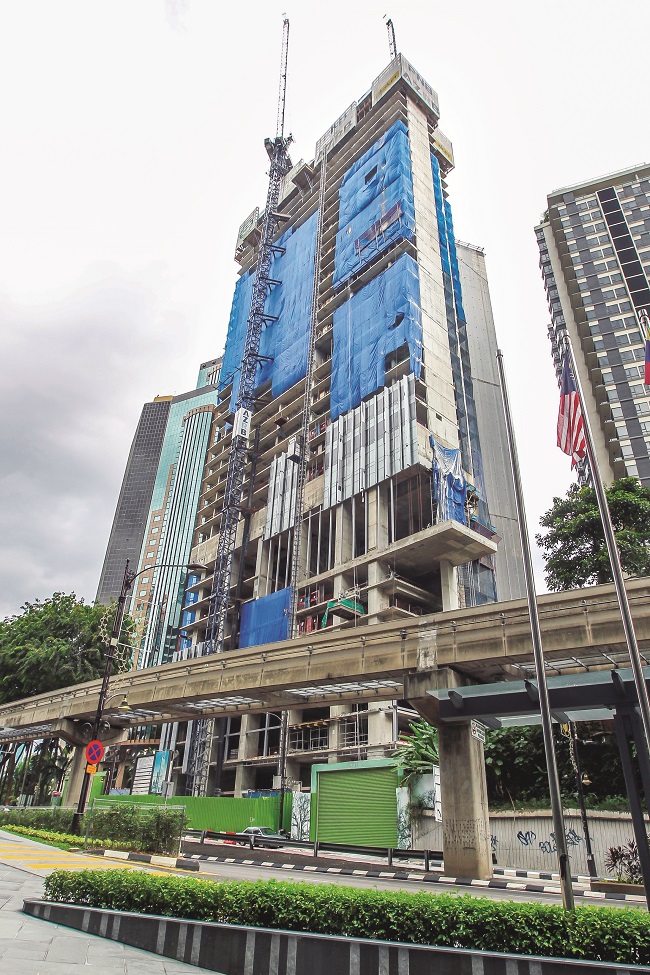 KUALA LUMPUR (May 18): After a 13-year delay, PNB Project 1194 redevelopment is expected to be completed in two years.
According to reports, the redeveloped former Malaysian Airline System Bhd HQ along Jalan Sultan Ismail here will comprise a 35-storey office block and 50-storey hotel, and to be linked via an elevated walkway to the Kenanga building across the road.
"Given the unique and complex nature of the redevelopment, the project requires careful planning and detailed enhancements as well as improvements to the infrastructure.
"This includes strengthening work for the foundations and relocation of the main distribution substation, as well as changes to the layout pertaining to the floor construction and M&E (mechanical and electrical) installation," PNB executive vice-president for property and real estate Rizal Rickman Ramli told The Edge Malaysia.
"Despite the extensive refurbishment work required, the project is progressing well and is already 45% completed.
"The redevelopment consists of two towers — a new 50-storey hotel rated platinum by the Green Building Index that will have more than 450 rooms, and a refurbished 35-storey Grade A office building that will cost around RM1 billion.
"The project has significant potential, given its strategic location in Kuala Lumpur's central business district," he explained.
Rizal also told the weekly that PNB will appoint a "reputable international hotel management company" to run the hotel.
"We signed a branding and management agreement with the hotel operator under a five-star luxury brand on May 25. An official signing ceremony is expected to take place soon and the details will be announced in due course," he said.
The weekly also reported that "industry sources" say the operator is a US-based hospitality chain "that will introduce a new brand to Malaysia".
According to reports, 2006, PNB paid RM130 million back in 2006 for MAS' former 35-storey office building within the Golden Triangle.
Two years later, PNB revealed plans to redevelop the building into a hotel and serviced apartments.
As for linking via an elevated walkway PNB Project 1194 to the Kenanga building across the road, Rizal told the business publication that: "We see a great deal of synergy in linking the buildings, more so as much of central KL is already connected in this manner. Hence, by linking the current redevelopment to the Kenanga building via an elevated pedestrian walkway/link bridge, we will be able to unlock further value of the redevelopment."
The proposed elevated walkway will be extended to the KLCC-Pavilion link bridge in Jalan Perak.