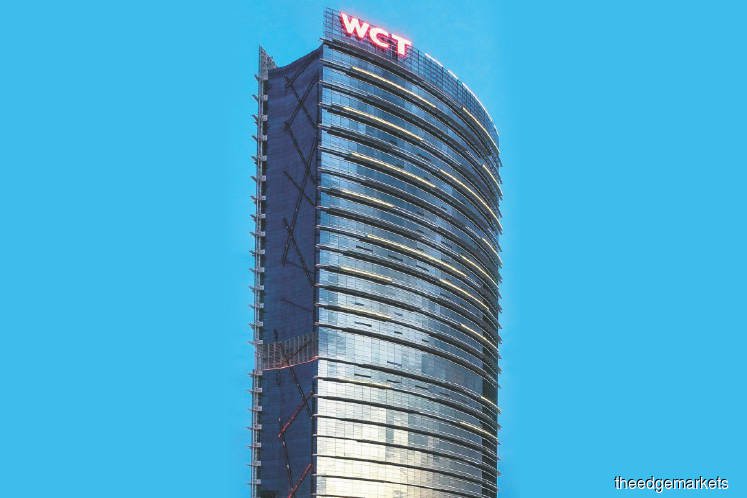 KUALA LUMPUR (May 27): WCT Holdings Bhd's (WCT) net profit rose 8.8% to RM40.32 million in the first quarter ended March 31, 2019 (1QFY19) from RM37.06 million a year ago on stronger contribution from property development and property investment and management segments, despite a fall in revenue.
Quarterly revenue fell 4.66% to RM514.65 million from RM539.79 million a year ago, mainly due to lower revenue recognition from its engineering and construction segment.
Its earnings per share for 1QFY19 was higher at 2.92 sen compared with 2.62 sen for 1QFY18.
In a filing with Bursa Malaysia today, WCT said its engineering and construction segment, which accounted for 73% of the group's consolidated revenue, recorded lower revenue of RM378 million compared with RM446 million in the preceding year's corresponding quarter as well as lower operating profit of RM33 million from RM59 million.
"The lower revenue recognition is mainly due to some of the existing projects which are nearing completion and the newly secured jobs which are still in early stages of construction," said WCT.
"The lower operating profit is mainly attributable to lower expected margins from the groups' on-going construction projects and a higher proportion of building construction projects with relatively lower margin vis-a-vis the infrastructure related jobs," it added.
Meanwhile, the property development and property investment and management segments represented about 17% and 10% of the group's consolidated revenue.
For its property development segment, WCT said the segment's revenue grew to RM85 million from RM56 million in the preceding year corresponding period while operating profit increased to RM37 million from RM9 million, thanks to higher revenue and profit arising from the sale of an undeveloped piece of land which was completed during the quarter under review.
Meanwhile, WCT said its property investment and management segment also reported higher revenue of RM52 million from RM38 million in the preceding year corresponding quarter, while operating profit also rose to RM27 million from RM16 million, mainly attributed to improved occupancy level of Paradigm Mall in Johor Baru and higher rental income from Bukit Tinggi Shopping Mall in Klang.
In a separate statement, WCT group managing director Datuk Lee Tuck Fook said the group's performance for the current year-to-date is in line with their expectations amidst the prevailing challenging market conditions.
"In 2019, subject to market conditions, our property development division plans to launch new property projects which would better cater to the consumer demand for more affordable residential units as well as continue our efforts to reduce our unsold properties and idle land banks.
"Our property investment and management division aims to continue improving the occupancy level and tenancy mix as well as enhancing our investment properties to stay relevant amidst the changing consumer behaviour and spending patterns. This division is expected to contribute positively to the Group's revenue and profit," he added.
WCT shares closed 1.5 sen or 1.62% lower at 91 sen today, with 341,500 of shares traded, giving it a market capitalisation of RM1.26 billion.