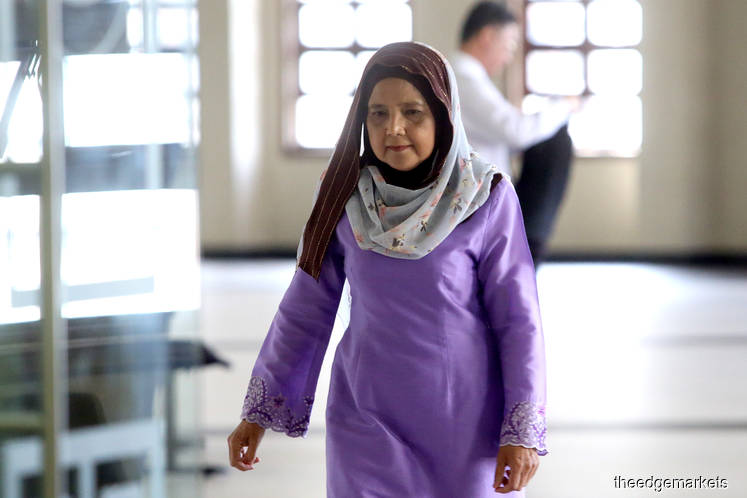 KUALA LUMPUR (May 28): Kumpulan Wang Persaraan (Diperbadankan) (KWAP) former chief executive officer Datuk Azian Mohd Noh (pictured) told the High Court here of her meeting with Datuk Seri Najib Razak's principal private secretary, the late Datuk Azlin Alias, at a hotel in KL Sentral sometime in June 2011 regarding the loan sought by SRC International Sdn Bhd.
Azian, who is the prosecution's 38th witness, told the court presided by Justice Mohd Nazlan Mohd Ghazali that she was asked to meet Azlin, whom she had known for two years prior to 2011.
"There, Azlin gave me a letter which was signed by SRC director Nik Faisal Ariff Kamil dated June 3, 2011 [addressed] to Najib seeking for a loan of RM3.95 billion.
"Azlin told me that Najib had agreed with the proposal by SRC, where the letter was addressed to him and referred to a note made by Najib on the letter," she said.
Azian said in the SRC letter, Najib had made a note dated June 5, 2011 on the letter agreeing for SRC to be given a loan and wanted KWAP to consider lending funds to the company.
"When Najib as PM says he is agreeable to the proposal, [it] means that he is agreeable for KWAP to give the loan to SRC," the former CEO added.
When asked by deputy public prosecutor Datuk Ishak Mohd Yusoff, the witness agreed that SRC's application did not meet KWAP's requirement as SRC should have made the application to KWAP and not through Najib, who was then the prime minister and the finance minister.
DPP Ishak: You say the application must be submitted to KWAP, so does this letter meet [the requirements of] KWAP's investment policy?
Azian: Yes, it does not meet the requirement as it is not addressed to KWAP. Based on the procedure, it does not meet the requirements as it does not meet KWAP's criteria [where the application has to be made to KWAP].
Earlier, the witness testified that for a company to obtain approval for loans from the fund, their application had to be made directly to KWAP with supporting documents, or a working paper for the fund to consider.
As testified by KWAP's former assistant vice-president Amirul Imran Ahmat, SRC did not provide much supporting documents with the loan application.
Despite this, Azian said she took the letter back to her office the next day and showed it to KWAP chairperson Tan Sri Dr Wan Abdul Aziz Wan Abdullah, who then informed her that he was aware of the matter as he had been told by Najib himself.
"I was asked by Abdul Aziz to study the proposal for consideration to be brought to the KWAP's investment panel for approval," the witness said.
The witness repeated what the previous KWAP witnesses had testified, that they felt that SRC should not be given the loan as there were no supporting documents on its loan application, and initially a loan of RM1 billion was offered, which became RM2 billion after Najib said the quantum was sufficient compared to the RM3.95 billion that it initially sought.
After much discussion, several investment papers drafted and SRC secured a government guarantee, Azian said KWAP agreed to give the first loan of RM2 billion on Aug 26, 2011 after an agreement was signed.
She said the then Second Finance Minister Datuk Seri Ahmad Husni Hanadzlah signed the agreed government guarantee for the loan.
As with other witnesses, Azian also testified that SRC sought an additional RM2 billion loan again from KWAP when Najib again gave his blessings and subsequently the loan was approved on March 27, 2012, when the facility agreement and government guarantee was signed.
"I signed the agreement on behalf of KWAP while SRC director Datuk Suboh Md Yassin signed on behalf of SRC for KWAP to give SRC a general investment loan and working capital," she said.
Azian will continue with her examination-in-chief testimony tomorrow.