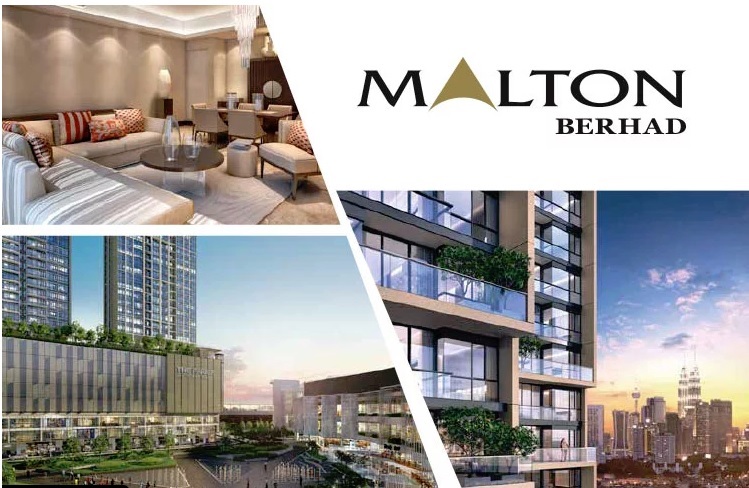 KUALA LUMPUR (May 29): Malton Bhd is disposing a 49% stake in Pavilion Bukit Jalil Mall, which is currently under construction, to raise money to complete the massive development in the southern part of Kuala Lumpur.
Under the fund-raising exercise, Malton's controlling shareholder Tan Sri Desmond Lim Siew Choon and Qatar Investment Authority will inject fresh capital of RM277.25 million and RM406.7 million respectively through subscription of redeemable preference shares (RPS) in Regal Path Sdn Bhd, which will acquire a 49% stake in Pavilion Bukit Jalil Mall from Malton.
In a late announcement to Bursa Malaysia yesterday, Malton said it had entered into a share sale agreement with Regal Path to sell its 49% stake for RM1.48 billion cash.
Subsequently, Malton's wholly-owned unit Khuan Choo Realty Sdn Bhd and Jelang Tegas, a company controlled by Lim, will both subscribe to new ordinary shares in Amberstraits. Khuan Choo will own a 51% stake and Lim's Jelang Tegas a 49% stake in Amberstraits that wholly owns Regal Path.
To raise RM830 million to fund the development costs, Regal Path will then issue RPS to Malton's Khuan Choo, Lim and QIA's wholly-owned unit QPBJ Sdn Bhd.
QPBJ will subscribe to RM406.7 million worth of RPS. On top of that, Regal Path will issue RCP-B to Khuan Choo Realty Sdn Bhd (RM215.8 million) and Jelang Tegas Sdn Bhd (RM207.5 million) in proportion to their respective equity shareholdings in Amberstraits.
Furthermore, Regal Path will issue RPS-C to QPBJ for RM14,000 and RPS-D to Khuan Choo for about RM72.6 million, plus RPS-D to Jelang Tugas for RM69.75 million.
Malton said the proposed disposal will allow the group to immediately unlock the potential value and monetise its investment in the development of the Pavilion Bukit Jalil Mall.
Malton said the cash proceeds received from the proposed disposal is envisaged to alleviate the financial burden of the group moving forward vis-à-vis completing the development entirely with the group's own financial resources.
It added that the cash proceeds received from the stake sale is expected to facilitate the completion of the Pavilion Bukit Jalil Mall without any delay to the group's expected completion date of March 2021.
In a nutshell, upon completion of the stake sale, Malton's Khuan Choo and Lim will own a 49% and 51% stake respectively in Regal Path that holds a 49% stake in Pavilion Bukit Jalil Mall. Meanwhile, Malton will still have the majority 51% stake in the development.
As for QIA, its unit QPBJ will be the redeemable preference shareholder of Regal Path.
In accordance to the Regal Path subscription Agreement, QPBJ has the option to convert all the RPS-A into ordinary shares pursuant to the reinvestment option and the mandatory redemption, which will result in QPBJ holding approximately 49% of equity interest in Regal Path and Malton's equity interest in Regal Path will be diluted to approximately 26%, while Lim 25%.
In a separate filing, Malton's net profit for the third financial quarter ended March 31, 2019 (3QFY19) fell 10% year-on-year to RM6.01 million from RM6.68 million mainly on higher finance costs and taxation, despite higher revenue.
Malton attributed the higher finance costs to adoption on the International Financial Reporting Standard Interpretation Committee (IFRSIC) conclusion pursuant to the Agenda Decision 4 (AD4), whereby the finance costs in relation to the construction totaling RM13.8 million had been charged out to the income statement.
Its quarterly revenue was 9.35% higher at RM193.89 million against RM177.31 million a year ago.
For the cumulative nine months ended March 31,2019 (9MFY19), Malton's net profit plunged 78.56% to RM12.49 million from RM58.25 million in 9MFY18 despite it recording higher revenue of RM604.76 million compared with RM544.15 million.
Shares of Malton closed unchanged at 53.5 sen on Tuesday, valuing it at a market capitalisation of RM282.56 million. It saw some 753,100 shares changing hands.