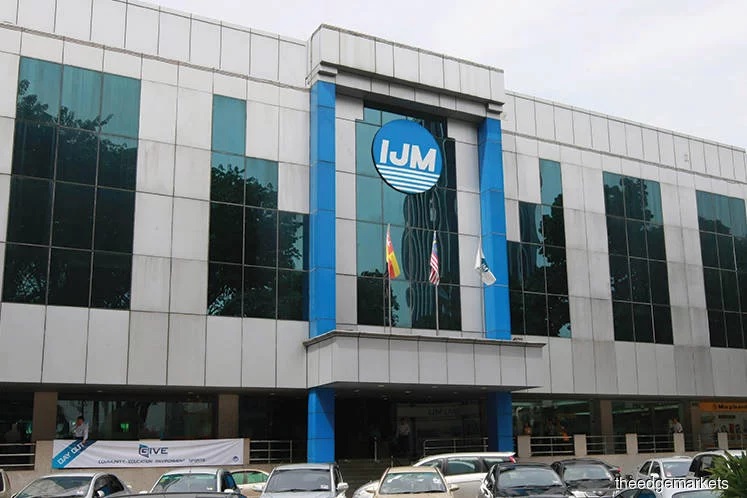 KUALA LUMPUR (May 30): IJM Corp Bhd closed its financial year 2019 with a 13 times jump in quarterly earnings on significantly stronger contributions in almost all divisions — in particular infrastructure — except investments and others.
The group's net profit for the fourth quarter ended March 31, 2019 (4QFY19) jumped to RM240.81 million from RM17.86 million a year ago, as its infrastructure division swung to a pre-tax profit of RM171.44 million from a pre-tax loss of RM19.53 million previously, on improved contributions from its local tolls and port concessions, with its investment in a toll concession in Argentina also boosting the division.
Its strong 4Q was also boosted by better earnings from its property development, construction, manufacturing and quarrying, and plantation divisions.
This has resulted in higher earnings per share of 6.64 sen for 4QFY19 versus 0.49 sen in 4QFY18.
Its income statement showed quarterly revenue rose 2.9% to RM1.39 billion from RM1.36 billion a year ago. Notably, it recorded RM111.79 million in share of profit from associates, versus a loss of RM25.81 million previously.
IJM Corp declared a second interim dividend of 2 sen per share, to be paid on July 19, bringing the total payout for the year to 4 sen from 6 sen last year, its stock exchange filing showed.
For its full FY19 ended March 31, IJM Corp's net profit grew 20.85% to RM418.92 million from RM346.65 million in FY18, lifted by its property development and infrastructure divisions, despite revenue retreating 5.2% to RM5.66 billion from RM5.97 billion.
Going forward, it expects its construction division to perform satisfactorily, based on an outstanding order book of RM7.8 billion, underpinned by the expected implementation of ongoing projects.
While it expects the domestic property market to remain challenging, it said its property development division will remain steadfast in growing its business and maintain a satisfactory performance in the coming year. The division has unbilled sales of about RM2.1 billion now.
It expects its industry division to also maintain its performance despite the competitive operating environment locally and abroad, though its plantation division will face a challenging year due to prevailing low commodity prices and volatile foreign exchange rates amid continued cost pressures from wage increases and higher cost of fertilisers and fuel.
As for its toll and port operations, the group said they are expected to provide recurrent revenue streams as existing concessions mature, which will further enhance its infrastructure earnings.
Having said that, given what it described as a "constantly changing business environment", the group expects the coming financial year to continue to be challenging.
Shares of IJM Corp rose six sen or 3.08% to close RM2.01 yesterday, bringing it a market capitalisation of RM7.29 billion. The counter saw some 6.5 million shares changed hands.