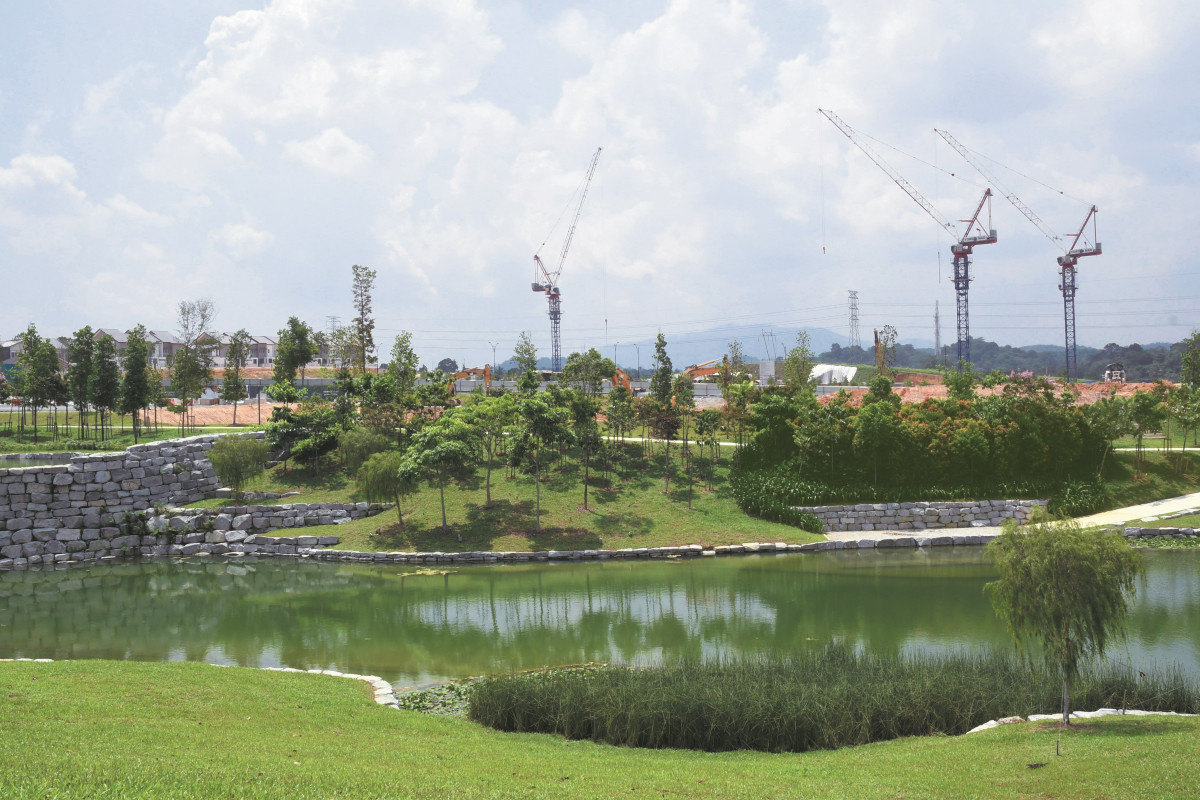 Located north of Kuala Lumpur, Kundang in Selangor was a quiet hilly town that has largely gone unnoticed, until recently. Situated between Sungai Buloh and Rawang, Kundang has gained more attention following the completion of the Kuala Lumpur-Kuala Selangor Expressway (LATAR). The area is also accessible via the Guthrie Corridor.
One could also say that more people now know Kundang owing to new property developments there. One in particular stands out for its size and lifestyle elements – Gamuda Gardens by Gamuda Land, the property development arm of Gamuda Bhd.
The 810-acre township development was launched in 2017 and when completed, it will have residential and commercial properties, a shopping mall and a pet-friendly central park, among others.
To improve its connectivity, the developer invested in a direct interchange from the LATAR Expressway. The interchange has been open since March 2017.
Gamuda Land tells EdgeProp.my that it will be handing over Precinct 1 of Gamuda Gardens to buyers progressively from 3Q next year. There are 562 units in Precinct 1 with built-up sizes of 20ft by 75ft, 22ft by 75ft and 22ft by 80ft. It was priced from RM700,000 onwards.
"The residential property market in Kundang has been growing over the last couple of years and we expect property prices to grow in the future. This is because the housing prices in Kundang are still largely within the affordable range compared to nearby areas such as Bukit Rahman Putra," LaurelCap Sdn Bhd executive director Stanley Toh tells EdgeProp.my.
He adds that the prices of existing terraced houses in Kundang currently range from RM350,000 to RM500,000.
According to EdgeProp.my's data, there were 40 landed homes that changed hands in 2018 at an average transacted price of RM433,196. In comparison, the average transacted price for landed homes in Bukit Rahman Putra, Sungai Buloh in 2018 was RM986,284.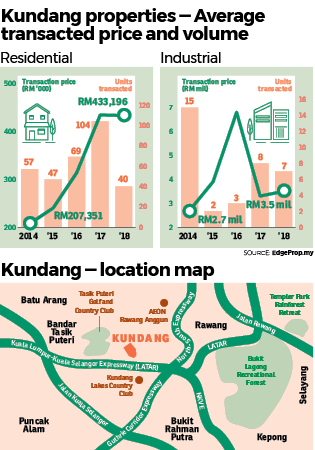 Hence Toh believes there is much room for Kundang's property prices to grow.
"The LATAR-Kundang interchange has opened up the area and provides easy access to other towns within Selangor," he says.
He adds that the residential property market outlook for Kundang is positive although Kundang is still primarily an industrial-driven location.
"The overall property market in Kundang has great potential [to rise] up to a point when prices stabilise and are more in line with the more established surrounding areas.
"There is however, a possible downside. The attractive industrial property market in Kundang may limit the development of the residential property market.
"Indeed, industrial properties seem to be a good investment option as the entry cost is still relatively cheaper than other areas in the vicinity," says Toh.
On the other hand, Desmond Chia, the senior real estate negotiator from WorldTree Properties who specialises in Kundang industrial property, tells EdgeProp.my that the industrial properties in Kundang are mostly in dedicated industrial areas in Kundang and they are quite a distance from residential areas.
"Kundang is not a small place... there are areas for industrial properties and residential properties, similar to Rawang. Rawang used to be an industrial property-driven location but today it is also home to many people. Moreover, unlike Rawang, most of the industrial players in Kundang are small and medium size ones.
"Looking at similar locations in the Klang Valley, such as Rawang and Shah Alam, or even Subang, I do not see the industrial-driven location affecting the residential property market in the area," Chia opines.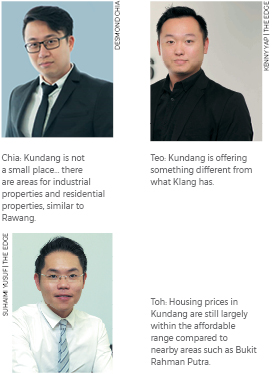 Industrial property shines
Commenting on the industrial real estate market in Kundang, Chia reveals that the number of enquiries from buyers and investors have risen over the last few years.

In an industrial land deal concluded by Chia recently, the seller bought the vacant freehold land for below RM20 psf 10 years ago and sold it for RM100 psf earlier this year.
He attributes the value appreciation of industrial real estate in Kundang to a few reasons – improving accessibility, the short supply of industrial property in the adjacent areas of Rawang and Sungai Buloh, as well as the competitive prices that Kundang offers.
He explains that Sungai Buloh used to be a popular address for industrial property, thanks to good highway connectivity. However, the area is being transformed into an integrated township with more upcoming big scale developments such as Kwasa Damansara by Kwasa Land.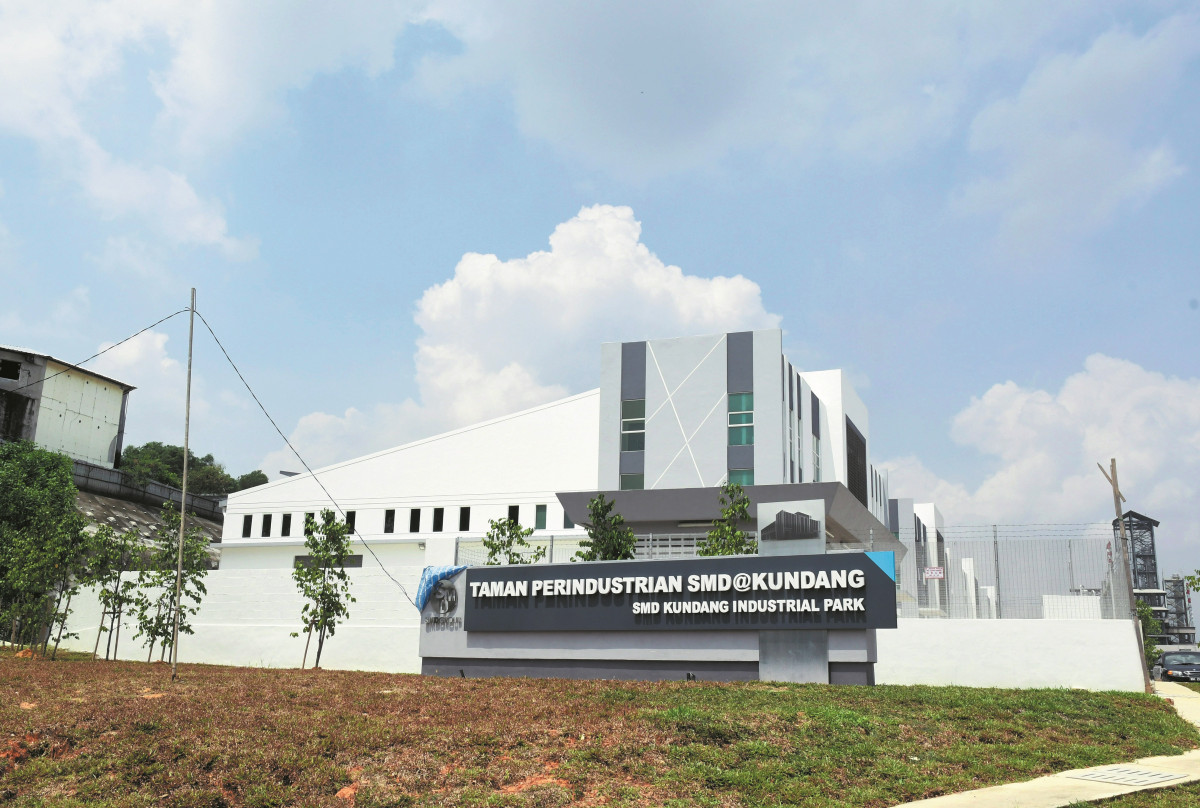 "Sungai Buloh is transforming into a mixed property township with different property products coming up. The completion of MRT Line 1 (Sungai Buloh station) has also improved the public transportation system which has encouraged more new residential developments in Sungai Buloh.
"But as Sungai Buloh's traffic increases due to more developments, some industrial property owners are letting go of their facilities (in Sungai Buloh) to find a replacement. Most of them will look at Kundang because it is very close to Sungai Buloh, offers lower property prices and good connectivity," Chia notes.
Meanwhile, Zilin Properties founder Z L Teo concurs with Chia that more industrial property owners and investors in Sungai Buloh are seeking alternative cheaper locations with low traffic.
"Kundang used to be a not-so-ideal location because of poor connectivity while road conditions were bad. Flash floods also used to happen during heavy downpours but today it is different. The new highway has cut short the journey to Port Klang, the main port in Klang Valley. I think the place is coming up," says the industrial property specialist.
He adds that another advantage of industrial property in Kundang is that most have freehold status.
"Unlike in Klang, Kundang does not have big manufacturing plants, most are small to medium factories. It offers more modern industrial parks that comprise well-planned, neat and tidy semi-detached or detached factories. Hence the target buyers for the factories here are different," Teo explains.
"Building a plant is a big investment and location is crucial. If you are running a bigger business, you would prefer to set your facility closer to the port to save on transport. Kundang is offering something different from what Klang has," he notes.
According to WorldTree Properties' Chia, the asking price for a freehold industrial property in Kundang is between RM80 and RM100 psf. Over in Sungai Buloh, industrial property asking prices range from RM120 psf to RM150 psf while Rawang's is slightly more than RM100 psf, depending on location.
Chia foresees a positive market for Kundang's industrial property segment in future.
LaurelCap's Toh concurs that industrial properties here will remain popular.
"The LATAR access also links up to the Guthrie Corridor, which links up to the NKVE and leads all the way to Port Klang. The West Coast Expressway will be completed soon and is connected to the LATAR Expressway at the Jalan Kuala Selangor exit.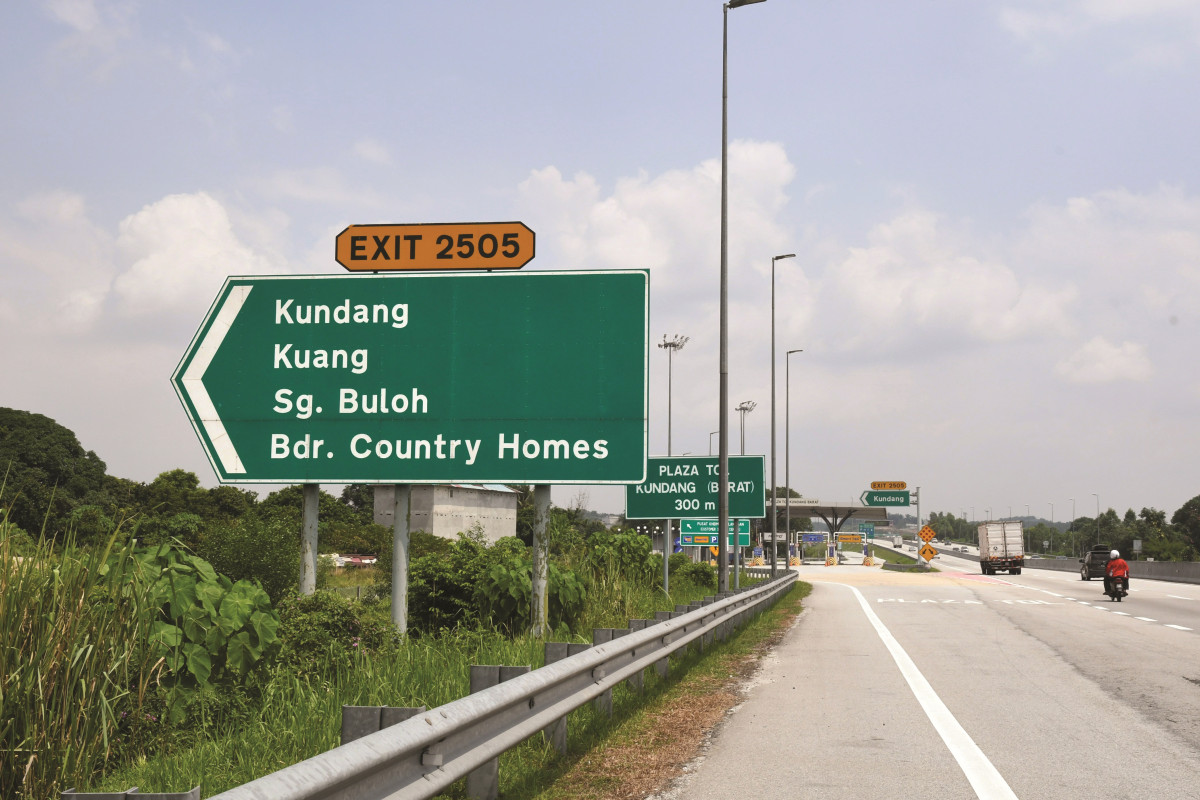 "This will help spur the industrial sector in Kundang in future," Toh says.
Teo however believes that industrial property price growth is limited due to Kundang's limited industrial land.
"Looking at the current property development trend in Kundang, I believe there will be more residential or township projects in future.
"Kundang does not have much industrial landbank left, so one day it could be like Sungai Buloh or Rawang and industrial property prices in Kundang could be limited to a certain price range," Teo says.
This story first appeared in the EdgeProp.my pullout on May 31, 2019. You can access back issues here.