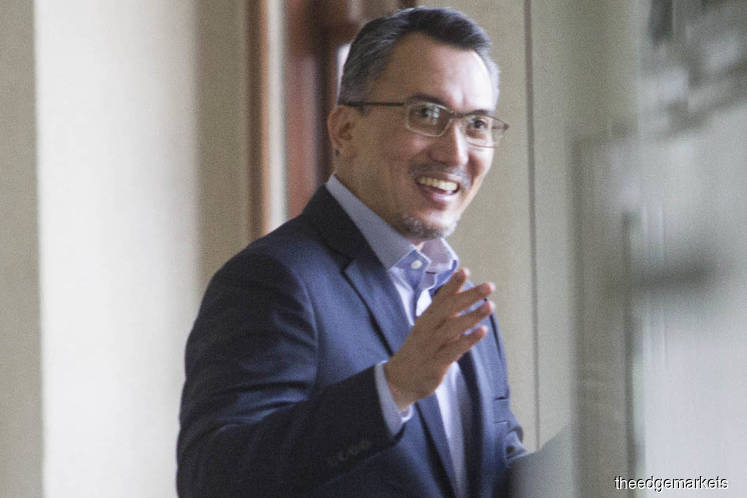 KUALA LUMPUR (June 14): The defence lawyers in the SRC International Sdn Bhd trial decided to proceed with the testimony of its former chairman Tan Sri Ismee Ismail after all, following their scrutiny of his oral evidence transcript for alleged deviations from his witness statement.
Defence counsel Harvinderjit Singh today told Justice Mohd Nazlan Mohd Ghazali that after the review, his team decided to resume the cross-examination with Ismee, who is the prosecution's 39th witness.
Yesterday, Datuk Seri Najib Razak's legal team requested for the trial to be adjourned shortly before the usual lunch break at 1pm to enable the team to comb through Ismee's witness statements and oral evidence for any discrepancies.
During his cross-examination of the witness, Harvinderjit pointed out that the witness had written in his statement that the SRC board had to act on the advice of the company's adviser emeritus, who was then prime minister Najib.
The statement may have contradicted Ismee's oral evidence which mentioned that the board acted upon its shareholder resolutions, he said.
Harvinderjit also demanded these shareholder resolutions as evidence from the prosecution.
Today, appointed deputy public prosecutor Datuk V Sithambaram tendered these requested evidences, including SRC shareholder resolutions and some meeting minutes, to the court.
When the cross-examination resumed today, Harvinderjit pointed out some 'peculiarities' in several letters and directors' circulars handled by former SRC managing director and CEO Nik Faisal Ariff Kamil — including a letter he signed off that used a blurred 1MDB letterhead.
While Ismee said the correspondence with the blurred letterhead appeared to look like the other 1MDB-issued letters, he did agree that it was unusual for Nik Faisal to sign off a letter using the letterhead considering that SRC already had its own letterhead then.
Harvinderjit subsequently asked Ismee if it was unusual for SRC's company secretary Goh Gaik Kim — maternal aunt of missing financier Jho Low — to have sent out a letter under the letterhead of 1MDB in October 2011.
The witness replied that he was not sure whether such a practice was unusual or not.
The lawyer then asked if SRC's board would reject this kind of letter, to which Ismee replied that the board may have overlooked this kind of details.
Harvinderjit also referred Ismee to a shareholder resolution for SRC to transfer the RM1.8 billion fund out of the country, but minutes for one of SRC's board meetings held on Aug 23, 2011 following the resolution showed that the board had urged the company's management to conduct due diligence before remitting the money.
The witness attested to the content of these evidences.
He also said when the board was asked to transfer out the RM1.8 billion loan fund from KWAP, the board had requested to meet with the custodian bankers to look at various short-term financial products available before the board decided on the money transfer.
Having said that, Ismee said he was not able to confirm whether the RM1.8 billion transferred out of SRC was in fact the funds borrowed from KWAP.
After SRC transferred RM1.8 billion out of the country, Ismee said the board had requested monthly management accounts to be prepared to keep the directors updated, but the management did not comply with its instructions.
"There was some [financial] reporting format, but we keep telling them (management) this was not what we wanted, we want more," he said.
Even though the management provided these specific financial reporting updates, Ismee said it was not done on a monthly basis.
As for the remaining RM200 million left with SRC after transferring RM1.8 billion overseas, Ismee said SRC's management initially proposed to invest in unit trust, while the chairman himself recalled that he had urged the company to also include blue-chip stocks as one of its investment options.
Before the trial adjourned this afternoon, Harvinderjit told Justice Mohd Nazlan that he expects to complete his cross-examination with Ismee on Monday (June 17).
The court proceedings will resume at 9am on Monday.
Najib is facing seven charges over embezzling RM42 million from SRC, with one count of abuse of power, three counts of criminal breach of trust, and three counts of money laundering.