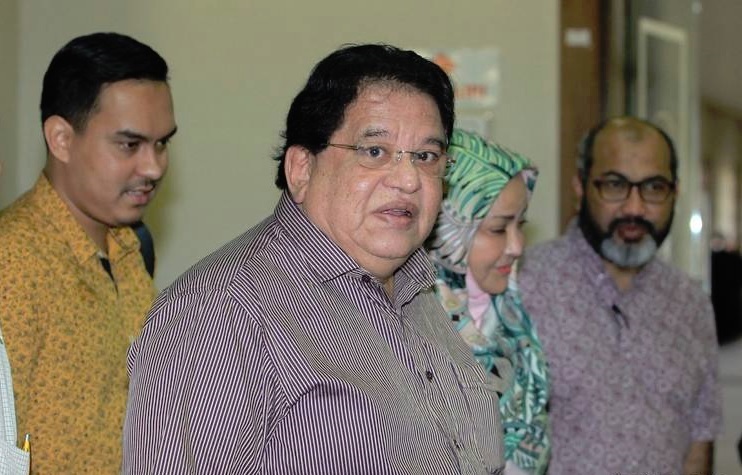 KUALA LUMPUR (July 11): Former Kuala Lumpur City Hall (DBKL) Valuation and Property Development director Kamariah Ibrahim told the High Court here yesterday that she was not satisfied with the sale of two lots of City Hall land to Aset Kayamas Sdn Bhd, although the plan to build City Hall hostel at the site remained.
Clarifying the matter, she said, the original plan was to build a hostel complex that would be equipped with sports facilities.
"It is a huge complex and a training venue for enforcement personnel. I was not satisfied because the site allocated for the hostel was 0.5 acres, compared with the land size, which is four acres," she said during re-examination by deputy public prosecutor Haderiah Siri on the fifth day trial of former Federal Territories Minister Datuk Seri Tengku Adnan Tengku Mansor's RM2 million corruption case.
Kamariah, the 14th prosecution witness, had told the court earlier that City Hall, a committee meeting on privatised projects on April 25, 2015, did not object to the sale of the two land lots to Aset Kayamas, although former mayor Tan Sri Ahmad Phesal Talib had objected to it before.
She said there was a possibility that Tengku Adnan and Ahmad Phesal had discussed the matter, which could explain why the land sale was eventually give the green light in the privatised projects meeting.
Asked by Haderiah, who referred to Section 01 (r) of the Local Government Act, whether the land could, be sold if not approved by the minister, Kamariah said it could not be sold, even if there was a minute from the mayor agreeing to the sale.
Tengku Adnan was charged in his capacity as a public servant, namely, Federal Territories Minister, to have accepted for himself RM2 million from Chai Kin Kong via a Hong Leong Islamic Bank cheque belonging to Aset Kayamas Sdn Bhd which was deposited into the CIMB Bank account of Tadmansori Holding Sdn Bhd in which he had an interest, when it was known that Aset Kayamas had connection with his official duties.
The offence was allegedly committed at CIMB Bank Berhad, Pusat Bandar Damansara Branch here on June 14, 2016.
The charge was framed under Section 165 of the Penal Code, which provides for a jail term of up to two years or fine or both, on conviction.
The hearing before judge Mohamed Zaini Mazlan continues today.