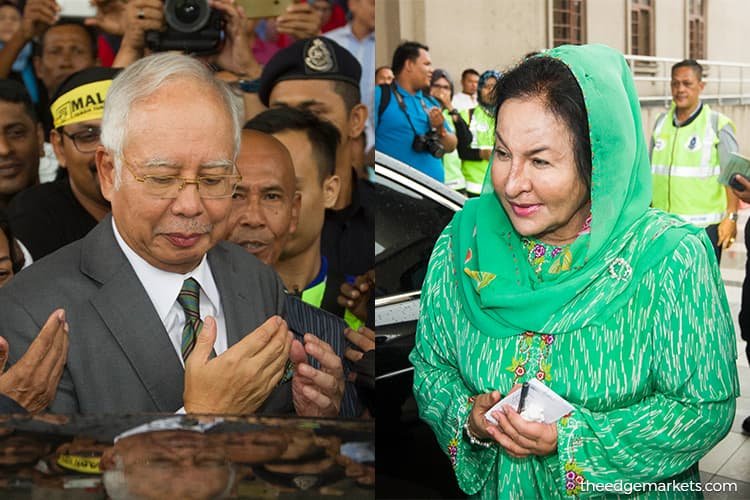 KUALA LUMPUR (July 17): Former prime minister Datuk Seri Najib Razak and his wife Datin Seri Rosmah Mansor today withdrew their discovery application to get more details over businessman Deepak Jaikishian, his brother Rajesh Jaikishian and their company Carpet Raya Sdn Bhd's suit against both of them, and former Tabung Haji chairman Datuk Seri Abdul Azeez Abdul Rahim.
The suit by Deepak and Rajesh, who are directors of Carpet Raya, follows claims by them that Najib, Rosmah and Azeez had forced the Inland Revenue Board (IRB) to exert pressure on them to settle taxes accrued when Carpet Raya is said to be used as a proxy company for Najib and Rosmah in several land and business deals.
The withdrawal of the discovery application by the couple was recorded before High Court judge Datuk Azimah Omar, who made no order as to costs.
"The court fixes Aug 5 for case management," the judge said.
The withdrawal follows Deepak, Rajesh and Carpet Raya's lawyers having agreed to supply some of the documents that the couple sought.
Lawyer Mohd Irwan Iswatt Mohd Noor, who appeared for Deepak, Rajesh and their company, said today was initially fixed for the hearing of Najib and Rosmah's discovery application.
"However, by mutual consent Najib and Rosmah agreed to withdraw their application," Irwan told reporters after the proceedings.
The documents sought by Najib and Rosmah would be given to them soon, the lawyer added.
The court had on April 17 this year instructed Deepak, Rajesh and their company to furnish the documents to Abdul Azeez, who filed a separate discovery application.
Najib and Rosmah were represented by Cheryl Chong Wei Teng.
The former premier and his wife had filed the discovery application late last year where they sought, among others, the company's correspondence with IRB, senior lawyer Tan Sri Muhammad Shafee Abdullah's appointment as a lawyer to represent Deepak in the A Santamil Selvi and her three children's suit against him along with Najib, Rosmah and six others, and the sales and purchase agreement of the said land.
It was reported that Najib and Rosmah wanted to see the documents first before they are required to file their defence to the suit.
In Deepak, Rajesh and their company's statement of claim, they alleged that Deepak and Carpet Raya acted as agent and proxy to Najib and Rosmah in land transactions and business deals as instructed by the former premier and his wife.
As a result, Deepak and the others alleged the alleged land transaction and business deals had resulted in them receiving a letter from IRB in March 2018, asking them to settle tax arrears owed by Carpet Raya and their income tax totalling more than RM6 million, excluding penalty, charges and interests.
Deepak claimed that he received the IRB letter after his relations with Najib and Rosmah turned sour in 2012 following his refusal to follow their instructions in a civil case involving private investigator P Balasubramaniam widow, A Santamil Selvi and their three children and further claimed that Abdul Azeez had knowledge of the matter.
Balasubramaniam was a witness in the Altantuya Shaariibuu murder trial where the private investigator was hired by political analyst Abdul Razak Baginda, who was previously a close confidante of Najib.