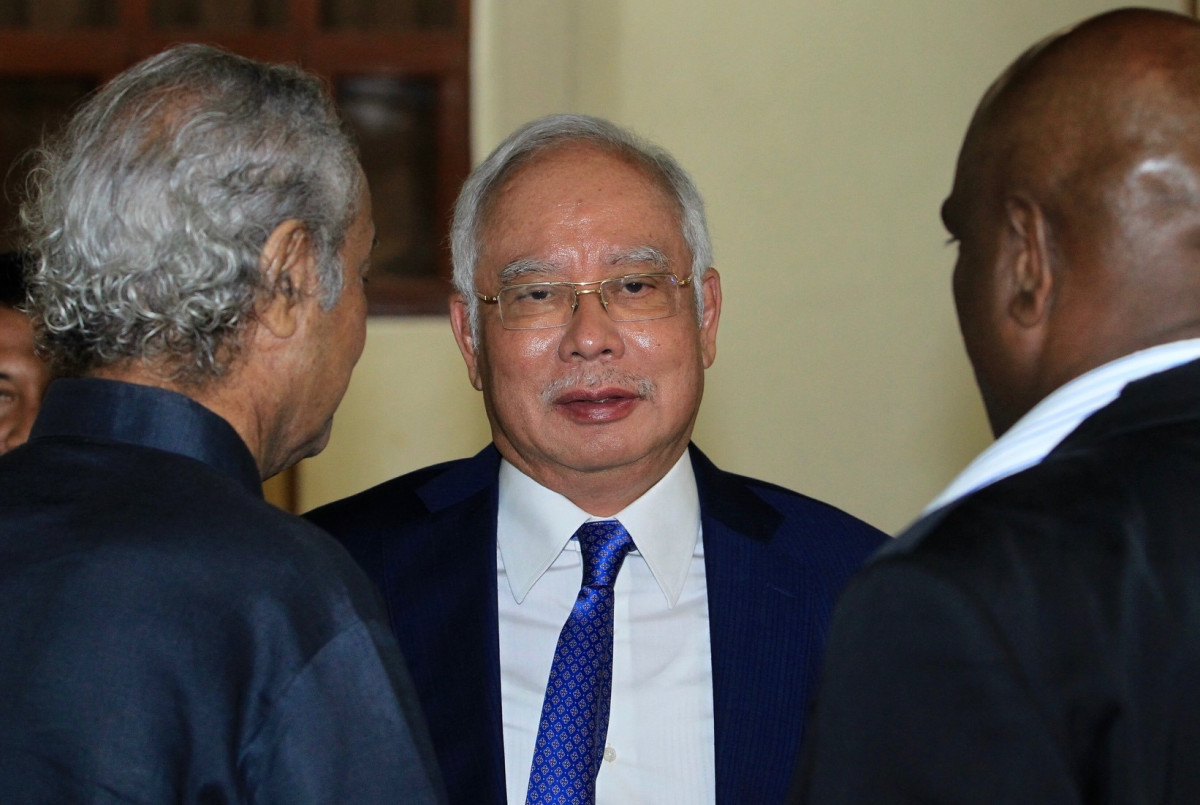 KUALA LUMPUR (July 19): High Court judge Justice Mohd Nazlan Mohd Ghazali yesterday afternoon has warned Datuk Seri Najib Razak not to make any further postings on social media about his SRC International Sdn Bhd case or risk facing contempt.
Justice Nazlan said this after agreeing with both the defence and the prosecution to submit on the issue, which relates to the former premier's Facebook posting on July 15, where he defended his RM3.3 million credit card bill at a Swiss jeweller by saying he purchased gifts for a senior member of royalty.
Najib's lead counsel Tan Sri Muhammad Shafee Abdullah, who was only available in the afternoon, said he has yet to seek instructions regarding this, and advice from his client on what the actual posting was about.
"I need more time to prepare submissions on the matter to address the issue of sub judice and I asked that this matter be moved to Monday," he said.
This led to Attorney-General Tommy Thomas wanting the defence for Najib to give an undertaking that he would not post anything until Monday.
Shafee then argued that such limitations would be a violation of human rights.
"His main reason for making the statement [is because] the former premier felt that there has been unfair coverage by the media. They [the media] have been cherry picking in their report over the trial," he said.
The senior lawyer cited as example former AmBank managing director Cheah Tek Kuang's evidence during his examination-in-chief of his meeting with then Bank Negara governor Tan Sri Zeti Akhtar Aziz over Najib's opening of accounts was not reported by the media.
"There is zero coverage although it is relevant. But with regard to the purchases of jewellery there was maximum coverage," the senior lawyer added.
The senior lawyer added that the defence would need more time to prepare submission on the issue of sub-judice.
theedgemarkets.com reported on Wednesday that Cheah had met Zeti, who said she did not object to the opening of the accounts but reminded him to abide by banking rules and regulations.
Thomas, however, defended the media, saying the press was only highlighting what was produced as this is now the prosecution's case.
"If defence is called, then he [Najib] can tell his side of the story," the Attorney-General said.
With this, Justice Nazlan allowed that the submissions be done on Monday.
"Any more postings before this [Monday] would be considered in contempt," the judge warned the former premier.
AG wants Najib to apologise
Earlier yesterday, Thomas had requested that the court ask the former premier to apologise for his social media postings that could be sub judicial to his ongoing trial over charges of siphoning RM42 million from SRC.
Thomas, who leads the prosecution, told Justice Nazlan that no person should be allowed to post on social media anything to support the defence, and Najib, too, must comply.
In the Facebook post on July 15, Najib narrated his version of the story on how he spent RM3.36 million on Aug 8, 2014 on his two credit cards linked to his AmBank accounts — the same accounts which received funds from SRC in 2014-2015.
The posting seemed to rebut the testimony of vice president AmBank Yeoh Eng Leng, who had testified about the purchase of the pieces of luxury jewellery in Italy, the expenses in Honolulu, the US, and Shangri-La Bangkok in Thailand, among others.
Thomas argued that Najib may be a former premier who is the subject of an ongoing corruption trial, but he should not be treated any different from other accused persons in a criminal case.
"We seek your lordship's direction to request for Najib to issue a direct apology, not via his lawyers. We also request his lordship to advise Najib to make sure this does not happen again," Thomas said.
In his Facebook posting, Najib argued that most of the credit card spending — 10 swipes totalling €763,500 or over RM3.3 million in Swiss luxury jeweller De Grisogono in August 2014 — was for gifts to members of a royal family in a government that is not Saudi Arabia or Abu Dhabi, with a letter dated Aug 15, 2014 confirming they have received the gifts.
On Wednesday, Justice Nazlan also warned the former premier for coming late in the afternoon session as he was late for more than 10 minutes when the judge emerged from his chambers.
"I wish to remind the accused that he must be on schedule [time]. Further tardiness will only delay proceedings," the judge said.
In the initial part of the trial, the court had also warned parties when it emerged that a Najib aide had uploaded the High Court proceedings on Facebook.
Earlier, Najib's defence team had filed an application for a gag order for all Malaysians prohibiting them from discussing the proceedings in all media format but this application was dismissed.
Several media had also reported that the former premier was spotted dozing off in a Court of Appeal proceeding in his appeal of the SRC case, and also leaving the court when proceedings are on without seeking permission from the three-member appellate court judges.