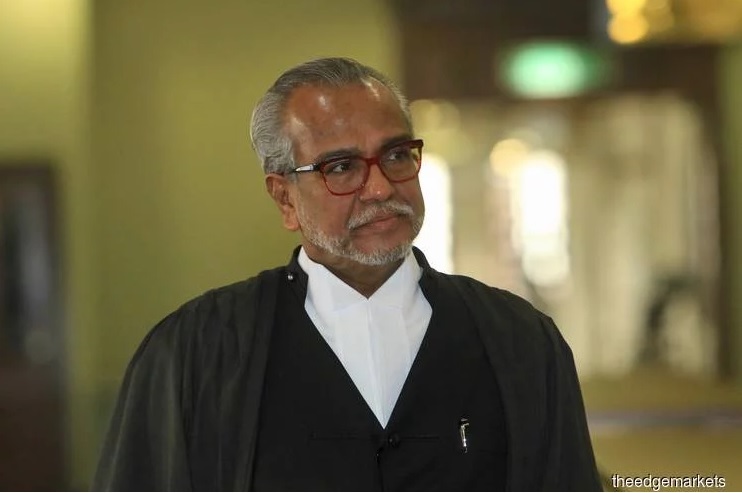 KUALA LUMPUR (July 31): The High Court has set aside Attorney-General (AG) Tommy Thomas' bid to cite senior lawyer Tan Sri Muhammad Shafee Abdullah (pictured) for contempt over comments regarding the SRC International Sdn Bhd trial made during a press conference earlier this year.
Justice Datuk Mohd Firuz Jaffril found that the prosecution did not state clearly the facts of the purported contemptuous words uttered by Muhammad Shafee regarding his client Datuk Seri Najib Razak's ongoing case.
In his judgment, Justice Mohd Firuz said the defendant made the statement in response to a question by a journalist, and yet the prosecution had failed to state the reporter's question, identify the videographer involved as well as failed to state how the words uttered were contemptuous.
Lawyer David Mathews, representing Muhammad Shafee, sought costs of RM150,000 from the government, given that the matter had gone on for four days with various submissions filed.
"Awarding a trifling sum will not do justice to the work done by both parties with regard to this application," he said.
However, Justice Mohd Firuz ordered the government to pay RM30,000 in costs, which he says is a reasonable amount.
On Feb 7, after proceedings involving Najib in the High Court, Muhammad Shafee was interviewed by several journalists outside the courtroom, recorded by a videographer from Kinitv.com and telecast on KiniTV.
Thomas claimed that Muhammad Shafee knew or ought to have known that the offensive statement was contemptuous of the judge and would undermine the administration of justice and public confidence in the judicial system of Malaysia.
He claimed that the words were deliberately uttered and with intent by Muhammad Shafee in an attempt to pressure and influence the decision on that criminal case.
Thomas said that considering the words in their entirety, the public would reasonably perceive that, if the accused were to be convicted, the trial judge was not straight and was influenced, the witnesses were coached and the evidence was fabricated.