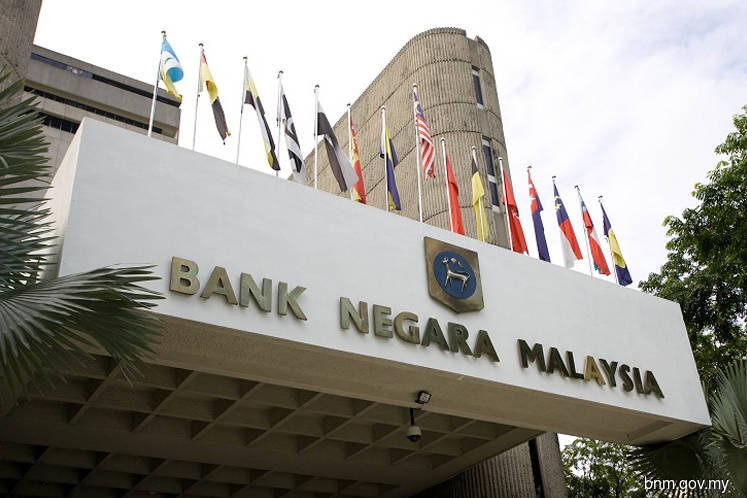 KUALA LUMPUR (Aug 5): Further escalation on trade tensions between the US and China could prompt Bank Negara Malaysia (BNM) to cut interest rates again as early as November — bringing them down to levels not seen since March 2011 — to mitigate any impact on domestic growth, said Hong Leong Investment Bank (HLIB).
On Friday, US President Donald Trump tweeted that the US will impose 10% tariffs on another US$300 billion of Chinese imports starting Sept 1, an about-turn from the previous mutually-agreed decision of no further tariffs made at the G20 summit.
As a small open economy, Malaysia will not be insulated by the escalating trade tensions, HLIB said in a strategy note today.
"Based on BNM's estimation, a 25% tariff on remaining trade with China (note that the proposed rate is at 10%) and blanket auto tariff would lead to reduction of Malaysia's GDP growth by -0.9 to -1.1ppt, with the impact of US-China trade accounting for approximately half of that.
"Hence, as the trade war between the US and China continues to prolong, with the possibility of worsening relations, we now anticipate BNM to reduce the overnight policy rate (OPR) by 25bps (to 2.75%, lowest since March 2011) as early as the November 2019 Monetary Policy Committee meeting," it said.
Commenting on the KLCI, the investment bank said from the index's recent peak of 1,691 on July 2, it has since declined by 3.7% (ASEAN-5: -2.6%), partially spooked by the re-escalation of global trade tensions. It added that while Trump's tweet was negative, it was not entirely unexpected given the unpredictable nature of the trade tensions.
On the ringgit, HLIB said: "We revise our 2019 average ringgit (vs US dollar) assumption from 4.05-4.15 to 4.15-4.20, implying a depreciation bias for the remainder of the year."
"This comes on back of (i) heightened risk aversion with US-China trade tensions potentially evolving into a full blown trade war, (ii) possibility of yuan depreciating and (iii) revision in our OPR expectations from unchanged to 25bps cut. With a ringgit depreciation bias in mind, we reckon that export plays could return. For this, we recommend Top Glove (BUY, TP: RM5.31) and Lii Hen (BUY, TP: RM4.22)," it said.
Meanwhile, HLIB also recommended that investors look at dividend stocks to stay defensive.
"For liquid large cap yield, we continue to advocate our liking for Maybank (BUY, TP: RM10.30).
"While this may sound counterintuitive as an OPR cut would lead to NIM (net interest margin) compression, our banking analyst estimates the negative earnings impact to be contained at -2%-3%.
"With its yield at 6.9%-7.1%, we see Maybank as a solid large cap yield play for investors that also seek liquidity and index weighting requirements.
"The investment bank also recommended that investors look at real estate investment trusts (REITs) given the low yield environment with dovish expectations.
"Within this space, we like Axis REIT (BUY, TP: RM1.93) which yields c.5%. Its properties mainly comprised industrial and offices (outside KL), making it less susceptible to oversupply risk. Furthermore, Axis is one of the few Shariah-compliant REITs, which should warrant a scarcity premium," it said.