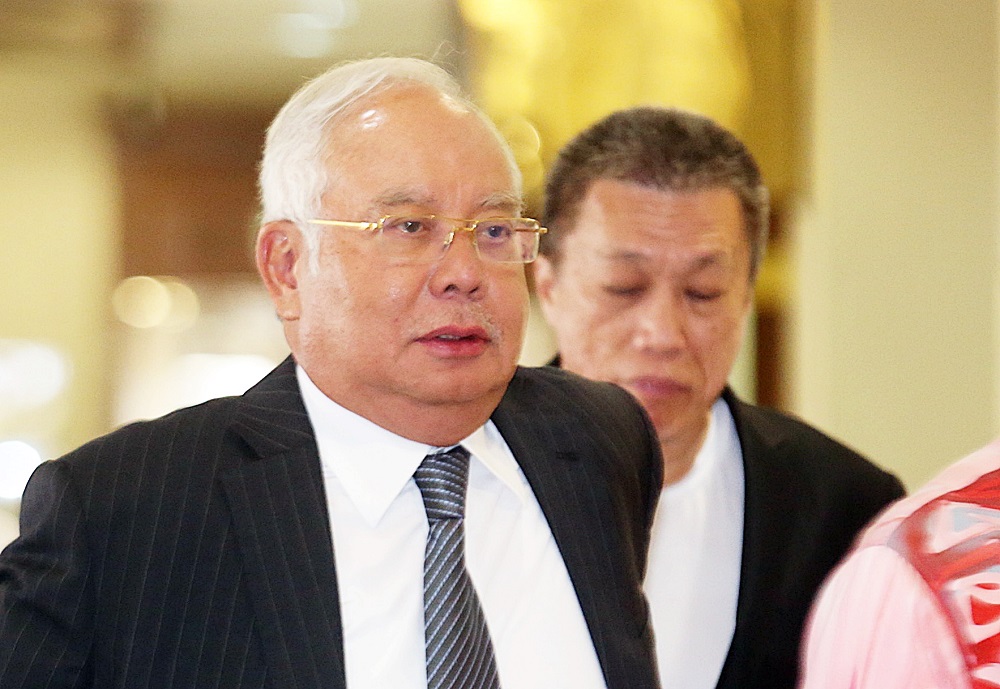 KUALA LUMPUR (Aug 6): Datuk Seri Najib Razak (pictured) saw a total of RM606.51 million go through his three AmBank accounts in 2013-2015, it was confirmed in the High Court today.
This was revealed by appointed public prosecutor Datuk V Sithambaram during the re-examination of 54th prosecution witness Joanna Yu, the former AmBank relationship manager who was Low Taek Jho's go-to person in the bank when it comes to the management of accounts belonging to Najib and SRC International Sdn Bhd.
Of the total RM606.51 million, around RM212.37 million came from funds originating from sources linked to the fugitive businessman, who is more famously known as Jho Low.
They comprise RM162.44 million transferred from Najib's old AmBank account, which Low said was the balance from the returned "Arab donations", RM45.84 million from Vista Equity International (Seychelles), and RM4.09 million from Blackrock Commodities Global Ltd.
This left RM394.14 million outstanding spending, which was satisfied with funds from numerous sources including SRC, Putrajaya Perdana Bhd and cash deposits, among others.
It would also include the RM42 million originating from SRC which Najib allegedly received into his accounts and forms the basis of the charges he faces in this trial.
However, defence lawyer Harvinderjit Singh argued that the total RM606.51 million were derived from overlapping transactions, as some of the transfers calculated from the accounts' bank statements comprised inter-account transfers as well.
In response, Sithambaram said Harvinderjit can file a submission to the court on the matter.
Najib is accused of seven counts of money laundering, criminal breach of trust and abuse of power over RM42 million allegedly siphoned from SRC to his personal bank accounts between December 2014 and February 2015.