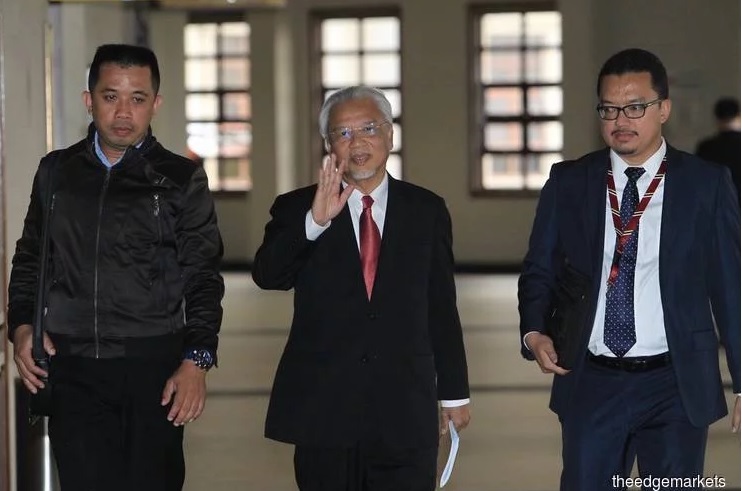 KUALA LUMPUR (Aug 8): Datuk Seri Ahmad Husni Hanadzlah (pictured, centre) believed that former Prime Minister Datuk Seri Najib Razak initiated sexual harassment and corruption allegations against him in 2016 for enquiring about 1Malaysia Development Bhd (1MDB) and SRC International Sdn Bhd.
This was raised in the High Court during the cross-examination of the former Finance Minister II by defence lawyer Tan Sri Muhammad Shafee Abdullah this morning.
Husni is the 56th prosecution witness in Najib's SRC trial.
Husni made the claim after Shafee raised a Parliament Hansard dated Oct 24, 2015, where Husni spoke for half an hour in the Dewan Rakyat on the future of the country and the economy, which also largely touched on 1MDB.
Extract from the cross-examination:
Shafee: You said "when people raise [the matter], do not point fingers… Others do not know that I was hit by it. I was hit with multiple accusations, it is not that I have done anything."
You seem to complain that as a result of raising about 1MDB, you have been attacked and victimised… What were the accusations?
Husni: Money scandals, scandals with women.
Shafee: Did you associate those accusations with Datuk Seri Najib… including the police report of sexual harassment allegation by your own female staff?
Husni: Yes.
Husni was referring to the sexual allegation scandal circulated in social media and among political blogs in 2016.
Shafee then attempted to highlight the police report filed against Husni on the sexual harassment allegation, but the attempt was halted by prosecution lawyer Datuk V Sithambaram on the grounds that it was unrelated to the charges faced by Najib in the trial.
High Court judge Mohd Nazlan Mohd Ghazali then disallowed Shafee's line of question on the matter.
Husni was the second finance minister between April 2009 and June 2016.
He testified in the High Court that he resigned for disagreeing with Najib's order for him to be transferred from the finance ministry to the Ministry of Housing and Local Government.
News flow at the time speculated that Husni was to be transferred to the Economic Planning Unit under the Prime Minister's Department.
Najib is currently facing seven charges of criminal breach of trust, abuse of power and money laundering for allegedly receiving RM42 million, said to be from SRC, which is now a unit of the Ministry of Finance Inc. The trial continues its 50th day today.