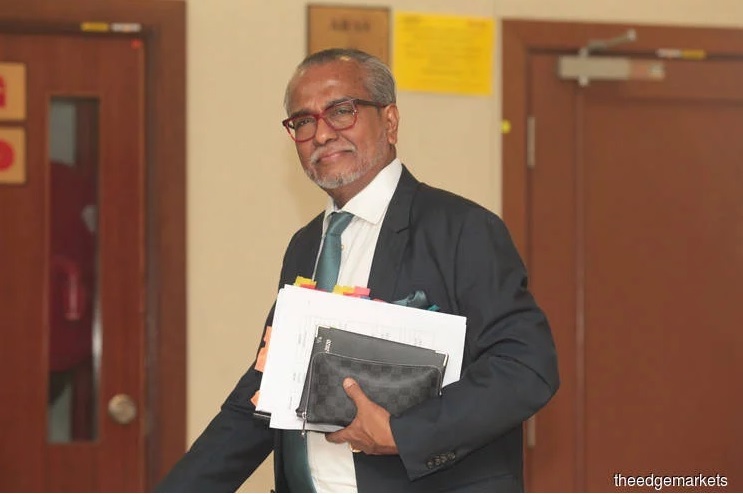 KUALA LUMPUR (Aug 8): Lawyer Tan Sri Muhammad Shafee Abdullah (pictured) is not discounting the possibility of calling up a former cabinet minister, who received a message from Datuk Seri Ahmad Husni Hanadzlah threatening to spill the beans on 1MDB, as a witness in the SRC International Sdn Bhd trial of Datuk Seri Najib Razak.
Shafee, who is the lead defence counsel for the former prime minister, however expressed his satisfaction with Husni's testimony on the matter during cross-examination in the High Court today.
"If necessary, we will call [the former Cabinet minister] as witness," Shafee told reporters after today's hearing.
"But I am happy enough that he said 'I can't remember'," the lawyer said, referring to Husni's reply to a question as to whether he sent the message to his then cabinet colleague.
"If [he didn't] do that, how can he say [that]? This is a serious threat," Shafee added.
Husni, who served as second finance minister from 2009 to June 2016, is the 56th prosecution witness in the SRC trial. Najib, who was then the finance minister, is facing seven counts of abuse of power and money laundering involving RM42 million said to be siphoned from SRC into his personal bank accounts in 2014-2015.
During his cross-examination, he was alleged by Shafee to have sent a text message in 2016 to a fellow minister, accusing foul play and threatening to tell all with regards to the government's dealings on 1MDB.
Part of the message reads: Untuk mempertahankan diri, mereka akan bercerita pelbagai cerita. Saya tak buka mulut lagi. Baru 1%. Saya boleh buka 5%, 10%, 30% 90%. Jangan main foul, nanti terbongkar semua cerita.
(To protect themselves, they will tell many stories. I have not opened my mouth. It was only 1%. I can expose 5%, 10%, 30%, 100%. Do not resort to foul play, or else everything will be exposed.)
The message was alleged to have been sent to the minister, who Shafee said was in charge of an eventually-scrapped highway extension project worth RM2.4 billion at the New Pantai Expressway (NPE).
Earlier, it was confirmed in the High Court that Husni's son Khalid Ahmad Husni was a staff in a company that was initially awarded a portion of the contract worth RM1 billion.
Khalid was "dismissed' from his position in the company, following what Husni described as attacks by blogger Raja Petra Kamarudin, which he said was orchestrated by Najib because he raised 1MDB issues in the Parliament.
"You sent a note to the minister in charge of the project," said Shafee, who refused to show the whole message to Husni at the witness stand.
"I can't remember," Husni eventually replied. He however insisted that he was not angry at the former prime minister for the debacle that ended with his resignation from the government and all party posts within Umno and Barisan Nasional in June 2016.
Husni had testified that he was instructed to sign documents pertaining to the government guarantee for SRC's first RM2 billion from Kumpulan Wang Persaraan (Diperbadankan) (KWAP) despite not having sufficient documentation to scrutinise the arrangement.
The trial, which ended its 50th day today, will resume tomorrow with the Malaysian Anti-Corruption Commission (MACC) officer who spearheaded the investigation expected to testify as the prosecution's last witness.