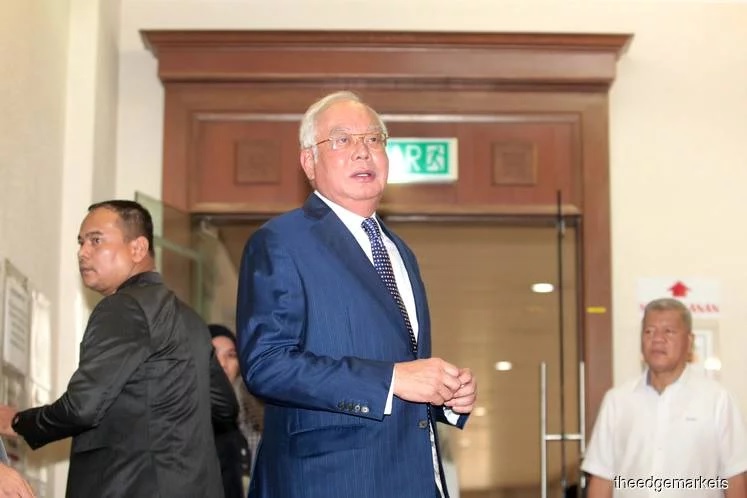 KUALA LUMPUR (Aug 14): Datuk Seri Najib Razak's SRC International Sdn Bhd trial has been postponed to Monday (Aug 19) as the former premier is suffering from an eye infection.
His lead counsel Tan Sri Muhammad Shafee Abdullah told the court that Najib is suffering from conjunctivitis in both eyes, which happened overnight.
"I am made to understand from his conversation with Dr Balqis at Mid Valley eye centre that it must have started yesterday," he said, adding that Najib was granted a three-day medical leave up until this Friday.
The lawyer said he has shared the medical chit and photos of Najib's eyes with the prosecution, with deputy public prosecutor (DPP) Datuk V Sithambaram saying that the prosecution does not object.
"It looks pretty bad in both eyes. In view of the medical condition of the accused, the prosecution supports the adjournment. Conjunctivitis is highly contagious. We might all end up with the same infection," said the DPP in jest.
He then suggested that the case be called for mention on Friday, with the prosecution to speak to the team involved in the 1Malaysia Development Bhd (1MDB) case to facilitate the continuation of the SRC case, at least until the completion of the prosecution's case.
Sithambaram said the prosecution needs to discuss with Justice Collin Lawrence Sequerah first before the mention on Friday, but Justice Mohd Nazlan Mohd Ghazali said Justice Sequerah will be away and will only return on Monday.
The parties then agree to have the mention for SRC fixed for 10am on Monday.
Monday also happens to be when the 1MDB trial, otherwise known as the Tanore trial, is slated to begin.
However, it remains to be seen if the trial will actually begin on that date, especially if the SRC trial will continue.
Justice Sequerah, who is the 1MDB trial judge, is expected to make a decision on Monday.
Meanwhile, Shafee said the cross-examination of the 57th prosecution witness Malaysian Anti-Corruption Commission investigating officer Rosli Hussain may take up to two days.