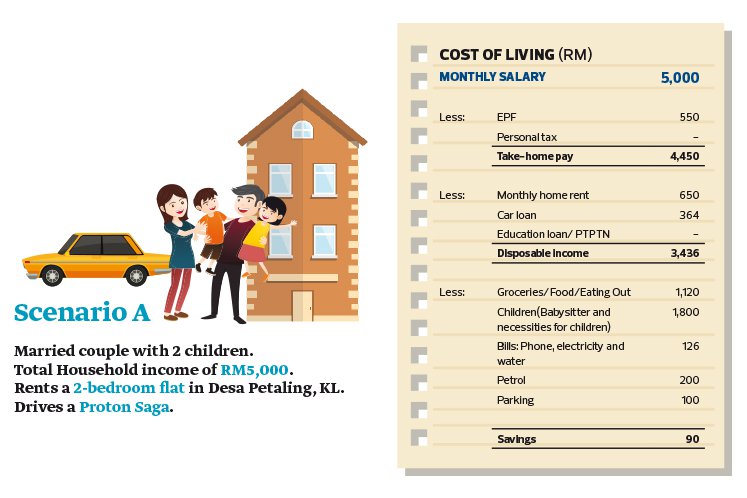 In the late 1980s, Mr and Mrs Koh, who were then in their mid-30s and had two young children, decided to buy a terraced home with a nice lawn. With their mid-tier jobs, they could afford the RM186,000 home in a new development known as Taman Tun Dr Ismail (TTDI), a suburb just outside the capital.
Today, the little house is worth RM1.6 million — a not-too-shabby investment for a middle-class couple.
However, for many young couples today, owning a home in TTDI is a pipe dream, thanks to escalating property prices. Some may just be able to afford a home, but they would literally be living from hand to mouth.
The reality is, Malaysians are struggling to make ends meet, especially those from the bottom percentile of the salary scale. Khazanah Research Institute in its The State of Households 2018: Different Realities report says that in 2016, households with income below RM2,000 spent 94.8% of their income on consumption items. What is more worrying is that their remaining income after accounting for inflation is only RM76, reducing from RM124 in 2014.
To understand the matter better, The Edge looks at three possible scenarios (based on real-life examples) of how Malaysian families living in the city are surviving with their household incomes.
In Scenario A, a married couple with two young children survive with a combined monthly gross household income of RM5,000. The couple, whose highest level of education is Sijil Pelajaran Malaysia, are in their mid-30s. The husband earns RM3,000 a month as a fitness instructor at a gym (assuming he does not participate in the gig economy) while the wife earns RM2,000 a month as a secretary. They have chosen a modest accommodation and vehicle to keep their expenses low, but because their close family members do not live nearby, they have to fork out at least RM1,800 for the babysitter and their children's expenses, leaving them RM90 to save each month.
In Scenario B, the couple are diploma holders working in human resources and earn a total monthly gross household income of RM8,000. This couple prefer a bigger living area, so they live in an apartment and fork out more money for rent. They are also willing to spend on their children's education, allocating a large portion of their cash for tuition classes. As such, their total monthly spending on their children is RM2,200. This family is then left with RM256 in savings each month.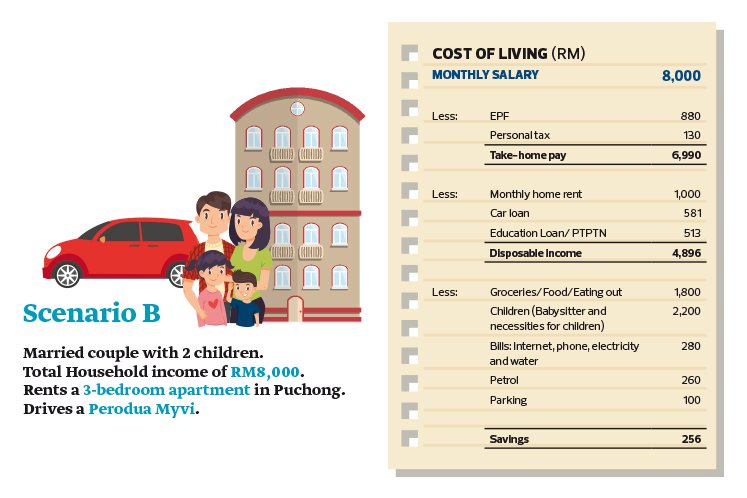 In Scenario C, the couple are degreeholders with a total gross household income of RM12,000. To invest for their future, they decided that buying a home would be a more viable option than renting one. Having taken out National Higher Education Fund (PTPTN) loans for their studies, they are servicing high monthly instalments. As the couple have to work long hours at the office, cooking is not a viable option, so they eat out a lot, both on weekdays and weekends. This family is then left with RM40 each month for savings.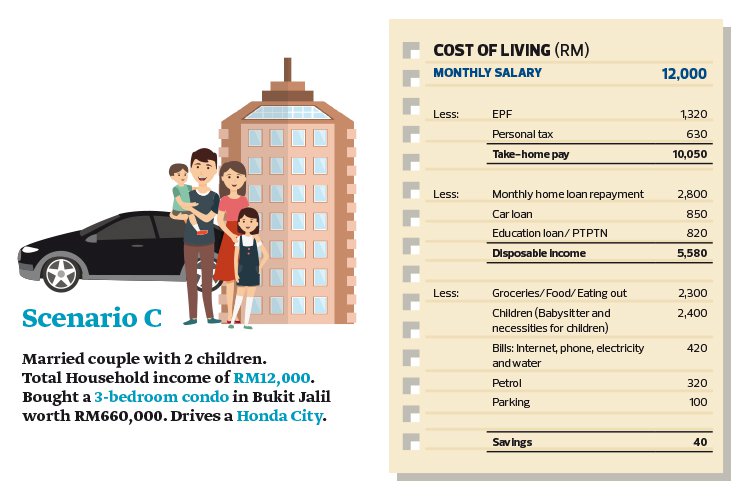 Based on the three scenarios, the typical Malaysian urban family has little left to save at the end of the month. Prices of assets aside, the standard of living each family chooses affects how much they can save for the future or a rainy day.

This article first appeared in The Edge Malaysia Weekly, on August 5, 2019 - August 11, 2019.