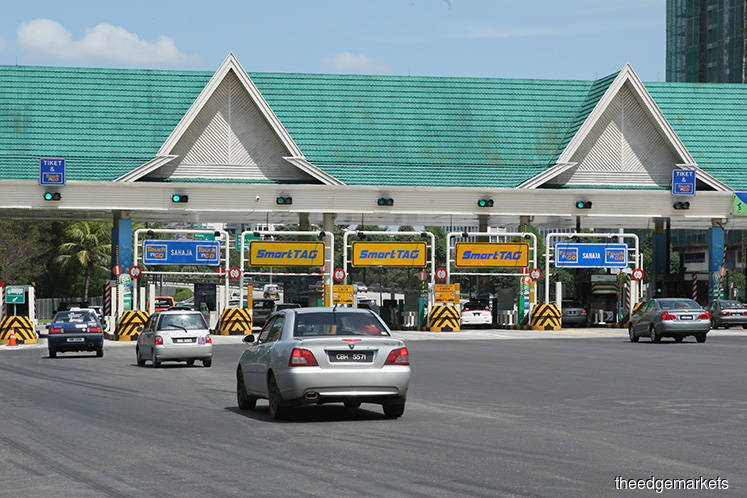 KUALA LUMPUR (Aug 20): Works Minister Baru Bian is not aware of a new plan for the government's takeover of 15 highways.
"Sorry, I am not aware of such plan," said Baru in response to a query from theedgemarkets.com on the matter.
Citing sources close to the government, News Straits Times reported yesterday that the government has a proposal on its table to take over 15 highways, including the North-South Expressway (NSE). Putrajaya, the report said, would offer to acquire highways owned by PLUS Malaysia Bhd (including the NSE) for RM30.8 billion, highways owned by Projek Lintasan Kota Holdings Sdn Bhd (Prolintas) for RM3.1 billion, Gamuda Bhd for RM5.6 billion and IJM Corp Bhd for RM2.7 billion — with the acquisitions paid via the issuance of debt papers to the concessionaires.
According to the report, the proposal would result in users being able to save up to 45% over time, before benefitting from totally free tolls by 2038.
"How it works is that Khazanah Nasional Bhd will set up a special purpose vehicle (SPV) called a highway trust, acting on government's behalf for the purchase of all of the concessions," a source told the New Straits Times.
Once all parties involved in the potential deals had agreed with the highways' enterprise value, the SPV would issue perpetual debt papers with one paper valued at RM30.1 billion (Paper A), while the other (Paper B) at RM12.7 billion to the concessionaires, in return for the highways, the report said.
"In a nutshell, the SPV will buy the concessions by RM10 billion cash and RM20.1 billion debt, both via Paper A, and the remaining RM12.7 billion via Paper B," it added.
The holder of the debt papers could either keep the instrument for recurring income or sell the papers on the open market, the New Straits Times said.
"The proposal looks to be a better alternative to the Ministry of Finance's proposal to buy out four highways linked to Gamuda for RM6.2 billion, as well as Maju Holdings' offer to take over PLUS," the report claimed.
The MoF had proposed to buy Lebuhraya Damansara Puchong, Sistem Penyuraian Trafik KL Barat (SPRINT), Lebuhraya Shah Alam (Kesas) and the SMART Tunnel for a combined RM6.2 billion. Gamuda owns major stakes in the four highways.
As for the Maju Holdings offer, no additional details has been given. But in 2017, the group had put in a RM36 billion bid for PLUS.