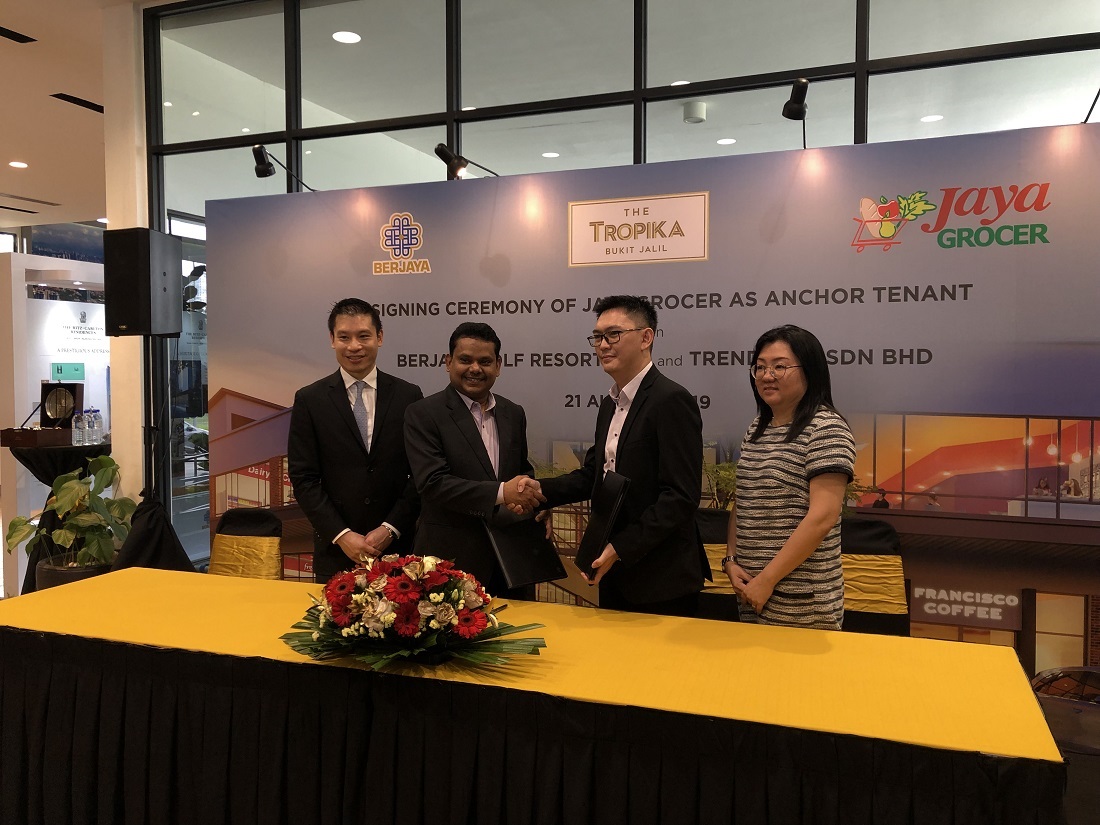 KUALA LUMPUR (Aug 21): Berjaya Land Bhd through its subsidiary Berjaya Golf Resort Bhd has entered into a lease agreement with Trendcell Sdn Bhd to operate a Jaya Grocer store with F&B outlets at the commercial portion of Berjaya Land's latest development The Tropika in Bukit Jalil, Kuala Lumpur.
Jaya Grocer will take up 23,695 sq ft and is expected to start operations in about two-and-a-half years.
Berjaya Land Bhd CEO Syed Ali Shahul Hameed and Jaya Grocer chief financial officer Chong Han Keong were signatories to the agreement at a ceremony at Berjaya Property Gallery, Bukit Jalil, today.
Also present were Berjaya Land Bhd senior general manager (properties marketing) Tan Tee Ming and Jaya Grocer head of department, advertising and promotions Ho Yong Pheng.
"The management of Jaya Grocer adopts a very strategic and prudent approach in identifying suitable locations for its stores. As such, we are glad that The Tropika has been chosen as the location for its next store as this indicates that The Tropika is a premier location in Bukit Jalil," said Tan in his welcome address at the signing ceremony.
The Tropika, Bukit Jalil is a gated-and-guarded mixed development located on 6.5 acres of freehold land in Bukit Jalil.
The residential part of the project comprises 868 units spread across four towers with unit built-ups ranging from 732 sq ft to 1,318 sq ft. Prices per unit start from RM575,800.
Besides Jaya Grocer, the commercial component of The Tropika will also feature double-storey dual frontage office lots with built-ups ranging from 3,316 sq ft to 3,814 sq ft while retail lots will have built-ups ranging from 752 sq ft to 1,677 sq ft.
"We are leaning towards leasing out the retail spaces. This is ideally so we can find tenants that add value for The Tropika residents," said Tan
He added that Berjaya Land is looking at roping in restaurants, gyms, pharmacies, among others, to take up the spaces.
Meanwhile, Tower A of The Tropika serviced apartments launched in February 2019 has registered about 70% sold. The developer is looking to launch Tower B once Tower A's take-up rate reaches 80%.
"We are expecting to hit 80% [take-up] very, very soon, especially with the official launch of Maybank's HouzKEY scheme for The Tropika sometime in September," said Tan during a Q&A session with the media after the signing ceremony.