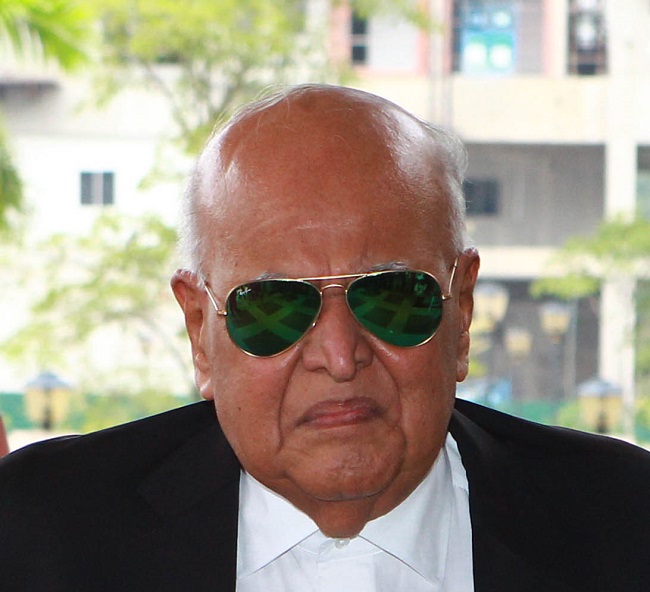 KUALA LUMPUR (Aug 28): Datuk Seri Najib Razak and his 'alter ego' Low Taek Jho, aka Jho Low, produced 'sham' letters and cheques to falsely represent 1MDB monies that entered into his bank accounts as donations from an Arab prince, the High Court was told today.
This, said appointed public prosecutor Datuk Seri Gopal Sri Ram (pictured) on the first day of the highly-awaited 1MDB-Tanore trial, was done as the former premier actively took steps to evade justice and cover up his criminal acts.
"After the 1MDB scandal broke in early July 2015, the accused [Najib] with his mirror image Jho Low took steps to cover his tracks.
"Sham documents were produced to pretend a donation from an Arab Prince. Among these were letters and four cheques each for a sum of US$25 million purportedly written out by a person said to be the Arab donor," said Sri Ram.
"But these cheques were never meant to be encashed and were never encashed," he added.
Sri Ram said this in his opening statement in the trial, where the former premier is facing four counts of abuse of power and 21 counts of money laundering involving RM2.28 billion from the troubled state investment fund.
In the opening statement, Sri Ram also said the prosecution will prove that Najib, by his words and conduct, made it clear that fugitive Jho Low was his alter ego.
"In truth, Jho Low was the accused's mirror image," said Sri Ram.
Among others, the opening statement underlined that 1MDB funds worth over RM2 billion were channelled through a series of transactions to the account of Tanore Finance Corp — an entity controlled by Jho Low's associate Eric Tan — that is unrelated to the state fund, and later into Najib's personal bank account.
The bulk of the funds was remitted back to Tanore, but the balance that stayed in Najib's account was used to pay entities and individuals for Najib's benefit, the opening statement read.
It has been reported that Najib constantly justified monies by the billions that came into his accounts in 2013 as Arab donations, the bulk of which were returned to the original donor.
Najib's lawyer Tan Sri Muhammad Shafee Abdullah had also on numerous occasions suggested that the dealings in Najib's personal accounts that got him charged were conducted by Jho Low and his associates in a conspiracy to misuse the accounts.
The hearing continues.