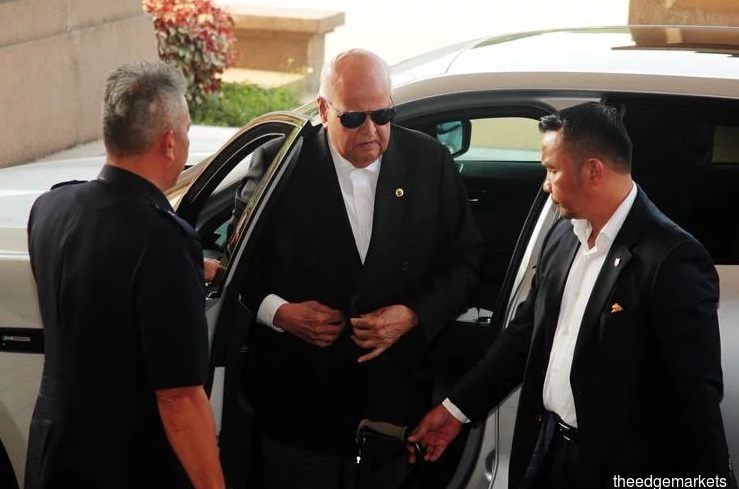 KUALA LUMPUR (Sept 6): The Attorney General's Chamber (AGC) will file an application for leave to appeal in the Federal Court against the decision by the Court of Appeal which granted leave to Datuk Seri Najib Razak and his lead counsel Tan Sri Muhammad Shafee Abdullah, to start a judicial review application to remove former federal court judge Datuk Seri Gopal Sri Ram (pictured) from prosecuting the former prime minister in the 1Malaysia Development Bhd (1MDB) case.
The case was called up for case management today, before High Court Judge Datuk Seri Mariana Yahya.
Lawyer Farhan Shafee who appeared for Najib and Shafee told reporters that federal counsel Aisyaf Falina Abdullah who acted on behalf of Sri Ram and the government, had indicated to the High Court that the AGC will appeal against the leave decision.
Farhan, however, revealed that the High Court today has set Oct 25 to hear the judicial review application filed by his clients.
"The leave application to appeal has not been filed before the Federal Court, neither is there a stay of proceedings on this matter.
"So, as far as this court is concerned, this case will proceed," Farhan said.
Najib and Shafee were granted leave to commence the judicial review application by the Court of Appeal on Aug 26.
It was reported on Feb 20 this year that then High Court judge Datuk Azizah Nawawi refused to grant leave due to the duplicity of another application filed by Najib and Shafee. Azizah was elevated as a Court of Appeal Judge on Aug 8, 2019.
Following Azizah's refusal to grant leave, Najib and Shafee then appealed to the Court of Appeal.
On Aug 26, a three-member bench led by Justice Datuk Hasnah Mohammed Hashim ruled that there are merits in Najib and Shafee's appeal and granted leave for the case to be heard on its full merits before another judge.
Najib is facing four charges of abuse of power and 21 charges of money laundering involving RM2.28 billion of 1MDB funds.
The case is also referred to as the Tanore case, as the transfer to the former premier's account was allegedly carried out by Low Taek Jho in Tanore Finance, a company controlled by the fugitive businessman.
Besides the judicial review application which will now be heard on its full merits, following the appellate court's decision, the former premier had also filed separate criminal applications to disqualify Sri Ram from prosecuting them.
This application was dismissed by High Court Judge Justice Collin Lawrence Sequerah and the decision was upheld by the Court of Appeal.
On Aug 7, a seven-member Federal Court bench dismissed Najib's appeal to disqualify Sri Ram but ordered the prosecution to give the court and the defence, Sri Ram's appointment letter by Attorney General Tommy Thomas dated Aug 31 last year. The letter was previously classified under the Official Secrets Act 1972.