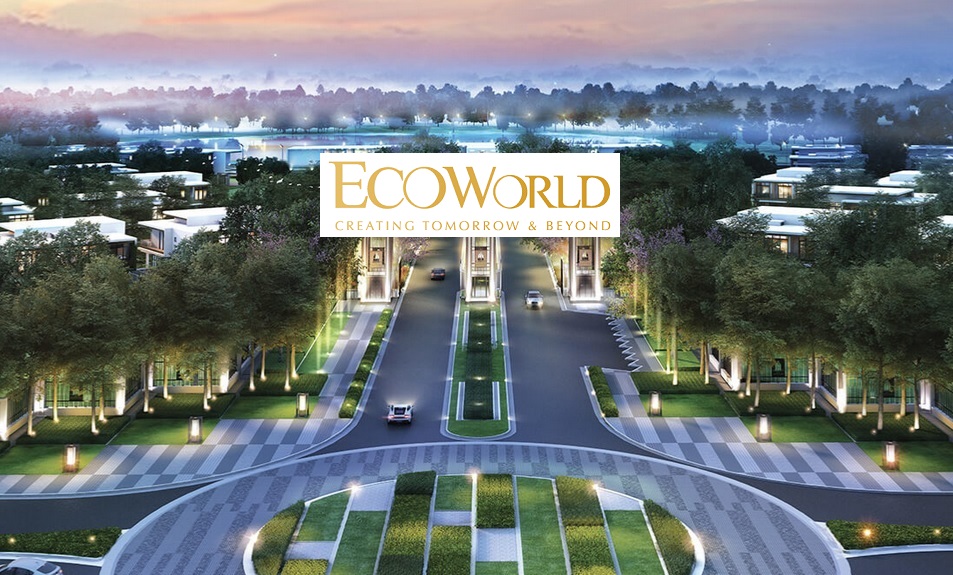 KUALA LUMPUR (Sept 19): Eco World Development Group Bhd's third quarter net profit jumped 81.6% to RM50.48 million from RM27.8 million a year ago, thanks to a higher proportion of completed or near completion units sold and a higher percentage of completion attained by various ongoing projects.
Earnings per share (EPS) for the quarter ended July 31, 2019 (3QFY19) rose to 1.71 sen, from 0.94 sen previously.
In a filing with Bursa Malaysia, Eco World Development also attributed the improved earnings to a higher share of results from its Malaysian and international joint-ventures.
The group said quarterly revenue grew 14.7% to RM521.37 million, from RM454.65 million a year earlier.
For the nine-month period, the group's net profit rose by 51.2% to RM121.97 million, from RM80.69 million in the previous corresponding period, while revenue grew 2.1% to RM1.56 billion from RM1.52 billion.
EPS for the nine month rose to 4.14 sen, from 2.74 sen previously.
Moving forward, Eco World Development said the future revenue attributable to the group amounted to RM5.86 billion as at end-August, which would be translated to profit within the next three years.
Of this future revenue, RM4.3 billion is from Malaysian projects and RM1.56 billion from projects abroad.
Revenue from overseas projects came from the group's 27%-owned Eco World International Bhd (EWI), which saw its 3Q net profit shoot up by more than four times to RM57.94 million, from RM12.85 million a year ago. EPS rose to 2.41 sen, from 0.54 sen previously.
EWI's filing with the stock exchange showed that its revenue for the quarter was RM224,000. The group did not record any revenue in the year-ago third quarter.
EWI derive most of its revenue from its joint venture projects, and the group said the higher profitability was mainly due to higher recognition of revenue and profit by its joint venture projects in the United Kingdom following completion and commencement of handover of units sold to customers.
Additionally, the group also attributed its performance in the quarter under review to the commencement of revenue and profit recognition of EcoWorld London's Built-to-Rent (BtR) sales and unrealised foreign exchange gain reported in current quarter as opposed to unrealised foreign exchange loss reported in previous corresponding quarter.
"Revenue recorded by the group's joint-ventures totalled to RM892.85 million, of which the group's effective share (unconsolidated) amounted to RM629.33 million," it said.
EWI said future revenue attributable to it in its joint ventures amounted to RM5.76 billion as at Aug 31, and it is anticipated to be translated into revenue and share of profits in the financial year ending Oct 30, 2019 (FY19) and FY20.
"The group is maintaining the sales target of RM6 billion to be achieved over FY19 and FY20. Potential BtR deals in the UK that are being pursued are expected to be the key sales driver in these two financial years. The two-year sales target is to allow management the requisite time to negotiate the best possible terms on potential en-bloc BtR sales to institutional investors," it said.
In a separate statement, EWI president and chief executive officer Datuk Teow Leong Seng said the group is on track to handover all the remaining residential blocks at London City Island and Embassy Gardens, and will be handing over Wardian London and both Australian projects, namely West Village in Sydney and Yarra One in Melbourne next year.
"Our BtR blocks in Kew Bridge have also achieved Golden Brick which enabled the project to start recognising revenue and profits. FY19 and FY20 will therefore be very strong years for EWI as the bulk of our RM5.8 billion future revenue as at Aug 31, 2019 are translated into revenue and share of profits from joint ventures – this provides our shareholders with very good near-term earnings visibility," he said.
EWI's share price closed unchanged at 63.5 sen today, giving it a market capitalisation of RM1.52 billion, while Eco World Development also remained unchanged at 64.5 sen, valuing the group at RM1.9 billion.