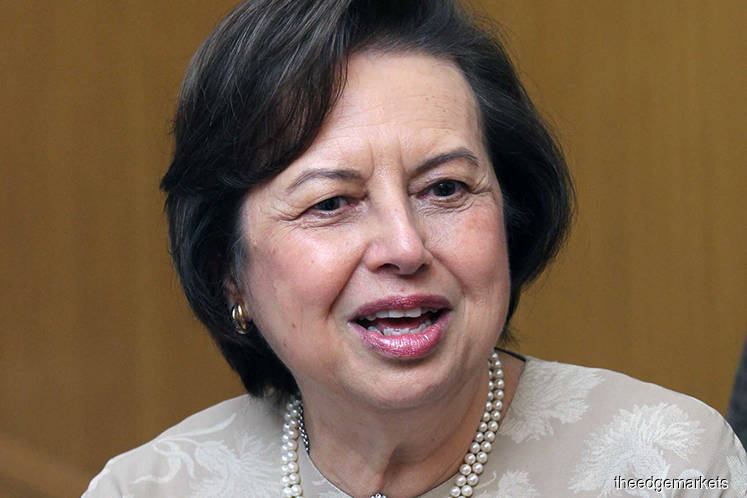 KUALA LUMPUR (Sept 24): Permodalan Nasional Bhd (PNB) group chairman Tan Sri Dr Zeti Aziz has denied that she decided the appointment of Jalil Rasheed as the new PNB president and group chief executive officer (CEO) on her own without any consultation.
Zeti said PNB is regulated by the Securities Commission Malaysia (SC) and, as such, adopts a very strict, rigorous and robust governance process.
"We have a nomination and remuneration committee of the board, where it (the appointment) was first discussed. And then it's presented to the board and then to the Yayasan Pelaburan Bumiputera, which is chaired by the Prime Minister," she told reporters after the launch of Merdeka 118 show gallery here today.
It was reported — following the announcement that the 38-year-old Jalil is the new PNB chief — that Prime Minister Tun Dr Mahathir Muhammad was kept in the dark about his appointment.
When asked by reporters at the time, Dr Mahathir said he was unaware of the matter and Zeti would have informed him about this.
"Maybe he didn't know the timing of the announcement and therefore maybe he didn't want to pre-empt it. Also another factor is that it has to be approved by the SC. PNB is a regulated financial institution, and such senior appointments require their approval. So it's very important for none of the announcements to be made pre-empting all these approval process and so perhaps that is why he didn't want to say anything at that stage," Zeti clarified.
On Aug 28, PNB confirmed an earlier report by theedgemarkets.com that Jalil, who is currently heading the South Asian operations of UK-based fund manager Invesco Ltd, will be appointed as its president and group CEO, effective Oct 1.
Jalil will be replacing Datuk Abdul Rahman Ahmad, who is set to leave for Sime Darby Bhd once his contract expires on Sept 30.
This will make Jalil the second new CEO at PNB in three years, after the position was held for almost two decades by Abdul Rahman's predecessor Tan Sri Hamad Kama Piah Che Othman.
Abdul Rahman, meanwhile, will join Sime Darby as its non-independent and non-executive chairman after its current chairman Tan Sri Dr Wan Abdul Aziz Wan Abdullah retires on Oct 31, 2019.
Earlier today, PNB's wholly-owned subsidiary PNB Merdeka Ventures Sdn Bhd unveiled the Merdeka 118 show gallery, which provides visitors with the opportunity to preview features of the development such as the location and connectivity in relation to other parts of Kuala Lumpur as well as technical aspects, and the look and feel of the tower.
Expected to be completed by 2021, Merdeka 118 will span over 3 million square feet of floor area, comprising 1.65 million square feet of net lettable area of Grade-A rentable office space, four floors of the PNB Observation Deck, the only Park Hyatt Hotel in Malaysia, and approximately 1 million square feet of net lettable area for retail and three premium residential towers.
When asked about the issue of high commercial property overhang in Kuala Lumpur, Zeti said PNB recognises the significant supply that will still be coming on-stream when the project is completed and therefore, it has to look for innovative ways to address the concern.
"We have several strategies recognising this significant supply that is coming on-stream. So as we go along, these are strategic for PNB and you will know it when it happens," she said.
PNB executive vice president of property/real estate Rizal Rickman Ramli added that PNB is confident with the premium offices area that Merdeka 118 is offering.
"We are coming into the market with a premium A product and if we look at the premium A supply in the city, they are running at more than 90% occupancy, for instance, the [Petronas] Twin Towers and Integra Tower.
"So we feel that with the product that we have and with the pricing that we are coming into the market, we will be competitive," he added.