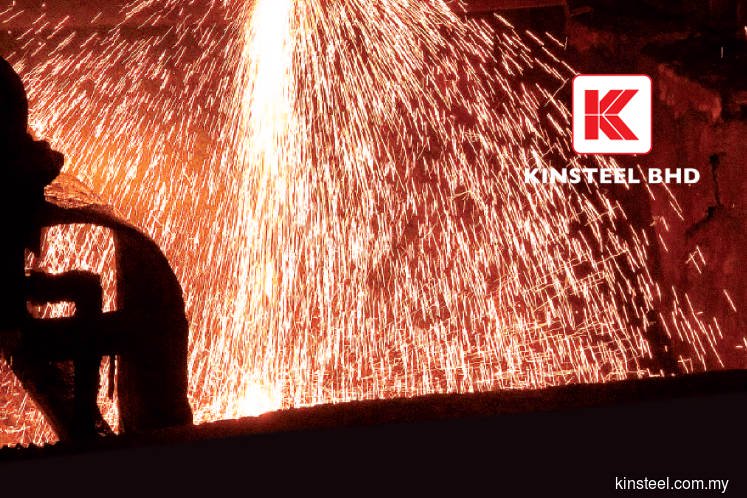 KUALA LUMPUR (Sept 24): Practice Note 17 (PN17)-listed Kinsteel Bhd is seeking to regularise its operations as a going concern and has proposed a share reduction and fundraising.
Kinsteel had been classified as an affected issuer under PN17 in October 2016.
In a filing to Bursa Malaysia today, M&A Securities, on behalf of Kinsteel, said the company would carry out a capital reconstruction via a share capital reduction and consolidation of shares.
Kinsteel is also seeking to raise up to RM46.6 million via a special issue of new shares with free warrants to selected placees and rights issue of new shares with free warrants to existing shareholders of Kinsteel.
The company has also proposed the disposal, by its subsidiary Perfect Channel Sdn Bhd (PCSB), of five parcels of industrial land with buildings erected thereon and the beam section mill plant, equipment and machineries for RM140 million.
The corporate exercise also included the settlement of inter-company debt owing by PCSB to Kinsteel amounting to RM159.7 million as at June 30, 2019.
Kinsteel also proposed a scheme of arrangement and compromise with its creditors involving total liabilities of RM1.68 billion as at June 30, 2017.
Under the regularisation scheme, Kinsteel plans to reduce its issued share capital from RM83 million to RM24.9 million by cancelling 70% of its share capital.
It also plans to consolidate every three shares into one share.
Following the share capital reduction and consolidation, Kinsteel will have 349.79 million consolidated shares.
Its fundraising comprises the special issue of new shares with free detachable warrants to its managing director Tan Sri Pheng Yin Huah and Kin Kee Holdings Sdn Bhd (undertaking shareholders) and third party placees to be identified (proposed special issue).
Kinsteel proposes to raise up to RM35 million under the special issue.
It said the special issue will be undertaken based on a minimum subscription level to RM21 million.
On the rationale for the regularisation scheme, Kinsteel said it was to return the group to better financial standing and profitability.
"The proposed capital reduction will facilitate reduction of the company's accumulated losses to the extent possible, as part of the initiatives to rebuild the company's financial position.
"The resulting reduction of accumulated losses will enhance the company's statement of financial position and Kinsteel's credibility with its customers, suppliers and investors, apart from paving a stronger financial platform for the group's future growth," it said.
On industry outlook, Kinsteel said the regularisation scheme will not alter its industry prospects as the group will still be involved in the steel industry.
Kinsteel said upon completion of the exercise, it would have two subsidiaries, namely PCSB and Perfect Wiremakers Sdn Bhd (PWSB).
Moving forward, Kinsteel said it is seeking to rebuild and re-establish itself with the remaining operating assets in PCSB and PWSB.
Kinsteel was last traded at 0.5 sen for a market capitalisation of RM5.25 million.