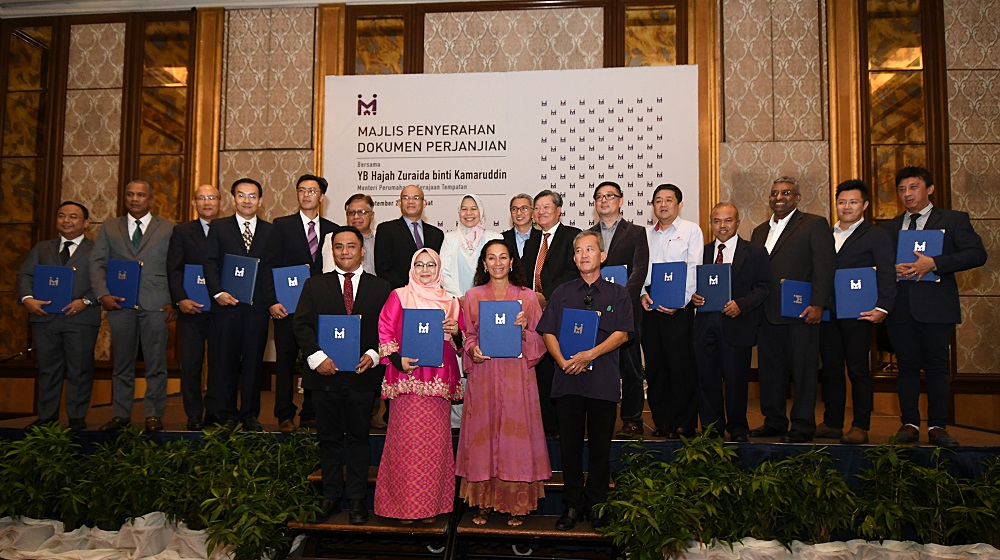 PETALING JAYA (Sept 27): Perbadanan PR1MA Malaysia, which offers the 1Malaysia People's Housing Scheme (PR1MA), has succeeded in cutting down its debt exposure from RM24 billion to RM12 billion after undergoing a due diligence process, corporate restructuring and management change process.
At a press conference after the exchange of agreement documents between PR1MA and its developers today, Housing and Local Government (KPKT) Minister Zuraida Kamaruddin said among the 94 projects under PR1MA, 30 projects are going to be casualties.
Read also
KPKT will meet dissatisfied PR1MA homebuyers
"The 30 projects are those we could not sell but the lands have been bought in non-strategic places, therefore we cannot afford more losses," she said.
"We will pay the developers compensation for whatever they have spent," she added.
PR1MA today renewed its partnership agreements with 17 development partners, with a total contract sum totalling RM3.29 billion.
The new partnership agreements include extending the sales and marketing functions to the developers, as well as enhancing collections from buyers to ensure payments of the developers' monthly progress claims.
Under the previous agreements, the developers and contractors were only responsible for building houses and the monthly progress payments were paid by PR1MA.
The 17 agreements involve 17 projects that have been 90% completed, offering a total of 12,527 units which have been at least 50% sold. PR1MA plans to complete these projects by year end.
Zuraida said PR1MA has spent the RM10 billion budget allocated by the government and Putrajaya does not plan to inject any more money into the agency. "PR1MA has to use its own capabilities to continue its operations," she said.
"PR1MA is optimistic that this new proactive business model will enable the organisation and its partners to deliver better on a collective mandate," said PR1MA acting CEO Mohd Nazri Md Sheriff.
During the Home Ownership Campaign 2019 (HOC 2019), PR1MA sold 16,000 bookings of which half of them have gained loan approvals
There are a total of 94,191 PR1MA homes nationwide, to date of which 13,359 units have been completed while 42,777 units are currently under construction. PR1MA targets to complete 4,082 units by end-2019.
On another note, Zuraida said the HOC campaign targets to secure RM17 billion in sales by end- 2019. The campaign has gained more than RM14.6 billion sales as of Sept 13.