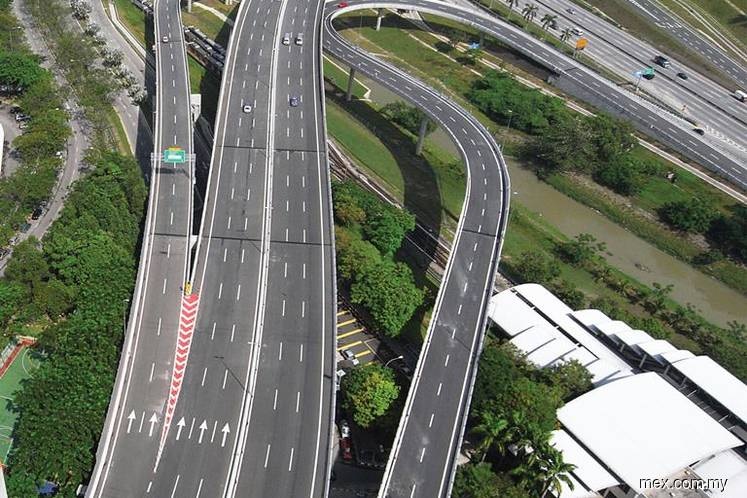 KUALA LUMPUR (Oct 18): Malaysian Rating Corp Bhd (MARC) has downgraded MEX II Sdn Bhd's RM1.3 billion sukuk and RM150 million junior bonds from AA-IS and A- to AIS and BBB respectively, due to rising completion risk of the 18km Putrajaya–KLIA highway (MEX II).
MARC wrote in a note today that Maju Holdings Sdn Bhd is the owner of MEX II.
"The ratings (on MEX II Sdn Bhd) have been on negative outlook, mainly due to rising completion risk," MARC said.
MARC said MEX II's rising completion risk is due to increasing uncertainty on the development of the 16.8-km KLIA portion (Lebuhraya KLIA). In the note, MARC refers to Lebuhraya KLIA as the MEX extension project.
"The downgrade reflects the lack of (MEX II) project progress, the lengthier delay and the consequent deterioration in the company's debt-servicing metrics that are no longer consistent with the previous ratings. Based on our assessment, a delay in tolling to after November 2020 could result in MEX II breaching its minimum covenanted finance service coverage ratio of 1.75x.
"The continued placing of the ratings on negative outlook reflects MARC's concern that additional construction delays could result in a greater erosion in MEX II's financial metrics. Ratings could be downgraded further, if MEX extension continues to have execution issues and its progress does not improve materially over the next three to six months. Evidence that the project is likely to be completed within the current timeline (i.e. by July 2020) and cost parameters, and whether tolling can start by September 2020, could however stabilise the outlook," MARC said.
MARC said today that in July 2019, it reported that the MEX extension was to be completed in March 2020, which is already a delay, given that the extension was originally scheduled to be finished in October 2019.
"We note that MEX II encountered a setback, when a stop work order on the construction of bridge 13 was issued in April 2019; timely commencement of work on bridge 13 is deemed critical to the overall project completion. The design documents had to be resubmitted for approval from related government agencies. As a result of the permit delay, the completion date is likely to be pushed back by another four months to July 2020. However, slow progress in the past six months (at 83% as at end-August 2019) remains a serious concern. Any constraints at Maju Holdings, the project owner and engineering, procurement and construction contractor, may also impede the timely completion of the project," MARC said.
At the time of writing, Maju Holdings had not issued a statement in response to MARC's note.
Maju Expressway Sdn Bhd's website indicates that MEX II is an 18km, three-lane dual carriageway that will commence at Putrajaya interchange and merge onto the existing Lebuhraya KLIA in Sepang.