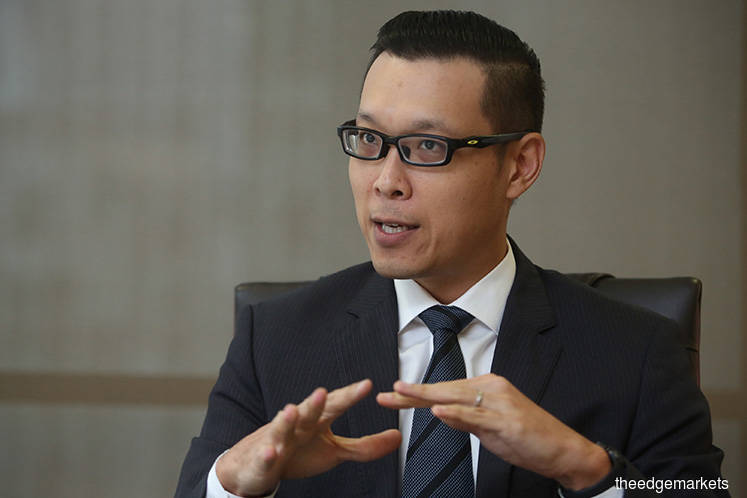 KUALA LUMPUR (Oct 29): Filling up office space is not easy for landlords nowadays simply because of oversupply. Offering co-working spaces, gaining traction in Malaysia and abroad, seems effective to woo tenants although the space for rent is smaller.
Tower Real Estate Investment Trust (REIT), owning office blocks here, intends to take the concept further. Menara HLA is currently a co-working office block just a stone throw from iconic KLCC Twin Towers here.
This co-working office building is unique whereby it houses the HLX Integrated Innovation Centre.
The innovation centre, managed by HLX Management Sdn Bhd, is wholly owned by GuocoLand (Malaysia) Bhd, a property arm of Hong Leong Group. It is said to be Asia's first innovation exchange bringing start-ups, corporates, technology and venture capitalists under one roof.
The REIT is leveraging its shareholder, Hong Leong Group, to gain more advantages among its competitors. GuocoLand (Malaysia) Equities Sdn Bhd has a 21.66% stake, Hong Leong Assurance Bhd 20.6% and Hong Leong Investment Bank Bhd 2.1%.
"Tied in Hong Leong Group and Malaysia Digital Economy Corp is the first infrastructure [partnership that] we built, [and] then we want to build the infrastructure of our team and partners, for example, co-working space operators," said Eusoffe Chua, chief executive officer of Tower REIT, controlled by Hong Leong Group.
"As we built this nexus for technology innovation in Malaysia, start-ups coming here will gain access to funding, market, data and marketing opportunity. If the company (prospective tenant) sees the values, it will drive [our] rental [rates] later," Chua added.
The innovation centre is expected to occupy 250,000 sq ft or about 65% of the total 385,215 sq ft net lettable area in Menara HLA.
Hong Leong Group has allocated an initial investment of RM40 million for renovation works and operation expenses for this development in the next two years.
"The HLX Integrated Innovation Centre is not just a co-working space or a space for start-ups; we are far more than that. It is about innovation," HLX Management general manager Mohd Reezan Mohd Fadzil said. "There are 12 or 13 co-working space operators in Kuala Lumpur, and they have their own communities."
"We see them (start-ups) belonging to the ecosystem that we are curating, so we welcome their participation and presence in the HLX Integrated Innovation Centre. The more communities they create means more start-ups that we can interact with to create those innovations we are pushing for," added Mohd Reezan, present at last week's launch of HLX Integrated Innovation Centre.
Chua is optimistic that 250,000 sq ft of space to be offered by the innovation centre will be fully occupied by tenants after renovation works are completed by end-2020.
Currently, about 100,000 sq ft have been taken up by six tenants including local training academy KCOM Group and a co-working space operator.
Chua said the new co-working space operator is its first tenant from the co-working sector. He is expecting the operator to commence operations by January next year.
"We believe as this [project] becomes successful, we will [further expand], probably use up the entire area [in Menara HLA] for the HLX Integrated Innovation Centre, but it depends on when the renewal happens [for the existing tenants], then we will discuss with them.
"I want to house the future economy in my asset. Technology is a sunrise industry as the pace of growth is so rapid," Chua said, adding that with all plans involved, he is positive about the group's prospects and sees this flagship project driving the group's growth moving forward.
Chua added that the innovation centre is for everyone in the ecosystem to come together. For instance, KCOM Group will provide specialised development and upskilling programmes under its Beyond4 training banner, matching talents' skills to meet the government's and industry's needs, and aiming to train 10,000 people to become high-skilled workers over five years.
This article first appeared in The Edge Financial Daily, on Oct 29, 2019.