Transport infrastructure developments such as roads, railways, airports and ports tend to signal where the next property hot spot will be as they often serve as catalysts to drive economic activity while enhancing the liveability of the areas they serve or operate in.
One much-anticipated infrastructure project in Peninsular Malaysia that is set to transform the landscape along its route is the West Coast Expressway (WCE), a 233km highway connecting Banting in Selangor to Taiping, Perak.
The construction of the WCE is being undertaken by a consortium comprising WCE Holdings Bhd and IJM Construction Sdn Bhd and is expected to be fully completed by end-2022.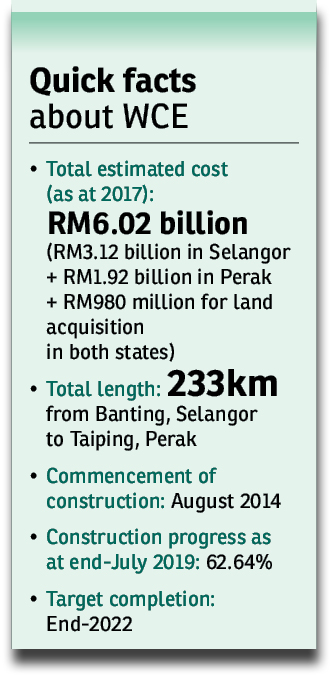 The WCE will be connected to several existing highways, namely the North-South Expressway (NSE), the South Klang Valley Expressway (SKVE), the New Klang Valley Expressway (NKVE), the New North Klang Straits Bypass (NNKSB), the Kuala Lumpur-Kuala Selangor Expressway (LATAR) and the Shah Alam Expressway (KESAS).
Upon completion, it is expected to enhance the accessibility and connectivity of the areas along the alignment.
According to industry experts, the WCE will potentially open up the west coast corridor as the travelling time to the coastal areas will be slashed and thus spur the growth of development in these areas.
"The time taken to get to areas along the WCE will be reduced. For example, it takes a long time to get to tourism destinations like the leaning tower of Teluk Intan and to Pulau Pangkor using the current roads. But with this highway, it will be so convenient for tourists. It will also provide opportunities for manufacturers and small and medium enterprises (SMEs) to relocate their factories to areas along the new highway," says Raine & Horne International Zaki + Partners Sdn Bhd associate director James Tan.
It will also be much easier, cheaper and convenient for businesses and factories to transport their goods along the west coast, he adds.
On top of that, there will be opportunities for property developers to build industrial or resort properties, especially near the highway exits or interchanges such as Kapar, Klang, Bandar Bukit Raja, Shah Alam, Telok Datok and Banting as these areas are expected to enjoy reduced travelling time and improved accessibility.
There are 21 interchanges along the WCE, of which 11 are located in Perak and the rest within Selangor.
Currently, accessibility of areas in the west coast corridor is limited to the Federal Route 5 road, says urban planner and transport expert Goh Bok Yen.
"The west coast is very resourceful with all the existing fishery and marine-based industries, especially from Sekinchan onwards to Taiping. But the accessibility is not there and this has impeded the economic and development potential of the west coast corridor," offers Goh, who is the director of MAG Technical and Development Consultant Sdn Bhd.
Using the Federal Route 5, the distance from Banting to Taiping is about 308km and it would take about five to six hours to travel between the two destinations on a smooth traffic day, according to Google Maps.
However, with the 233km WCE, industrial players will be able to tap the resource-rich coastal areas in a more convenient and efficient way, says Goh.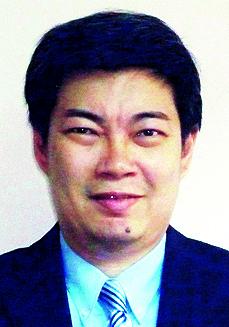 "Over the mid to long term, the WCE certainly offers good opportunity to generate new growth areas along the corridor where developers like Sime Darby Property and KLK Land own vast estate lands. With these landbank, there could be more new township developments in areas such as Ijok and Kuala Selangor," he adds.
Awakening of Banting
Along the WCE alignment, Banting appears to be the favourite pick for both Tan and Goh, to benefit the most from the construction of the expressway as there will be an upcoming interchange situated at Federal Route 31 close to Bandar Mahkota, Banting.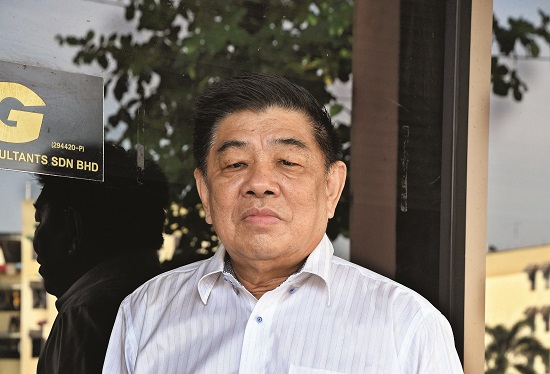 Tan points out that as the starting point of the WCE, Banting will enjoy much better access than now from the upcoming highway as well as the existing SKVE.
"The travel time from Banting to Putrajaya, Cyberjaya and the KLIA (Kuala Lumpur International Airport) in Sepang will be shortened. With that, Banting will definitely receive a big economic boost and property prices in the vicinity are expected to go up further," offers Tan.
He cites Raine & Horne's data which shows that the average price of a 2-storey terraced house in Banting is already on an uptrend, having increased by 67% from 2014 (when the construction of the highway officially began) to the first half of 2019 (1H2019), from RM180,000 per unit to RM300,000.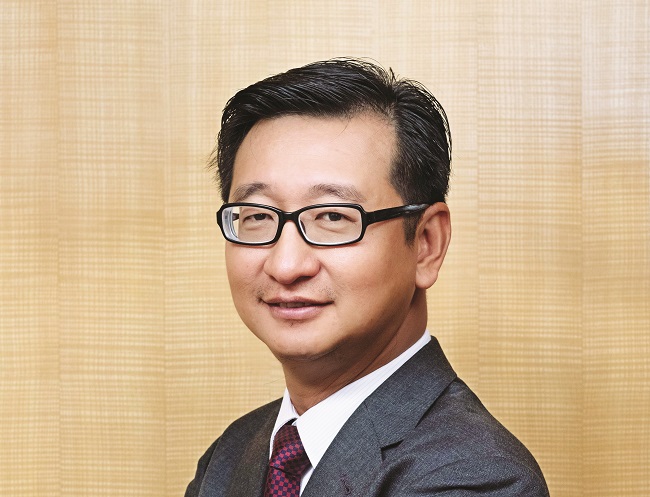 Goh believes that the new Banting interchange will open up another growth area that combines both Banting and Salak Tinggi.
Another area that is poised to get a second wind is Bandar Bukit Raja, where an interchange will also be built.
"From Bukit Raja to the southern areas (Banting), intensive transformation is expected to take place at areas surrounding the interchanges as they are expected to become strong economic hubs. So now is the time for developers who own lands in these areas to study the suitable components that they can build in order to enhance the value of their lands," says Goh.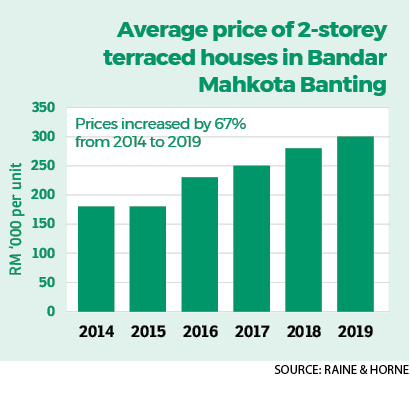 A boon for industrial property
Due to the bright outlook for industrial property, the prices of industrial lots in Kapar, Klang, Pulau Indah, Bestari Jaya and Sabak Bernam have seen an upward trend since the WCE construction started in 2014, according to data from Raine & Horne.
The area that recorded the highest price growth between 2014 and 1H2019 is Kawasan Perusahaan Suria in Bestari Jaya, Selangor, where industrial plot prices have gone up by more than 160% from an average RM15 psf based on land area size, to RM40 psf.
This is followed by Meru Industrial Park and Telok Gong Industrial Park in Klang, both registering a growth of 100%.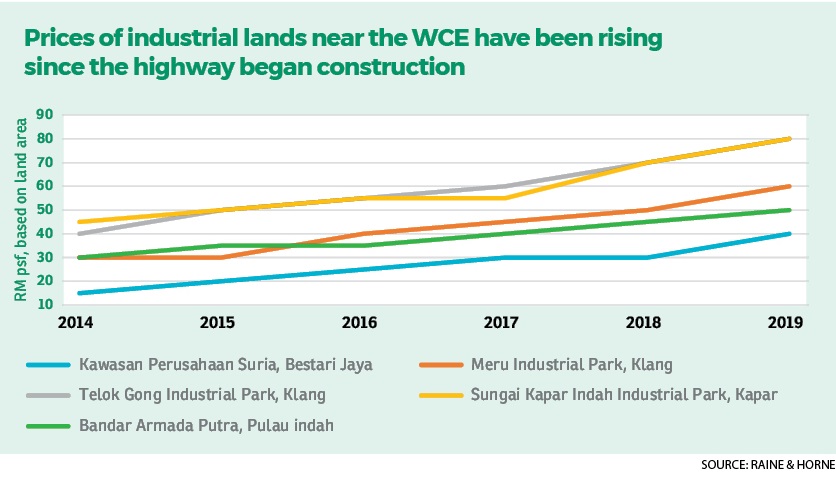 Meanwhile, Sungai Kapar Indah Industrial Park in Kapar and Bandar Armada Putra in
Pulau Indah have also seen hikes of some 78% and 67% respectively, during the period.
"We also noticed some industrial lands in Sabak Bernam, where there is a WCE interchange, sold for a record RM50 psf last year, something that one would not expect, say five years ago," says Tan.
He also notes that similar price trends had been previously observed in other industrial areas along some of the existing highways, namely KESAS, SKVE and NSE, where the appeal of industrial property there was enhanced by the construction of the highways.
"An excellent example would be the Kota Kemuning lndustrial Park. Before KESAS was constructed, industrial properties there were selling at about RM20 psf. But today, with the enhanced accessibility, the price has increased to a range of between RM150 and RM180 psf," he says.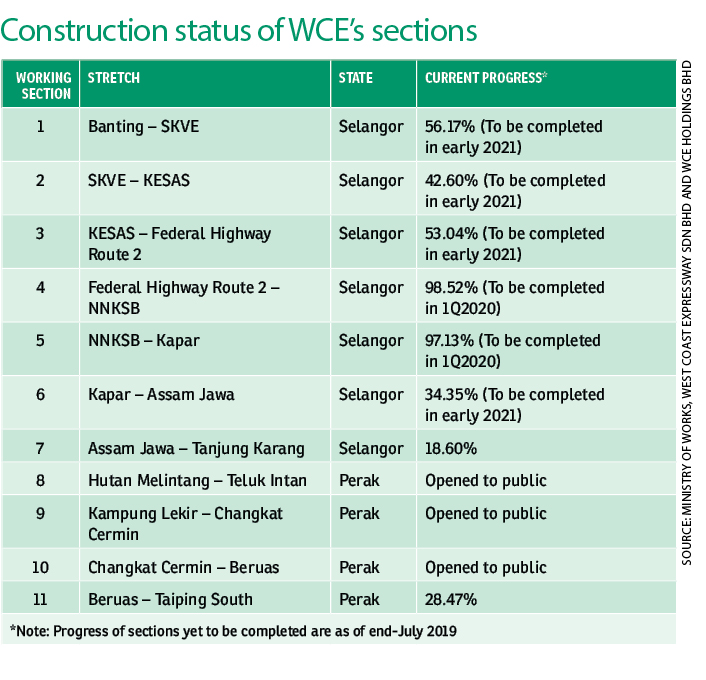 Looking ahead, Tan expects the industrial land prices along the stretch of WCE to move up and developers taking the opportunity to build industrial parks.
"We are likely to see a repeat of what happened to areas along the KESAS, SKVE and NSE, where land prices along these highways have increased tremendously. This whole stretch of the WCE, especially the areas situated northwards of Kapar, is relatively new and there are not many industrial parks there. The potential for new industrial parks is definitely there".
Tourism sector another beneficiary
Besides residential and industrial, tourism property will also benefit from the WCE as the tourism attractions in some of the coastal towns become more accessible, says CBRE l WTW director and Ipoh branch manager Heng Kiang Hai.
"Places such as Sitiawan and Teluk Intan in Perak and Sekinchan in Selangor are among the top beneficiaries as more tourists will travel to these coastal towns and indirectly boost the local business and commercial activities there," he says.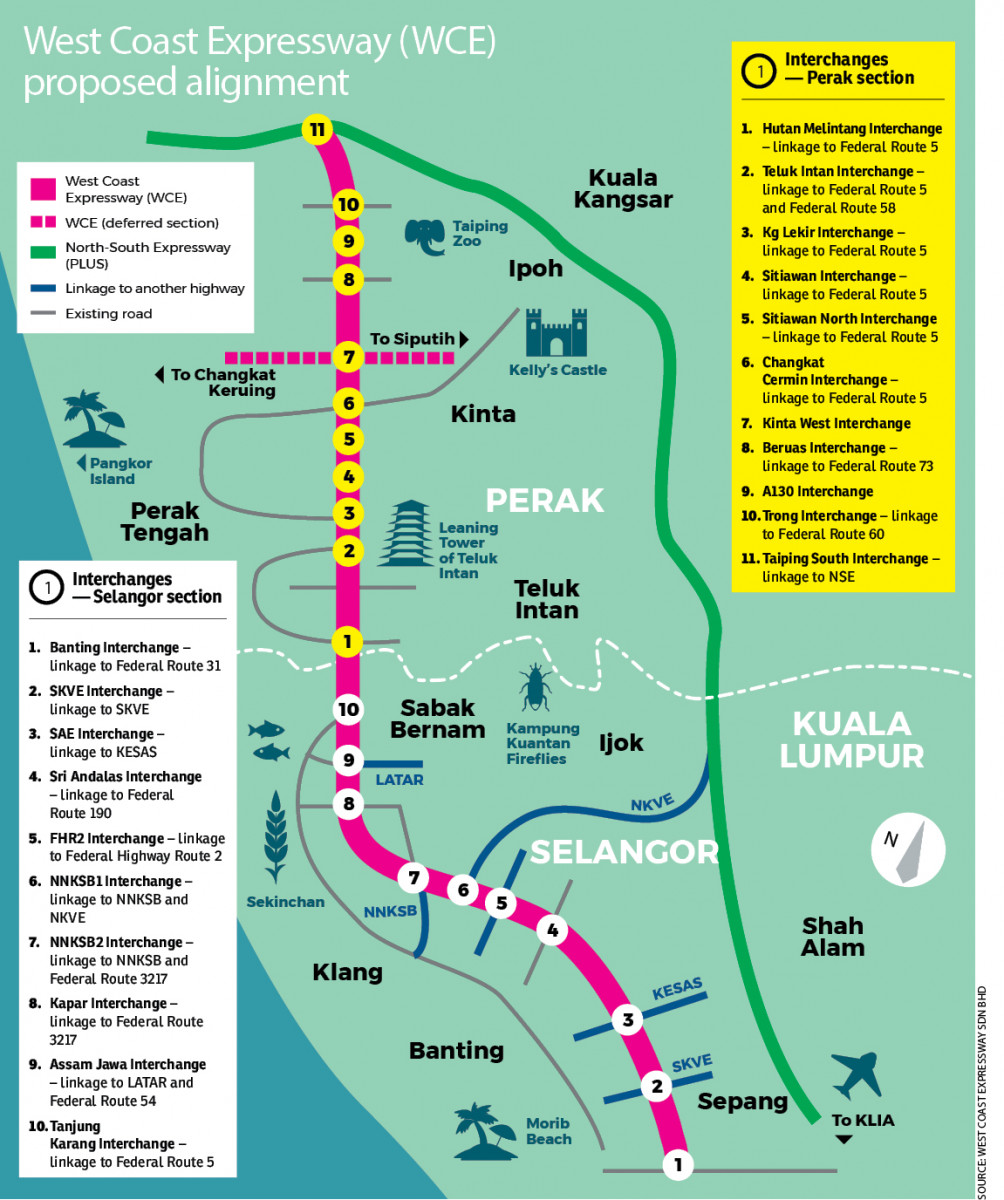 He adds that this may attract developers to mull over the possibilities of undertaking developments in these areas.
Raine & Horne's Tan concurs, adding that the Telok Datok neighbourhood in Banting offers opportunities for resort development, given its proximity to the Morib beach.
"Other areas with tourism potential include Kuala Selangor, where one can find interesting attractions such as fireflies, seafood, nice quaint fishing villages, paddy fields, eagle feeding and the Sky Mirror. All these areas that currently have to take a long time to reach will become easily accessible with the upcoming WCE," he says.
This story first appeared in the EdgeProp.my pullout on Nov 8, 2019. You can access back issues here.