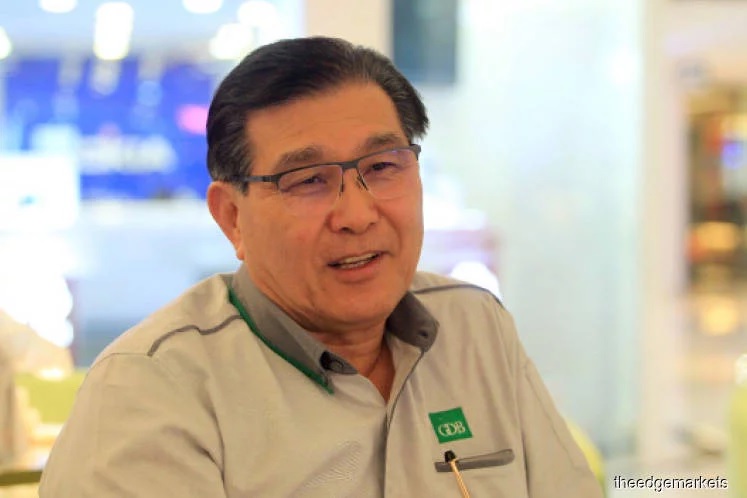 KUALA LUMPUR (Nov 11): Construction company GDB Holdings Bhd, which made its debut on the ACE Market of Bursa Malaysia a year and a half ago, is aiming to achieve a turnover of RM1 billion in the next five years.
Its latest RM213.3 million contract win for the construction of the five-star Hyatt Centric Hotel in Kota Kinabalu, Sabah — its first job in East Malaysia — has bumped up its total outstanding order book to RM1.2 billion, which would keep the company busy for the next three years. This will result in an average of RM400 million sales annually.
This is the third construction job GDB has secured this year, bringing its year-to-date contract wins to RM865 million, a record high for the company, surpassing all its previous annual tallies.
GDB managing director Cheah Ham Cheia told The Edge Financial Daily that the company has been expanding its building capabilities in different segments of the construction sector. From mainly offices and residential properties, GDB has moved towards industrial buildings and now a hotel. It is also eyeing hospitals, which could mean potential collaborations.
"We need those experiences in building different segments. Being a relatively new company, we need to start somewhere. Therefore, we need to partner with firms that have track records to secure the jobs," Cheah said during a recent interview.
The announcement in July that it would take up a 70% stake in piling company Eco Geotechnics Sdn Bhd for RM5.96 million, which would enable the group to strengthen its competitive edge as an integrated builder, is also part of its planned capability expansion.
The acquisition would also provide the company with opportunities to secure more jobs, as some clients prefer to have the piling and substructure works done by the same contractor.
"Basically, this acquisition would enable the company to have one foot in the project, making it easier to get the superstructure job," said Cheah.
For the financial year ending Dec 31, 2020 (FY20), Cheah is optimistic GDB's revenue and earnings would see an improvement, compared with what it will achieve for FY19, based on its improved order book. But FY19 itself would probably be similar to what the group achieved for FY18 — a net profit of RM27.89 million — as the impact of these new orders may not be reflected as yet, Cheah said.
GDB reported a 11.14% decline in net profit for the first half ended June 30 of FY19, to RM13.98 million from RM15.73 million for the same period last year, while revenue fell 9.21% to RM135.71 million from RM149.47 million. The decline in earnings was due to fewer ongoing projects in the financial period under review.
In last Friday's report, TA Securities analyst Ooi Beng Hooi projects a revenue of RM300 million for GDB for FY19, and RM453.9 million for FY20. In terms of net profit, Ooi forecasts it can achieve RM26.4 million for FY19, and RM33.1 million for FY20.
Cheah still upbeat about Klang Valley's construction outlook
While concerns about the oversupply of residential properties and office buildings in the Klang Valley remain, Cheah still sees a lot of opportunities.
"From our perspective, the construction business is still doing well. Maybe because of our track records, there are still a lot of invitations [for new jobs]," said Cheah, adding that completing projects ahead of schedule has always been GDB's trademark.
Having said that, Cheah said competition has become tougher in the region, leading to a margin squeeze. "We, nonetheless, still aim to have a good margin," said Cheah.
The company is now eyeing a Klang Valley project that will likely be worth over RM1 billion. "This project is soon to be tendered out and it has more than 60 storeys. It will be a challenging job as we have only built up to 54 storeys so far, but this is a job we are aiming to achieve, [to set] another record in our building portfolio."
Cheah said the company's forte is in "value engineering", under which it works with clients to find cost-efficiencies by proposing the modification of designs and systems according to a value analysis — or what is also called an examination of functions — without compromising on the quality of the end product.
Property development on the cards
On the group's plan to expand into infrastructure projects within a year of listing, Cheah said there has been difficulty in putting together the team for this department. "We have yet to gather the right people and there is no point in rushing into the segment when there are no people to run it," said Cheah.
Looking ahead, Cheah said GDB also looks to diversifying into property development.
"When that time comes, our approach will not be buying land, but to enter joint ventures with landowners, as we now have to build up on our cash," said Cheah, adding that most of their cash is reserved for working capital.
Cheah further shared that the company will "strike a good balance" between reserving cash for working capital and dividend payouts. With a dividend policy of 30% of its annual net profit, GDB has been paying more than that since its listing. For FY18, the company's total dividend payout amounted to RM12.5 million, or 44.8% of its earnings that year.
According to Cheah, the company is very selective and careful when picking jobs. "We are very conservative and that is why we do not take on more than we can swallow."
Due to that, and what Cheah termed a "prudent spending" policy, GDB had a net cash position of RM85.81 million as at June 30, 2019, with zero borrowings.
The comfort of repeat customers
GDB enjoys a number of repeat customers, but it raises concern about the risk of relying on the same clients.
Cheah, however, said the company's "priority" is to make sure it gets the payments. "Our records show that our existing clients have never disappointed us in terms of payment."
With clients that deliver steady payments, this has encouraged GDB to take a step out of its comfort zone to embark on its maiden venture out of Peninsular Malaysia, said Cheah, referring to its new hotel project in Kota Kinabalu.
Shortly after its debut in March 2018, GDB shares jumped to 39.5 sen apiece in July, before falling to as low as 21 sen by end-2018, dragged by negative sentiments in the construction sector. Since then, its share price has rallied and closed at 39 sen last Friday, giving it a market capitalisation of RM243.75 million. Year to date, the stock is up 85.7%, but compared with its initial public offering (IPO) price of 35 sen, the stock is up 11.4%.
According to Bloomberg, only TA Securities Holdings Bhd currently covers the counter and it has a "buy" call on it with a target price of 53 sen, indicating a 35.9% potential upside.