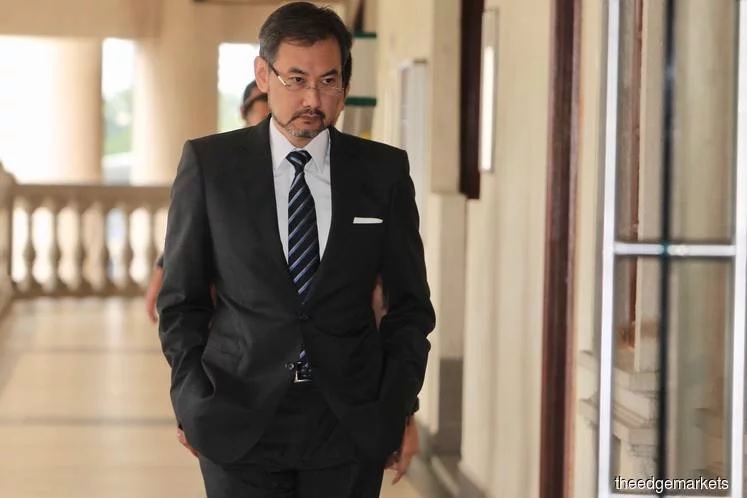 KUALA LUMPUR (Nov 11): The 1MDB-Tanore trial was cut short today as prosecution witness Datuk Shahrol Azral Ibrahim Halmi was unwell as he was down with the flu.
Proceedings, which began at 9am but were adjourned at 10am to make way for a decision on the SRC International Snd Bhd case where former Prime Minister Datuk Seri Najib Abdul Razak was ordered by Justice Mohd Nazlan Ghazali to enter his defence on seven charges, resumed after more than two hours.
At the start of proceedings, Deputy Public Prosecutor Ahmad Akram Gharib notified Justice Collin Lawrence Sequerah that Shahrol was not well, but could continue to testify under cross examination.
However, after the trial resumed at about noon, Senior Deputy Public Prosecutor Datuk Seri Gopal Sri Ram apologised to Justice Sequerah that Shahrol's condition had not improved, and requested that the witness be allowed time off in the afternoon and the whole of tomorrow.
Justice Sequerah ordered the trial to be continued on Wednesday.
This is the second time that proceedings have been adjourned owing to unforeseen circumstances, putting the court's trial schedule — starting at 9.30am and extended to end at 6pm to make up for time foregone when Najib could not attend court because of an eye allergy two weeks ago — into disarray.
Earlier in the one-hour trial today, Najib's lead defence counsel Tan Sri Muhammad Shafee Abdullah verified with Shahrol a Dec 30, 2011 presentation to 1MDB's board of directors.
Shafee noted that the presentation was mainly to introduce PetroSaudi Oil Service Ltd (PSOSL).
Shahrol agreed, but said he was unsure why 1MDB's former chief investment officer (CIO) Nik Faisal Ariff Kamil, who had prepared the presentation, had focused on PSOSL specifically.
"The presentation was merely for information purposes, to get to know our partner PetroSaudi International [Ltd] (PSI) better. There was no discussion of the board to go (invest) into PSOSL," he said.
Shafee also went through 1MDB's board endorsement document on the appointment of Nik Faisal as 1MDB CIO in 2010, noting one of his work experiences was with UBG Bhd.
"UBG Bhd was Jho Low's company, so Nik Faisal was a recruitment from one of Jho Low's companies?" Shafee asked.
Shahrol agreed and verified that the appointment also had been endorsed by Najib.
"Did Jho Low suggest Nik Faisal to you for the appointment?" Shafee asked.
"It was September or October 2009. Initially I asked Casey Tang, who was already in TIA (Terrengganu Investment Authority) at the time, whether he can take over the role [of] CIO. When he said 'no', then I asked Jho whether he has any name to recommend, and Nik's name came up," Shahrol said.
Shafee then asked about the appointment of Jasmine Loo as General Counsel.
"I was the one who asked Jho whether I can have Jasmine to be the general counsel. Initially Jho was reluctant, but subsequently he said if Jasmine agreed to it, he (Jho) would be okay with it," Shahrol said.
"Jasmine was working at Jho's company at that time? In UBG? Many of them were from Jho Low's company at that time, and they were appointed to 1MDB to advise the board?" Shafee asked. Shahrol answered 'yes' to all three questions.
Shafee also touched on 1MDB's treatment of the US$1.83 billion (invested with PSI), which the lawyer deemed "not sensible at all".
"We have a situation where you initially bought into the equity of the JV company, 1MDB PetroSaudi Ltd. The same company, you decided to convert the equity to Murabahah Notes, and later to convert the notes to equity in Petro Saudi Oil Service Ltd [in PSOSL] again," Shafee said. Shahrol agreed.
Shafee then moved on to 1MDB board meeting minutes, where board member Datuk Ong Gim Huat told the board that a Parliamentary public accounts committee into 1MDB was asking for 1MDB's quarterly risk report.
Shahrol said he was reluctant to provide this document to the PAC because the document was meant to be tabled to the 1MDB board, and he was afraid that "once this document is released to PAC, which consisted of opposition (members), they could "take this out of context and spin it negatively".
"Did you provide all this information to the PAC?" Shafee asked. Shahrol said he did.
The Edge is reporting the proceedings of the 1MDB-Tanore trial live.
Users of The Edge Markets app may tap here to access the live report.