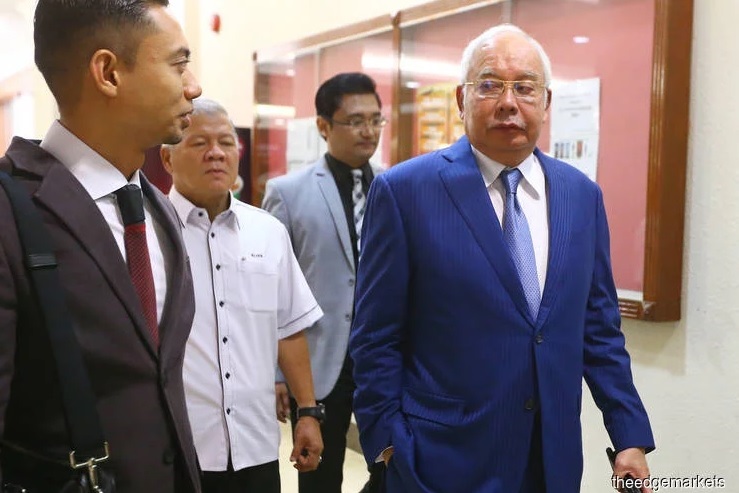 KUALA LUMPUR (Nov 13): The High Court here was told today that former prime minister Datuk Seri Najib Razak (pictured) had, between April 25, 2012 and June 19, 2013, issued six cheques to Umno Kedah that amounted to RM15 million, a portion of which is alleged to be linked to 1Malaysia Development Bhd (1MDB) and Tanore Finance Corp.
Umno Kedah is among 41 entities which the Malaysian Anti-Corruption Commission (MACC) had filed forfeiture suits against to recover assets linked to 1MDB.
MACC deputy public prosecutors Abdul Rashid Sulaiman and Allan Suman Pillai told High Court judge Mohd Nazlan Mohd Ghazali that the MACC is seeking from Umno Kedah RM1.054 million, which is alleged to be a portion of the RM15 million.
Rashid said MACC investigations revealed the payments were made from Najib's account after he received RM2.081 billion in his accounts. They were paid to Kedah Umno on April 25, 2012 (RM1 million), June 6 (RM1 million), Jan 10, 2013 (RM2 million), March 6 (RM5 million), April 5 (RM5 million) and June 19, 2013 (RM1 million).
"It is improper for the prime minister then to receive such huge amounts of money and disburse it to others. It is illogical for the former PM to receive such an amount in his individual capacity, while claiming he did not check the source of the fund," he said.
"Through MACC's investigations, it is shown that the RM15 million originated from the RM2.081 billion from Najib's account. The respondent (Kedah Umno) should also prove that the money [they received] is not from ill-gotten gains. Based on a balance of probabilities, the prosecution has proven the source of funds in this case is from money laundering activities," he said.
As such, Rashid said the court should order a forfeiture following violations under Section 4 of the Anti-Money Laundering, Anti-Terrorism Financing and Proceeds from Unlawful Activity Act 2001.
Allan, meanwhile, told the court that the MACC is allowed to make amendments to include the names of the office bearers, following the decision in the Umno Pekan case, which was also decided by this court.
Earlier, Justice Mohd Nazlan dismissed an application by Umno Kedah lawyer Nadaraja Gopalakrishnan for the judge to recuse himself from hearing MACC's forfeiture suits.
The application was submitted on the basis that Justice Mohd Nazlan had heard the SRC International Sdn Bhd case against Najib, and had on Monday ordered Najib to enter his defence in the matter. Hence, Nadaraja wanted the judge to remove himself from hearing this forfeiture case for fear he would be prejudicial as he had made a decision in the SRC case.
Allan, however, argued that the application should be dismissed as the purported funds is not from SRC but from 1MDB.
On the prosecution's application to forfeit, Nadaraja said the RM15 million given between 2012 and 2013 had all been used up and it was not proper for the prosecution to seek the RM1.054 million in the account.
"The money sought is from a RM28 million donation that Umno Kedah received in 2017 and 2018, and is not a portion of the 2012 and 2013 money," he said.
"Hence, the prosecution had failed to reply to this issue and hence this court should dismiss the forfeiture action," Nadaraja added.
Justice Mohd Nazlan said he will deliver his decision on whether Kedah Umno has to forfeit the amount to the government on Friday, Dec 13.