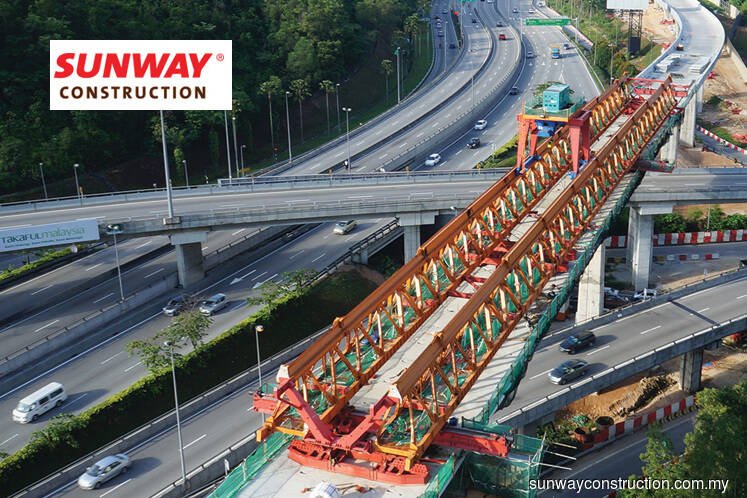 KUALA LUMPUR (Nov 20): Sunway Construction Group Bhd's (SunCon) net profit slid 8% to RM33.48 million in the third quarter ended Sept 30, 2019, from RM36.39 million, no thanks to lower revenue from its construction segment.
Earnings per share, accordingly, fell to 2.6 sen from 2.82 sen, its Bursa Malaysia filing yesterday showed. Revenue fell 28% to RM402.58 million from RM557.32 million, as a majority of SunCon's existing projects are just at their initial stage.
The company also attributed the lower revenue to the delay in Light Rail Transit Line 3 (LRT3) package GS0708, due to client's cost optimisation measures.
Meanwhile, its cumulative profit for the first nine months of FY19 fell 9% to RM97.69 million or 7.56 sen per share, from RM107.93 million or 8.36 sen per share last year, while revenue declined 21% to RM1.28 billion from RM1.63 billion.
Earnings in the cumulative period were lower due to lower profits in the construction and precast segments, the group said.
On prospects, SunCon expects to continue delivering satisfactory results for the last quarter of this year, barring any unforeseen circumstances.
As at end-September, its new job wins amount to RM1.73 billion, compared to the RM1.5 billion achieved as at end-June, bringing its outstanding order book to RM5.6 billion.
"Our strong order book will sustain us for the next three to four years," said its group managing director Chung Soo Kiong, in a separate statement.
"While waiting for local projects to be reviewed, we will continue to bid for in-house projects from Sunway Bhd and continue to pursue our ambition to expand in the Asean region," Chung said.
He said SunCon has RM7.4 billion worth of active tenders and is expecting projects to be awarded in both Myanmar and India by the first half of 2020.
"In our last quarterly report, we mentioned about targeting to secure our first overseas project this year, but this is likely to be deferred to the next financial year, as the overseas tenders have been delayed by the project owners," SunCon said.
Nevertheless, SunCon said it will continue to expand overseas and rely on its in-house pipeline projects by its ultimate holding company, Sunway Group, for sustained growth.
SunCon's shares closed two sen or 1.02% higher at RM1.98 yesterday, valuing the company at RM2.55 billon. Year-to-date, the counter is up some 54% from when it was trading at RM1.28.