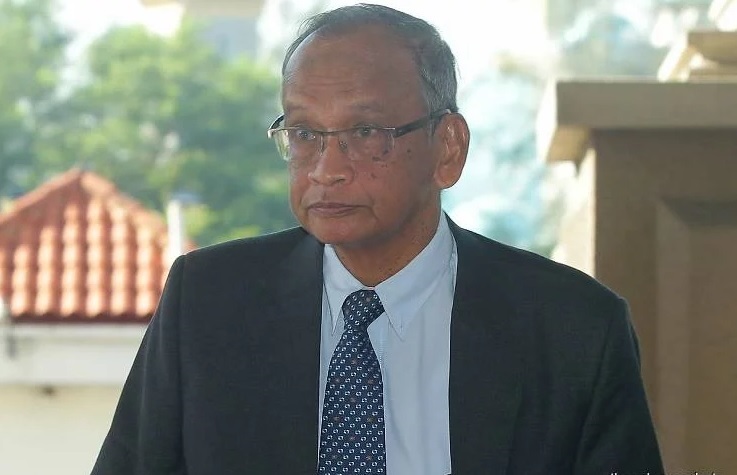 KUALA LUMPUR (Nov 28): Former auditor-general (AG) Tan Sri Ambrin Buang was told to keep his feelings to himself after he got frustrated on several occasions in the meeting with top government officials dated Feb 24, 2016 to amend a finalised audit report on 1Malaysia Development Bhd (1MDB).
The recording of the meeting was played again in the High Court for Ambrin as prosecution witness today. It revealed that former chief secretary Tan Sri Ali Hamsa told the then AG to manage his diligent "younger officers", to take care of national interest and leadership.
"Tan Sri Sir (Ambrin) maybe you should manage your younger officers… we can see they are Rajin… but for us it is national interest, we want to take care of our leadership," Ali said in the recording.
During the meeting, Ali and former 1MDB CEO Arul Kanda Kandasamy were not satisfied with the original audit report stating that the issuance of 1MDB Islamic Medium Term Note in 2009 was done in hurry, and without board of directors' approval.
Arul: Sounds a bit speculative.
Ambrin: The board was not pleased.
Ali: No it's not.
Arul and Ali were of the view that the statement was Ambrin's personal opinion.
In the recording, Ambrin, however, argued that it was his professional opinion based on audit findings, and that auditors are empowered to express their opinions.
The High Court also heard today that Ali and Arul attempted to convince Ambrin to remove the entire chapter about SRC International Sdn Bhd and to amend the audit report's summary section.
Arul said SRC was no longer a subsidiary of 1MDB, and hence it was irrelevant to include matters related to SRC in the 1MDB audit report, but the request faced outright rejection from Ambrin.
"No, you are asking for us to remove the whole chapter. I'm just saying that at the material time, SRC is under 1MDB. I am against it, because it is relevant," Ambrin said in the recording.
"If we don't mention SRC, it will be another issue also," said NAD audit director Saadatul Nafisah Bashir Ahmad, who was the only other NAD officer accompanying Ambrin during that meeting.
"If they (PAC) ask, who is going to answer?" Ali Hamsa asked.
"Treasury lah, they are the shareholder," Ambrin responded immediately.
As Ali, who chaired the meeting, moved towards the summary part of the original audit report, a frustrated sounding Ambrin suggested to drop the entire chapter to keep "everybody happy".
"Maybe we just drop the Rumusan (summary), keep all my feelings with me, everybody happy," Ambrin said, referring to Ali's earlier comment that urged the former AG to stay calm.
"Maybe we can write a separate book on this," Ali said, referring the summary section, which commented negatively on 1MDB's financials and business model.
"I will write a book, and get it distributed after I die," Ambrin responded.
In the earlier part of the meeting, as Ambrin raised his voice several times, Ali urged the former to keep his feelings to himself.
"Tan Sri maybe you should keep your feeling with you, keep your disappointment with you," Ali said.
The recording revealed that this came shortly after the meeting was going through the audit report's Bandar Malaysia section.
"Doesn't it mean they are bringing investment to the country," Ali commented as he read about 1MDB rationalisation plan, including the Bandar Malaysia project.
"What investment? They are saving the company [1MDB]," Ambrin pointed out.