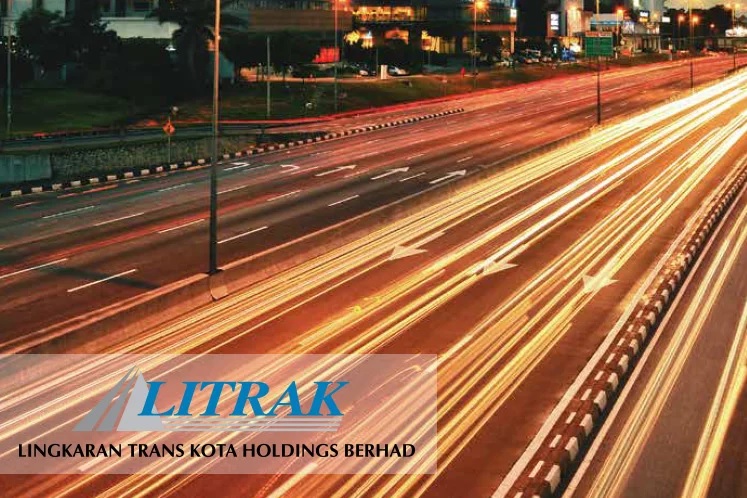 KUALA LUMPUR (Nov 29): Lingkaran Trans Kota Holdings Bhd (Litrak), the concessionaire of the Lebuhraya Damansara-Puchong (LDP) and the SPRINT Highway, saw its net profit rise 13.9% to RM68.98 million in its second financial quarter ended Sept 30, 2019 (2QFY20) from RM60.56 million a year ago, on lower maintenance expenses and finance cost pursuant to scheduled repayment of bonds in April.
Litrak said a share of higher profit in its 50%-owned associate Sistem Penyuraian Trafik KL Barat Holdings Sdn Bhd (SPRINT) amounting to RM4.8 million in the current quarter, also contributed to the group's higher net profit for the quarter.
"SPRINT Group recognised higher revenue from the scheduled toll rates increase for Penchala Link-Mont Kiara Toll Plaza commencing on Jan 1," it added in a bourse filing yesterday.
This brought a higher earnings per share of 13 sen for 2QFY20 compared with 11.47 sen for 2QFY19.
This was despite revenue for the quarter slipping by a marginal 0.8% to RM131.19 million from RM132.27 million a year ago, mainly due to lower traffic volume plying the LDP.
The improved quarterly earnings lifted the group's net profit for the cumulative six months (1HFY20) up 18.1% to RM136.75 million from RM115.8 million a year ago, while revenue rose by a marginal 0.6% to RM260.03 million from RM258.49 million in 1HFY19.
Going forward, Litrak said traffic volume on both LDP and SPRINT Highway are expected to see marginal growth.
"Competition from competing road alignments and public transportation will continue to negatively affect the tollable traffic volume for both highways of the group.
"The group is also monitoring the impact of the recently introduced subsidised monthly pass, that is, the RM100 unlimited monthly pass for all rail (MRT, LRT, monorail), BRT, Rapid KL buses and MRT feeder buses by the government to improve ridership of such public transportation modes."
Litrak noted that for SPRINT Highway's Damansara Link and Kerinchi Link, there is still one last scheduled toll rate increase for both toll plazas in 2022. "Hence, revenue growth can be expected from both tollable traffic growth and toll rates increases."
The group also pointed to the Minister of Finance Inc's proposed offer to acquire its wholly-owned subsidiary Lingkaran Trans Kota Sdn Bhd for RM2.47 billion and SPRINT's unit Sistem Penyuraian Trafik KL Barat Sdn Bhd for RM1.98 billion.
"Should the proposed takeovers materialise, the group will then have disposed of its entire interests in both Lingkaran Trans Kota and Sistem Penyuraian Trafik KL Barat – the concession owners of LDP and SPRINT Highway respectively," said Litrak.
"Consequently, the group will be deemed a Practice Note 16 cash company. As such, the board will then have to decide on the utilisation of proceeds derived from the sale of LDP and SPRINT Highway and reassess the future direction of the group.
"The board is currently still assessing the available options to the group and our shareholders," it added.
Shares of Litrak closed unchanged at RM4.50 yesterday, giving it a market capitalisation of RM2.39 billion.