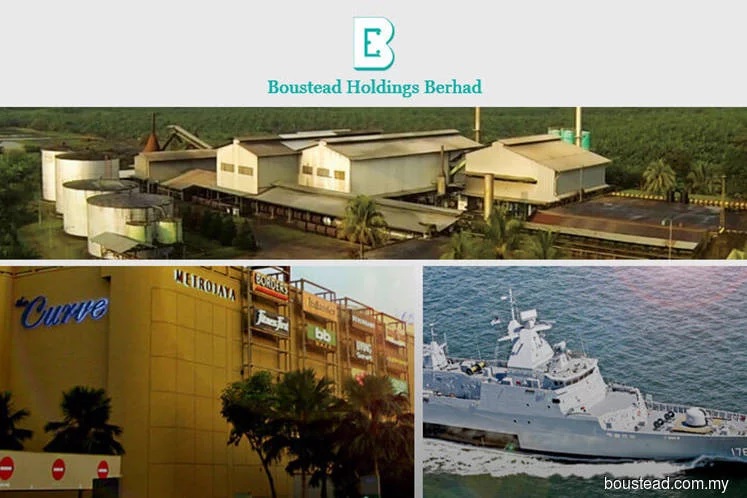 KUALA LUMPUR (Nov 29): Diversified group Boustead Holdings Bhd recorded a net loss of RM155 million for the third quarter ended Sept 30, 2019, versus a net profit of RM7.3 million a year ago.
The loss, the group said in a bourse filing, was due to impairments in the heavy industries and property divisions, totalling RM161.3 million, as well as weaker results in other divisions.
The group reported a loss per share of 7.65 sen against earnings per share of 0.36 sen in the year-ago quarter.
Quarterly revenue, however, increased 5.08% to RM2.73 billion from RM2.6 billion last year.
For the cumulative nine-month period, Boustead Holdings' net loss widened to RM153.1 million from RM14.2 million last year, despite a 6.16% rise in revenue to RM7.79 billion from RM7.33 billion previously.
"Despite headwinds, the group recorded solid revenue growth for the nine-month period. However, due to the one-off impairments in the property and heavy industries divisions, our bottom line was impacted," Boustead Holdings managing director Datuk Seri Amrin Awaluddin said in a statement.
"As we strive to achieve a turnaround for the group, we are cognisant of the challenges we face in the current operating environment. We remain focused on enhancing efficiencies and extracting further value within the respective operating units, with a view to deliver sustainable earnings over the long term."
For its property division, the group reported a higher deficit of RM67.6 million in the nine months, compared with RM13.3 million previously, due to impairment of hotel properties of RM42.8 million.
The heavy industries division also recorded higher deficit of RM192.6 million, from RM30.1 million previously, due to impairment of aircraft and goodwill for MHS Aviation totalling RM118.5 million.
The group's pharmaceutical division also reported a lower pre-tax profit of RM33.5 million, compared with RM45 million a year ago, on lower margins and higher finance costs, despite higher revenue.
Meanwhile, the plantation, trading and industries, and finance and investment divisions reported improved results for the nine-month period.
Plantation registered a surplus of RM42.3 million against deficit of RM41.6 million previously, due to gains on disposal of plantation land, partially offset by decline in palm products prices.
Boustead Holdings said the average selling price of crude palm oil fell 16% to RM2,011 per tonne, compared with RM2,391 per tonne in the previous nine-month period.
Similarly, the average selling price of palm kernel stood at RM1,179 per tonne, a reduction of 39% from RM1,924 per tonne previously.
Boustead Holdings' share price closed half a sen or 0.52% higher at 96.5 sen, bringing it a market capitalisation of RM1.96 billion. The counter saw some RM336,900 shares done.