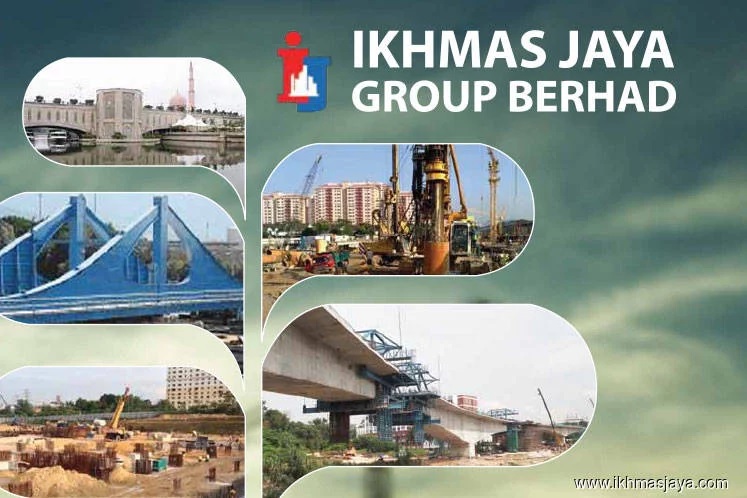 KUALA LUMPUR (Nov 30): Ikhmas Jaya Group Bhd's independent auditor Messrs KPMG PLT has highlighted material uncertainty on the group's ability to continue as a going concern after reviewing its interim financial statements.
Ikhmas Jaya said its external auditor has included a statement of material uncertainty in its independent auditors' reported dated Nov 29, in respect of the company's interim financial statements for the financial period ended Sept 30, 2019.
"The group has prepared its interim financial statements on a going concern basis, notwithstanding that the group incurred a net loss of RM95.7 million for the nine-month period ended Sept 30, 2019.
"As at that date, the group's current liabilities exceeded its current assets by RM6.4 million," Messrs KPMG said.
The auditor highlighted that the group prepared and considered prospective financial statements based on assumptions and events that may occur for at least 12 months from the date of approval of the interim financial statements.
"Prospective financial statements includes the group's profit and cash flow forecasts for the ongoing projects as well as potential projects that the management has tendered or intends to tender taken into consideration reasonable success rate based on its historical track record and past experience. The forecasts also incorporate current payables, committed expenditures and other future expected expenditures.
"In preparing the profit and cash flow forecasts, the directors have also considered the availability of cash and adequacy of banking facilities and plan to raise funds to finance the necessary working capital requirements," it added.
In response, Ikhmas Jaya said it has initiated various action plans which are currently in motion to increase its order book and strengthen its financial performance and position.
The group said it will seek potential suitors to come onboard as strategic investors, which it said would "ultimately lead to business strategies, new opportunities as well as fresh capital".
Ikhmas Jaya said it will also raise funds via private placement when necessary.
Meanwhile, it is actively seeking collaboration with a few potential business partners and alliances to jointly tender and undertake future mega infrastructure projects.
"Such strategic partnership or alliance would increase chances of securing the projects and give leverage to the group to enhance its operating and financial position," it added.
The group will also aggressively bid for new projects with the strategic partners, besides negotiating with its major existing suppliers and subcontractors to increase credit facilities.
The group plans to continue to intensify its focus and efforts to enhance cost monitoring and execution delivery for all its projects, besides seeking fresh banking facilities on more favourable credit terms for future projects.
"At the announcement date of these interim financial statements, the directors believe that the business will be able to realise its assets and discharge its liabilities in the normal course of business for the next 12 months.
"Barring any unforeseen circumstances, the group expects a timeline of 12 months from the date of this announcement to improve the financial position and the liquidity of the group that will address the going concern issue of the group," Ikhmas Jaya said.
Shares of Ikhmas Jaya settled unchanged at 8.5 sen yesterday for a market capitalisation of RM50 million. The counter saw some 3.11 million shares done.