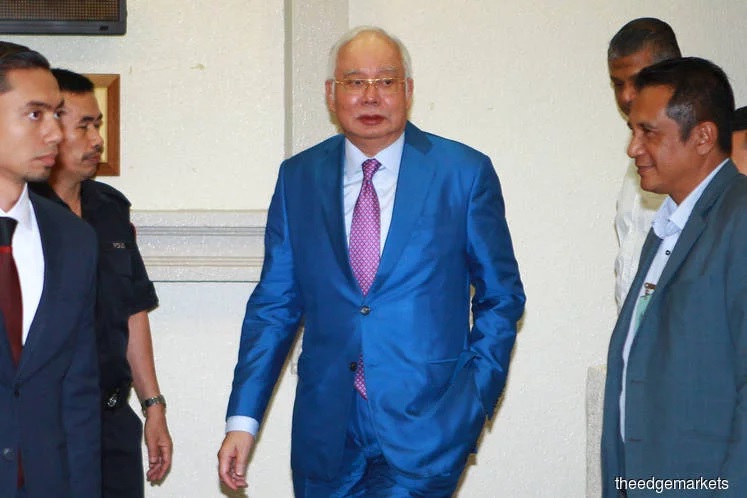 KUALA LUMPUR (Dec 3): Former prime minister Datuk Seri Najib Abdul Razak said his handwritten note on a SRC International Sdn Bhd letter seeking a RM3.95 billion loan from the Retirement Fund Incorporated (KWAP) does not represent a "carte blanche" approval.
Testifying in his defence, Najib said there were instances where he wrote 'bersetuju" (agree) but the officers did not support his decision.
"This resulted in me changing the earlier decision (of being in agreement). The word "bersetuju" does not denote finality in my decision, as it can be changed. It could be subject to further scrutiny by my officers who may give differing opinion on the issue."
"The word "bersetuju" or agreed is not a carte blanche agreement. It does not prohibit diverse opinions to be considered," he said in reply to questions from his lawyers Wan Aizuddin Wan Mohammed.
Najib, who was wearing a blue coat and red tie, testified from the witness stand, where he can be subject to cross-examination by the prosecution.
The SRC letter dated June 3, 2011 addressed to Najib as the Prime Minister and Finance Minister, sought his consideration for the RM3.95 billion loan.
Najib said he was in agreement with the SRC proposal, but denied it was a directive to former KWAP CEO Datuk Azian Mohd Noh to approve the loan.
"As Finance Minister, I do not have powers to direct KWAP to approve any loan. That power stems from KWAP's investment panel as stipulated under the Retirement Fund Act 2007. I only minuted the letter to her (Azian) as a support to the SRC proposal," he explained.
Najib added that he initially wanted to pass the letter to then KWAP chairman who was also the Treasury secretary-general, Tan Sri Wan Abdul Aziz Wan Abdullah, but Wan Abdul Aziz suggested it be made to Azian, so it would go through the normal process.
On Azian's testimony describing him as the "ultimate boss", Najib said the word does not mean anything in the valuation of the loan, as she as the CEO does not have the right to vote.
The former premier also denied he had directed his late chief private secretary, Datuk Azlin Alias, to meet Azian at the Hilton Hotel or had given instruction for further discussions on the loan matter.
"However, Wan Abdul Aziz and Azian told me that KWAP was considering only RM1 billion and not the RM3.95 billion requested," he said.
Quizzed on Wan Abdul Aziz's testimony that Najib purportedly said "RM2 billion would be sufficient", the former premier replied there was probably a meeting he had with Wan Abdul Aziz when SRC wanted a review, but he could not remember when.
Najib further disagreed that his direction wanting SRC to review and give a RM2 billion loan is a form of a "veiled direction", saying he does not have the power to direct the investment panel legally or in practice.
"It seems my discussion with Wan Abdul Aziz is misinterpreted as a directive. It is intellectual dishonesty to equate my power "to hire and fire" with a directive to the KWAP investment panel (to approve the loan)," he said.
"However, if one were to look at Wan Abdul Aziz's testimony, he agreed that KWAP's investment panel decision (in giving loans) is based on merits," he said.
Earlier, Najib denied that he knew of the SRC proposal of wanting the RM3.95 billion loan and that he could not remember when the meeting was held between then 1MDB CEO Datuk Shahrol Azral Ibrahim Halmi and also SRC managing director Nik Faisal Ariff Kamil.
Nik Faisal, like fugitive businessman Low Taek Jho whom Najib blamed the whole 1MDB and SRC caper on, is outside the country and is still at large.
The trial before Justice Mohd Nazlan Mohd Ghazali continues tomorrow at the High Court.
The Edge is reporting the proceedings of the SRC trial live.
Users of The Edge Markets app may tap here to access the live report.