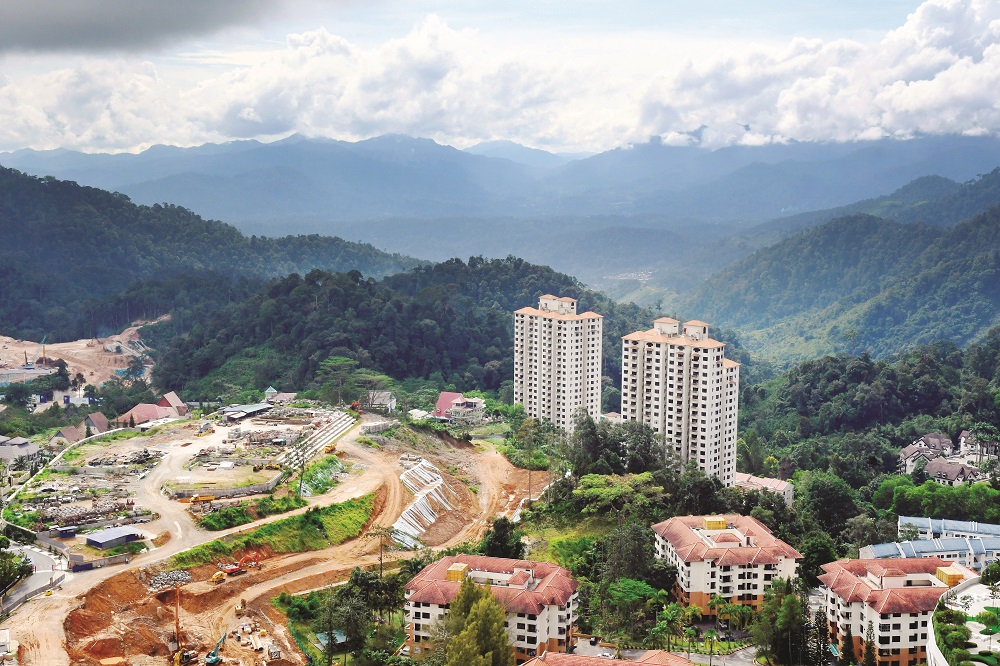 PETALING JAYA (Dec 6): Along the winding path up Jalan Gunung Ulu Kali to Genting Highlands, new high-rises are rapidly joining older apartments.
Sitting 1,800m-high atop Mount Ulu Kali, on the border of Pahang and Selangor, Genting Highlands is a popular spot for leisure and recreation amongst Malaysians and foreign visitors, with several hotels, theme parks, shopping malls and a cable car system, thanks to Resorts World Genting (RWG).
According to Genting Group's annual report, RWG welcomed 25.9 million visitors in 2018, a 9.75% increase compared with 23.6 million in 2017. In 2018, visitors comprised 27% hotel guests and 73% day-trippers.
In 2013, Genting Group embarked on a 10-year master plan — Genting Integrated Tourism Plan (GITP) — to reinvigorate and transform RWG. A few notable completions under the GITP master plan, which includes First World Hotel (Tower 3), Awana SkyWay cable car, SkyAvenue mall, Genting Highlands Premium Outlets (GPO) and Skytropolis Indoor Theme Park, have attracted many repeat and first-time visitors. After a few hitches, the company is looking forward to the opening of the new outdoor theme park.
Gohtong Jaya and Genting Permai located along the main access road at mid-hill are also gaining interest among visitors.
Renewed interest in properties
Genting Highlands' popularity has attracted property developers as well.
Nawawi Tie Leung Property Consultants' data shows that at least 3,800 high-rise residential properties have been completed at Genting Highlands over the past five years. Among the projects that were completed this year were OSK Group's Windmill Upon Hills and geo38 Residence by Pesat Bumi Sdn Bhd. Yet, there is no sign that the pace of development will pause anytime soon as more than 4,200 units in new and upcoming projects are expected to add to the current supply. (See Table 1.)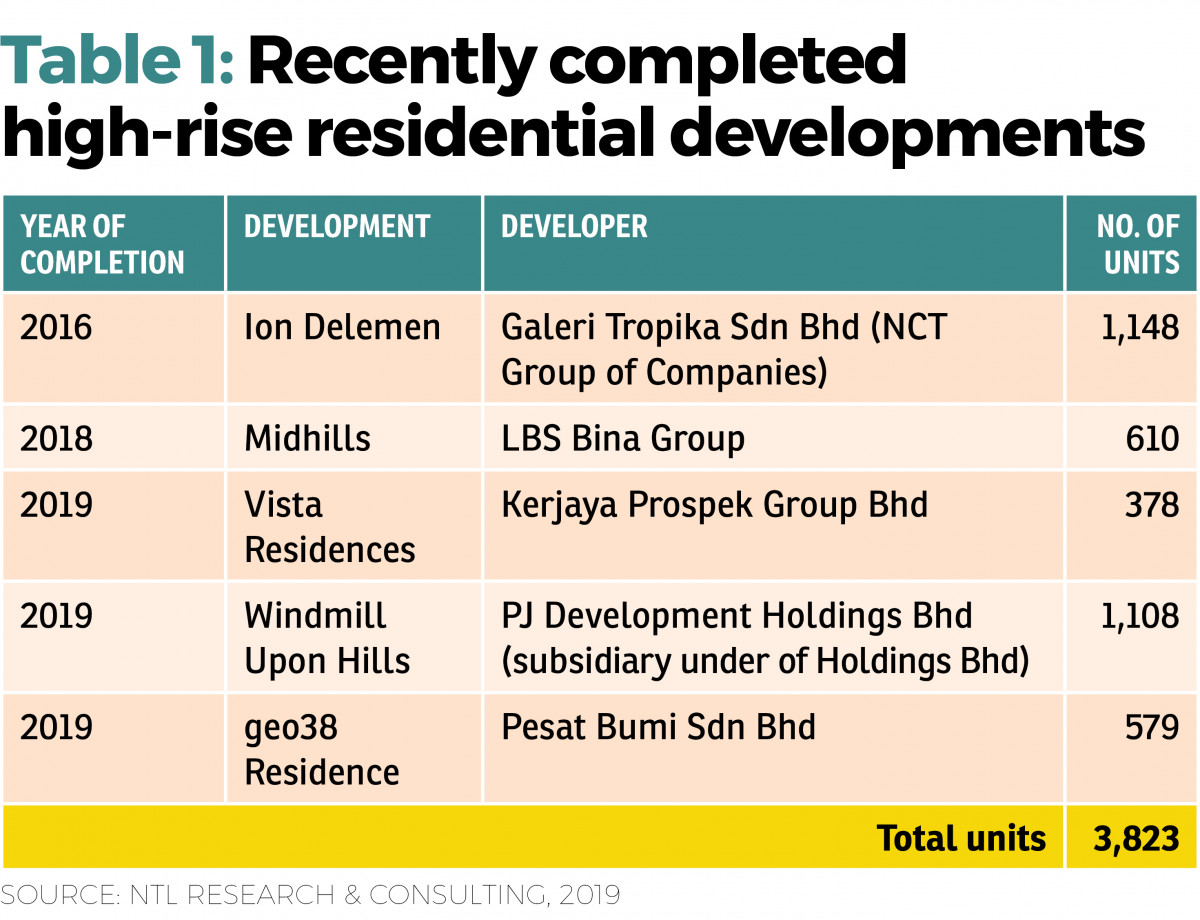 Why are people and property developers making a beeline to Genting Highlands?
Considering the country's heat and humidity in general, the top draw to this place is its cool hilltop climate, making it a favourable weekend getaway and a coveted holiday home destination.
Rahim & Co's survey reveals that most of the people residing in Genting Highlands work there while the rest are transient visitors who only stay there on weekends and holiday seasons. "These short-term visitors usually come from Kuala Lumpur, Kuantan, Penang as well as Singapore and Indonesia," Rahim & Co International Sdn Bhd director of research Sulaiman Saheh tells EdgeProp.my.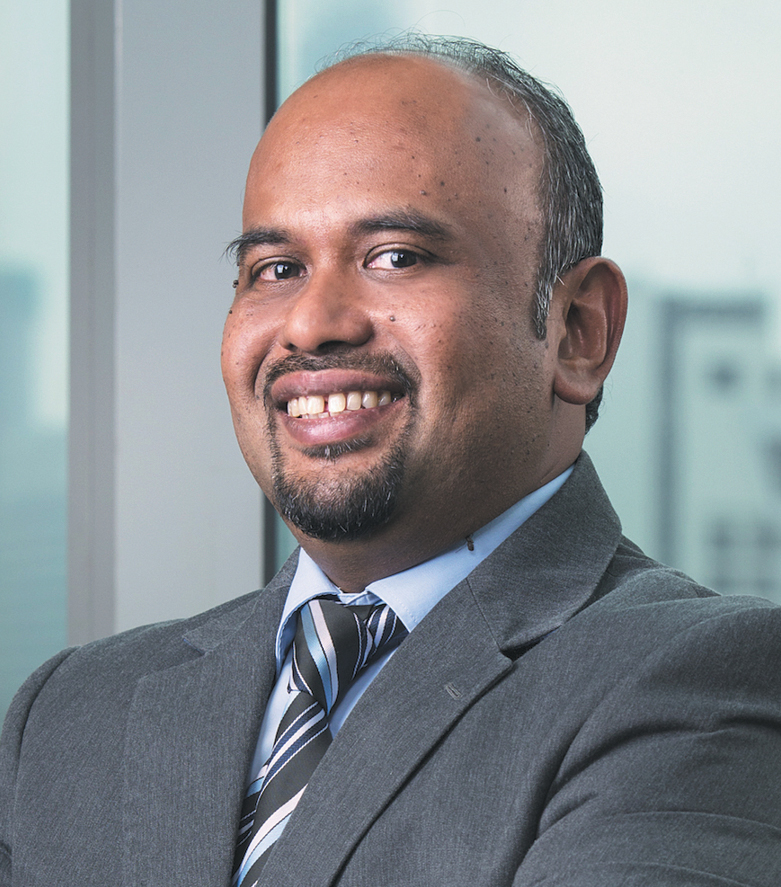 Nawawi Tie Leung Property Consultants director and regional head of research and consulting Saleha Yusoff believes that once the new outdoor theme park opens, RWG will garner more visitors and there will be more job opportunities, subsequently creating a spill-over effect on the demand of residential and commercial properties within the vicinity.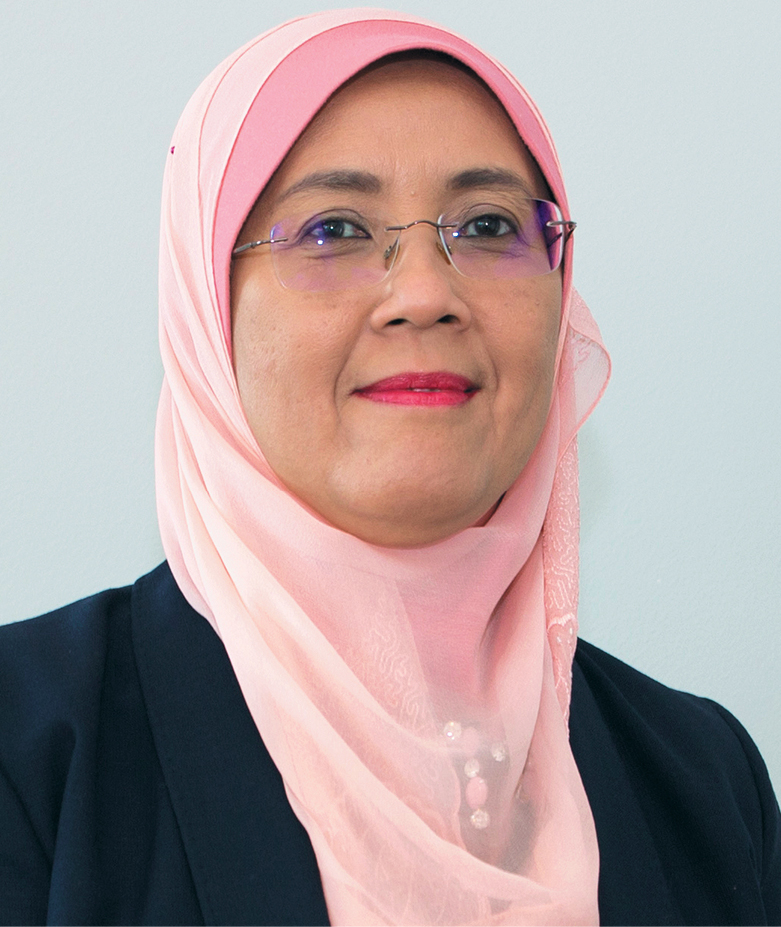 She says that the area also has the potential for new catalysts, such as eco-tourism and medical tourism, which would require different types of accommodation, facilities and services.
"Resort-type developments are not only suitable for holiday getaways but also for retirement villages. Compared to the US, medical costs in Malaysia is 65% to 80% lower and this has attracted medical tourists from many countries. Genting's cool atmosphere and proximity to the KL city centre are plus points for an integrated medical tourism development.
"Diversifying product offerings would make the property market in Genting Highlands even more vibrant," she notes.
New and upcoming developments
Newly-planned and ongoing developments here include Grand Ion Majestic and Celestia Genting Highlands on the hilltop as well as Tropicana Grandhill, Pavilion Genting Highlands, IBN Highlands City, Geo Antharas, Geo Royal and Geo Elite located close to Genting Permai. (See Table 2.)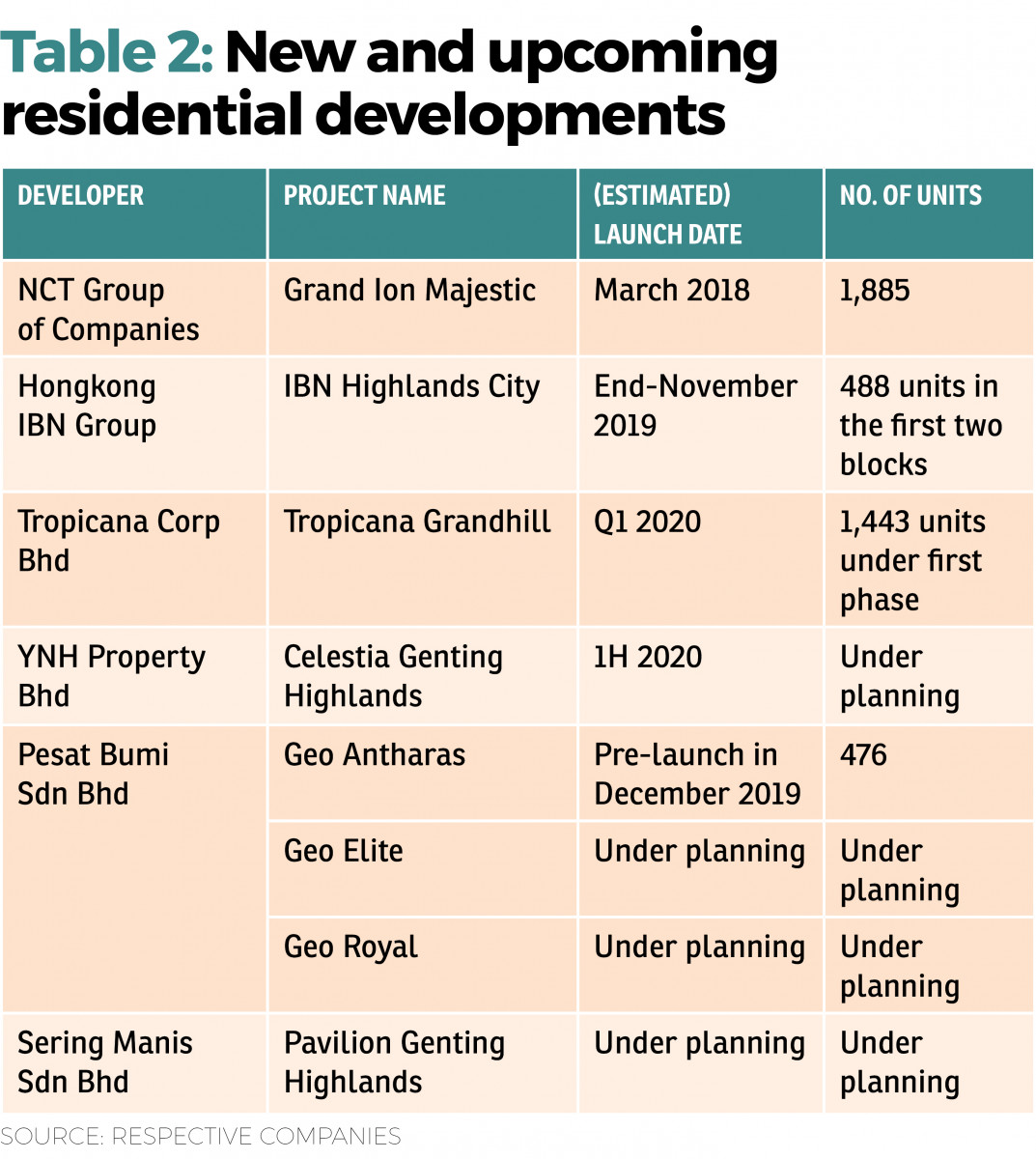 "Midhill Genting has attracted major developers which are planning huge mixed developments such as the 112-acre Tropicana Grandhill and the 280-acre Pavilion Genting Highlands," TSK Realty senior real estate negotiator Ben Foo Tien Choy says.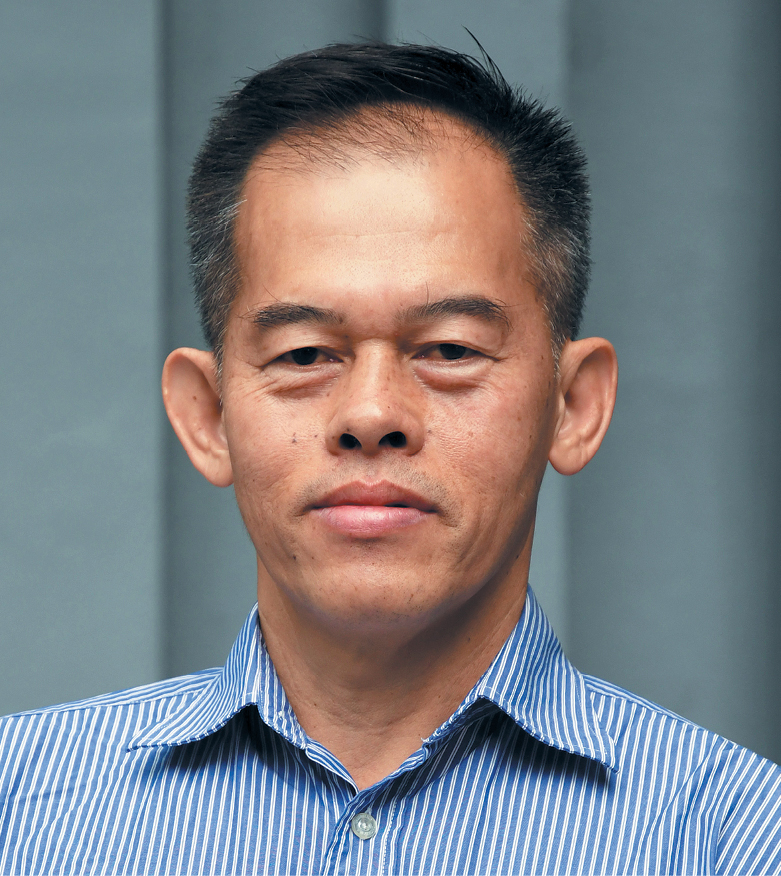 Tropicana Grandhill will consist of residential, commercial, wellness, education, park and silver-hair components, while Pavilion Genting Highlands will have resort apartments, luxury villas, parks, commercial and retail properties as well as resort hotels.
To draw more visitors to frequent the midhill, developers are actively trying to create commercial activities there. For example, the 20-acre IBN Highlands City in Genting Permai will have a retail mall, says Foo.
As housing demand is largely driven by tourism and rental, new developments in the area commonly offer fully-furnished units to lure buyers. A few projects such as geo38 Residence, Ion Delemen as well as the upcoming Grand Ion Majestic have even partnered short-term rental management companies to help homeowners rent out their units.
Secondary market yet to gain momentum
With RWG gaining popularity and the success of GPO, psf prices of newer high-rise residential developments are catching up with Kuala Lumpur's prices.
Looking at high-rise projects completed in the past five years, there were very limited secondary transactions in 2018 and 2019 while more transactions are seen among the older developments, although the number is still small.
Nevertheless, Foo believes the secondary market will slowly gain momentum as more new projects come on stream.
Transacted prices of some old apartments have seen a drop between 2017 and 2019, owing to competition from new supply. However prices of those located close to RWG such as Kayangan Apartment and Ria Apartment are holding up better, while Genting Permai Resort Apartment at the midhill has also seen a 27% increase in average transaction price based on seven transactions across three years. (See Table 3 and 4.)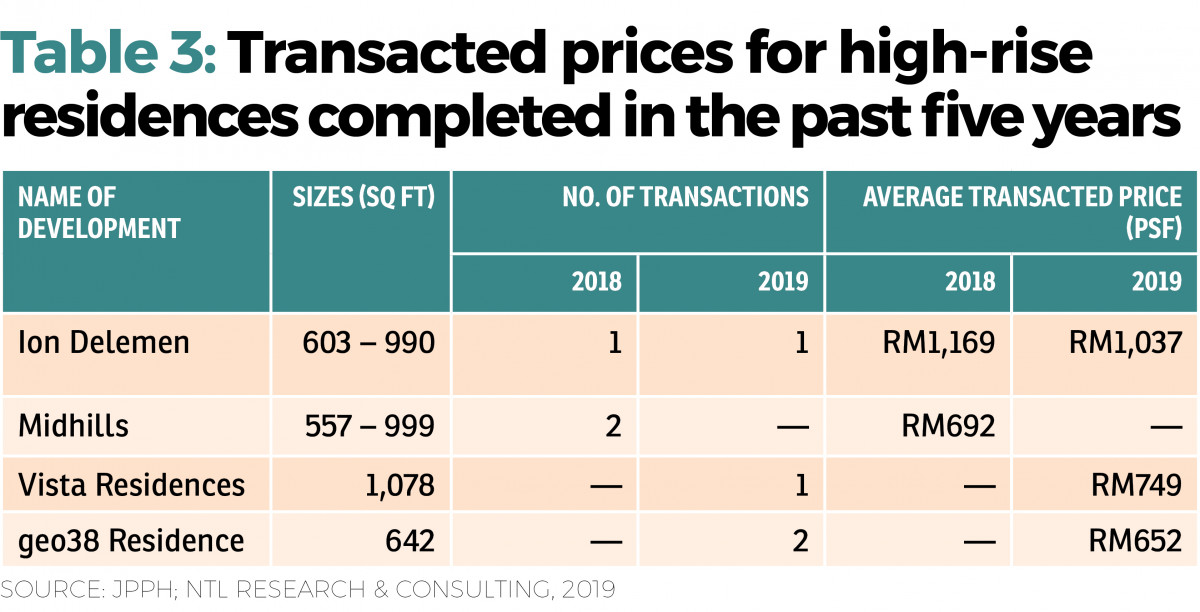 Competition rolling in
No doubt, one of Genting Highlands' main attractions is its entertainment and leisure component while its limited accessibility by road as well as its altitude have deterred people from staying there for the long term, apart from those who work there.
"Therefore, the rental market is limited to tourists or visitors who come for short-stay. With all investors eyeing the same target market, rent is very competitive," Saleha says.
Foo concurs and adds that with more supply coming into the market, yields and occupancy rates could become more challenging.
"However, I believe that those who have the ability could still buy property here as their holiday homes, because Genting Highlands is one of the top tourism destinations in Malaysia," he says.
In terms of rental yields, Foo says certain apartments offer healthy yields. He cites geo38 Residence which received yields of between 5.1% and 5.76% while data from the National Property Information Centre showed that rental yield of Ion Delemen was 3.7% in 2017 and 2018.
Sulaiman of Rahim & Co points out that the main challenge would be sustaining occupancy and attractiveness to potential tenants and short-stay guests. "In light of this, some new developments are offering sale-and-leaseback as well as guaranteed rental schemes," he adds.
Notwithstanding the guarantee and the financial backing of the guarantor, many investors are still wary of risk after the guaranteed period ends. As such, they'd rather do it themselves. "Many house owners are trying to rent out directly through online rental platforms, while at the same time being supported by property management professionals or informal unit custodians to take care of their units," he elaborates.
"Investment performance will depend on the management quality of the premises, on top of tourist arrivals. Fortunately, Genting Highlands is expected to continue drawing visitors both locally and regionally," he says.
Other concerns among property buyers include the traffic and human congestion that occur during peak seasons as there is only one main access road up and down the hill. Apart from this, landslides that occasionally occur on the hillsides, especially after a major downpour, could also deter property investors.