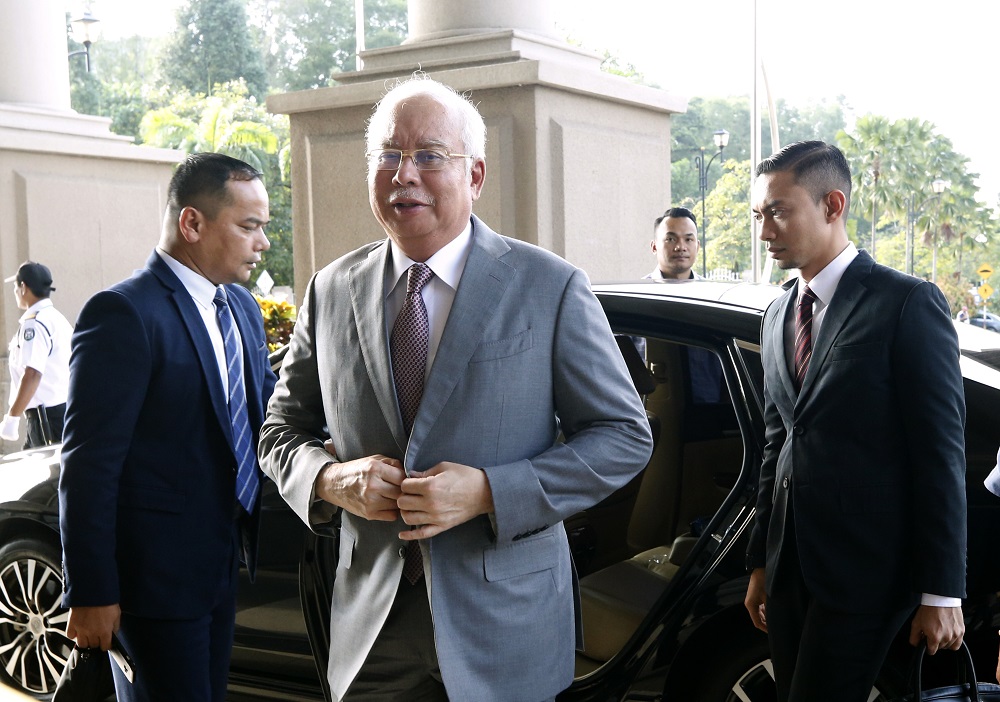 KUALA LUMPUR (Dec 10): Former premier Datuk Seri Najib Abdul Razak today explained, on the witness stand at the High Court, that his close to a half million ringgit Chanel watch purchase for his wife Datin Seri Rosmah Mansor was for her birthday and as a means to make up for cutting short their family holiday in Honolulu in the United States.
Replying to questions from his lead counsel Tan Sri Muhammad Shafee Abdullah, the former premier said at that time, there were massive floods happening in the east coast states of Peninsular Malaysia, especially in Kelantan.
"The flood is the worst in 70 years," Najib added.
He said normally his holiday at the end of the year was for 10 to 14 days, to spend time with his family.
"The purchase of the watch was done on Dec 22, 2014 and after that I played golf with then US president Barack Obama in Honolulu.
"I explained the situation to my family and they were really sad that I have to leave them immediately and go back to Malaysia. They were disappointed with my decision," he said, elaborating that his son Nor Ashman Najib, who was working at Istanbul at that time, had flown to Honolulu only to find out he was no longer there.
He added that due to that situation, he decided to buy something for his wife Rosmah, 68, and chose the watch as it was around her birthday at the time.
"I was on the belief that whatever funds I received, I could use it at my discretion. But this was the only purchase that was personal in nature using this (credit) card. I didn't use this card for anything else," he explained further.
Rosmah's birthday falls on Dec 10. Yesterday, Najib said he purchased the Chanel watch for US$130,625.00 or RM466,330.11.
The former premier further explained that after the watch purchase, he did not go back to Kelantan but waited until he finished playing golf.
"A lot of people don't know, when you play golf with someone, you spend five hours with the person. So I didn't want to miss that chance. I wanted to establish a personal relationship with the most powerful man in the world at that time. This was for the country," the Pekan MP said.
Najib further explained that immediately after the golf session, he decided to take a commercial flight to Los Angeles, and then to Hong Kong.
From Hong Kong, he said he took a Royal Malaysian Air Force flight and flew straight to Kelantan.
The former premier said he spent some time with then Kelantan menteri besar (the late Datuk Nik Abdul Aziz Nik Mat) visiting the flood victims, and he managed to also eat a soup.
"However, after eating the soup, I went into a colic that lasted for three days," he added.
This was Najib's answer to the last question posed by Shafee.
Now the former premier is undergoing cross-examination by Attorney-General Tan Sri Tommy Thomas.
The Edge is reporting the proceedings of the SRC trial live.
Users of The Edge Markets app may tap here to access the live report.