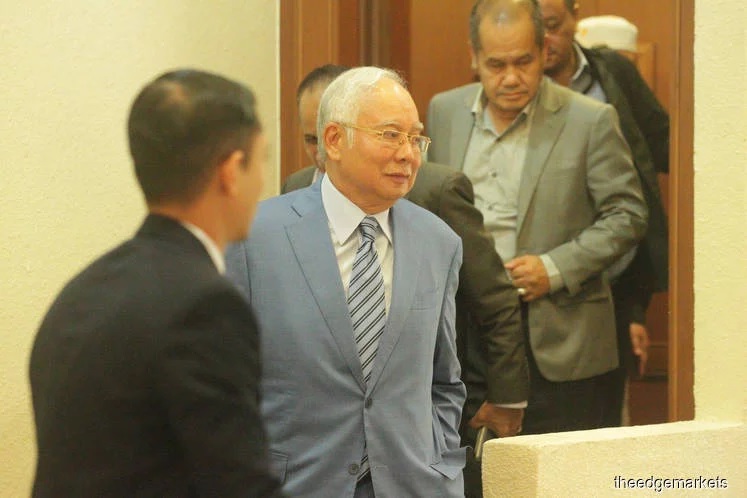 KUALA LUMPUR (Dec 18): The prosecution in Datuk Seri Najib Abdul Razak's SRC International Sdn Bhd trial showed yesterday that the former premier had ordered the appointment of directors to the company even before the board of its parent 1Malaysia Development Bhd (1MDB) had approved the proposal via a directors' circular resolution (DCR).
A directors' circular resolution (DCR) from 1MDB's board dated Oct 11, 2011 that bore the signatures of 1MDB directors Tan Sri Lodin Wok Kamaruddin, Tan Sri Ismee Ismail, Datuk Shahrol Azral Ibrahim Halmi, Tan Sri Ong Gim Huat and Ashvin Jethanand Valiram was attached with a special rights redeemable preference shareholder's resolution in writing dated Sept 15, 2011 that bore Najib's signature.
The Sept 15, 2011 document said the Minister of Finance Inc (MoF Inc) had agreed to the appointment of Datuk Suboh Md Yassin and Nik Faisal Ariff Kamil as directors of SRC, as well as the transfer of RM1.8 billion from the Retirement Fund Inc's (KWAP) first RM2 billion loan to Falcon Private Bank Ltd in Switzerland and Julius Baer in Hong Kong.
For the past few weeks, the Pekan MP had defended himself by saying that whatever decisions with regards from SRC or 1MDB must come from their boards of directors first before it was referred to him.
He had also said that sometimes he was not referred to by the boards, or that he did not know what was going on.
When grilled by Sithambaram, he admitted he did not verify his signature on the document resulting in the transfer of funds.
However, he maintained that the transaction was an operational matter by SRC, it did not come under his purview as a shareholder of MoF Inc, and that MoF Inc was supposed to oversee the company.
"My only position in SRC was to advise on strategic matters only when the company sought my advice," he said.
Sithambaram: If they took out the money, you mean to say it's not under your purview? [Ismee] said that you had given approval for the money to be taken out,"
Najib: No, no I disagree, I didn't approve of it.
However, when asked further by the lawyer appointed prosecutor, the former premier admitted he did not take any steps to verify the document bearing his signature which allows for the money to be transferred out of SRC.
Ismee had testified at the prosecution stage that Najib had, through Nik Faisal, instructed the transfer of RM1.8 billion abroad as investments.
Sithambaram then turned to Suboh's appointment by showing SRC's extraordinary general meeting minutes which states that the company was allowed by 1MDB to appoint Suboh as director of SRC, to which the former premier agreed.
Sithambaram: I'm putting it to you that the shareholder minutes precedes the DCR [directors' circular resolution] on 1MDB and other documents.
Najib: As it stands, correct.
However, the former premier said he is disputing the document dated Sept 15, 2011, which is marked as prosecution evidence 497.
Earlier, it was reported that he disputed signing nine documents, which he claimed could contain his forged signatures, and has called for an expert witness to study the signature.
Najib has claimed trial to seven charges of criminal breach of trust, abuse of power and money laundering of RM42 million from SRC.
If convicted, he is liable to a 20-year jail term and a fine of RM5 million or five times the amount of money laundered, whichever is higher.
The trial continues today.