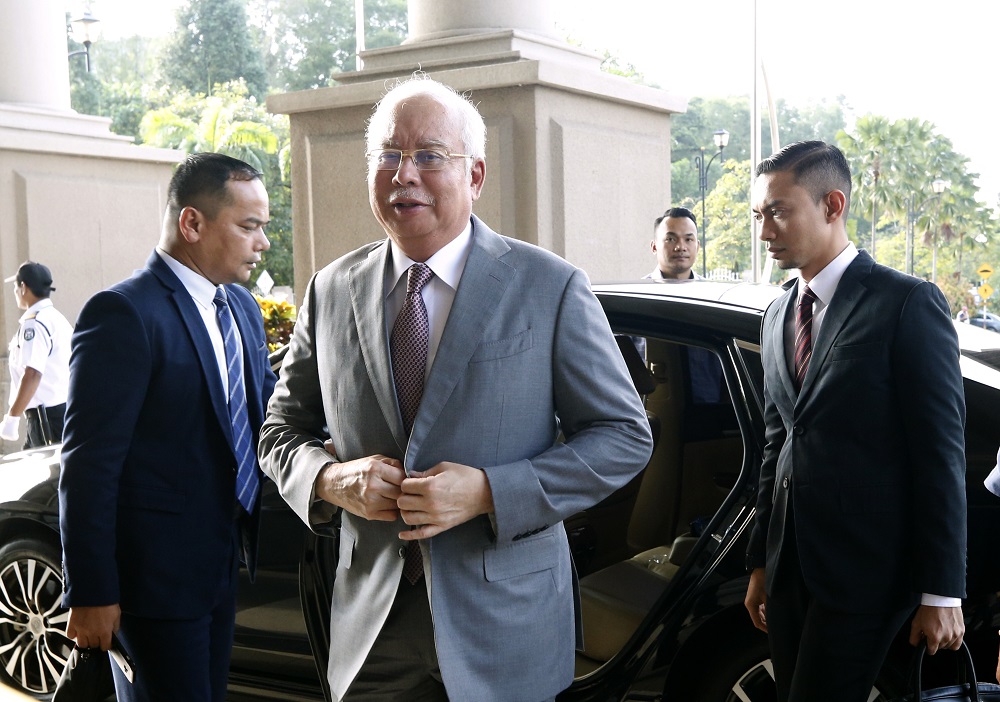 KUALA LUMPUR (Jan 8): The prosecution in the SRC International Sdn Bhd trial asked Datuk Seri Najib Abdul Razak — who was the most powerful man in Malaysia when he allegedly stole RM42 million from the former 1Malaysia Development Bhd's (1MDB) subsidiary — who had dared to forge his signature after the ex-premier repeatedly insisted it could have been falsified.
He contended that his signatures could have been forged on documents that included SRC's minutes of meetings and directors' circular resolutions.
"Datuk Seri, as the prime minister and the finance minister — the most powerful man — involved in the GLC (government-linked company), can you tell the court who would have had the audacity to manipulate and forge your signature?" asked Deputy Public Prosecutor (DPP) Datuk V Sithambaram.
"What kind of question is that?" replied Najib.
"In my position, it's a very fair question. You were the prime minister and finance minister. SRC is a government-linked company under Minister of Finance Inc (MoF Inc) and you keep saying your signature was manipulated and forged. Who would have the audacity to do this? You keep accusing someone!" the DPP said.
"There is [former SRC director Datuk Suboh Md Yassin], he made the same allegation that his signatures were forged," Najib said in response.
"You know that is not the question, Datuk Seri. I am asking you: You keep on saying that the signatures were manipulated. Who would have done it?" asked Sithambaram again.
"I don't know," said the former premier.
Najib could not verify own signature from original document
Najib was earlier shown an original document produced by SRC's former chairman of the board of directors, Tan Sri Ismee Ismail, that contained his instructions to the board about opening accounts at specific banks and transferring a portion of the first RM2 billion loan from the Retirement Fund Inc (KWAP) to BSI Bank in Switzerland which he had signed off.
Najib said he could not verify if the signature on the document was his and asked for a foreign expert witness to authenticate it.
"When shown the original you also cannot verify your own signature in an original document. You do not need an expert to verify if this is your signature or not in an original document," replied Sithambaram.
During his examination-in-chief, the ex-premier had questioned the authenticity of several minutes relating to SRC and its former parent company 1MDB tendered in court as evidence because they were photocopied documents.
When Sithambaram raised his defence statement, which was tendered before the start of the trial — where he did not mention that the documents were forged — Najib replied that he suspected the fraud took place, but had not asserted his suspicion.
The appointed prosecutor then suggested the former premier did not lodge a police report because the documents were genuine and the signature was his, which he denied.
When Najib said the defence did not send the disputed documents to a handwriting expert at the prosecution stage as it took time to find a reputable one, Sithambaram quipped "also one that may give you a favourable report", which prompted laughter in the court room.
The former premier disagreed with the prosecution's suggestion that he would have sent what were "important documents" to the expert for verification if the evidence was true.
The DPP then put it to Najib that his allegation that the signatures were manipulated and forged is self-serving and an afterthought.
That is why when Najib was recording his statement with the Malaysian Anti-Corruption Commission (MACC) that he voluntarily admitted that he knew the documents, its contents and that he had signed the documents, added Sithambaram.
Najib disagreed.
The DPP suggested that is also why Najib did not ask for the original documents when he was shown photocopies by the MACC, as he already knew that he had signed the documents, but Najib did not agree.
Sithambaram also asked him whether he is saying that the board of SRC was acting on forged documents, to which Najib agreed.
Najib consented inclusion of his name in SRC M&A
Sithambaram also probed the former premier on the inclusion of his name in Article 67 and 116 of the Memorandum and Articles of Association (M&A) of SRC.
He questioned Najib whether directors Nik Faisal Ariff Kamil and Vincent Koh needed Najib's approval to name him in the M&A, to which Najib replied that it was "not my idea".
"It was not your idea, but do they need your approval?" asked the DPP.
"Probably, yes," said Najib.
"Can they include your name without your approval? If that is so then every company would put the prime minister's name in their M&A," said Sithambaram.
"No. But it was never my idea," said Najib.
The accused has so far maintained his disagreement to the prosecution's allegations of his involvement in what transpired at SRC.
'Cabinet papers for KWAP loan were not expedited'
Regarding the cabinet papers prepared for the loan from KWAP, he disagreed that the process was expedited, as per ministry of finance official Afidah Azwa Abdul Aziz's testimony.
Afidah previously testified that she prepared the memorandum for the cabinet meeting on Aug 15, 2011, under duress, and completed the memo within a few hours in the presence of Nik Faisal.
"Afidah said in her testimony that she had no time to verify the documents and the background info of SRC. Were you aware of that?" asked Sithambaram.
"No, I disagree. There should be enough information," said Najib.
"Nik Faisal came personally to MoF and gave verbal information which could not be verified for the preparation the cabinet paper," added the DPP.
"I'm not aware," Najib replied.
Najib is battling seven charges involving the misappropriation of RM42 million from SRC. If convicted, he faces a jail term not exceeding 20 years and a fine of not less than five times the amount of gratification or RM10,000, whichever is higher.