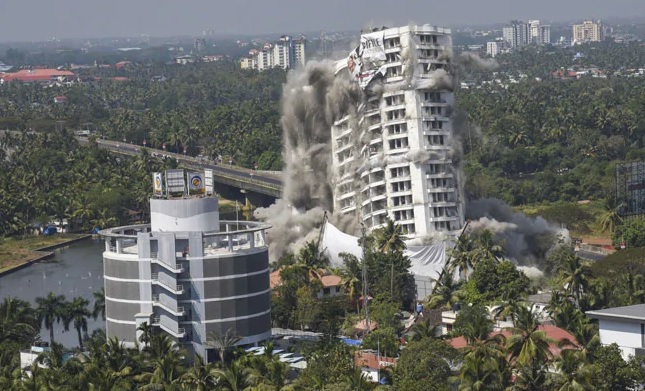 KUALA LUMPUR (Jan 12): It looks like the Indian authorities are super strict when it comes to the violation of building codes. Authorities in the southern state of Kerala have demolished two high-rise apartment developments yesterday, the BBC reported.
The H2O Holy Faith apartments comprising 90 units were the first to be demolished, followwed by the "twin towers" of Alfa Serene.
The broadcaster reported the Kerala Coastal Zone Management Authority (KCZMA) saying that permission for the buildings was given by local officials without its approval.
Video taken from On Demand News
KCZMA added that the location of the apartment developments in the Maradu municipality were in "a critically vulnerable area where no new construction was allowed".
In May, the Supreme Court of India ruled in favour of KCZMA and ordered the demolition of the buildings.
It did not matter that the apartments have been purchased and handed over to the buyers.
The AFP reported Shamshudeen Karunagapally who bought a flat for US$145,000 saying that "we are suffering without any fault". Some had used their life savings to purchase the properties.
It was reported that the affected residents "have been given interim partial compensation" by the Kerala government "while the builders are in the process of providing a refund".
Some residents refused to leave but were forced to do so when officials removed water and electricity supplies to the buildings.
The buildings were destroyed using the "controlled implosion" method.
Two more apartment developments were set to be razed today.