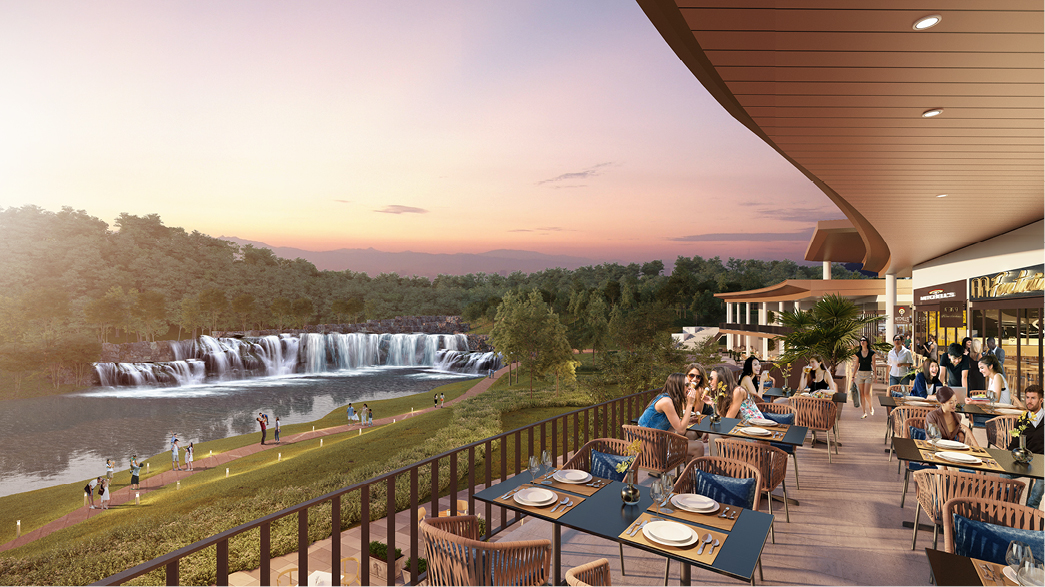 The 810-acre township of Gamuda Gardens in Selangor welcomes an exciting new year with the completion of an enchanting lakeside retail village called the Waterfront Village in January.
It will serve as the social hub for residents of the mindfully-planned township located in North Sungai Buloh, as well as for the population in the surrounding vicinity of KL North in general.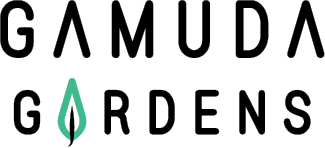 Indeed, the opening of the Waterfront Village will add an abundance of conveniences for residents of Gamuda Gardens including a collection of food and beverage outlets, retail brands, recreational and wellness elements, a market hall, a clubhouse and others.
Waterfront Village is named after the lakes and waterfalls fronting the building. Sitting on a 100,000 sq ft site, it has a net lettable area of about 27,700 sq ft of which around 40% has been taken up.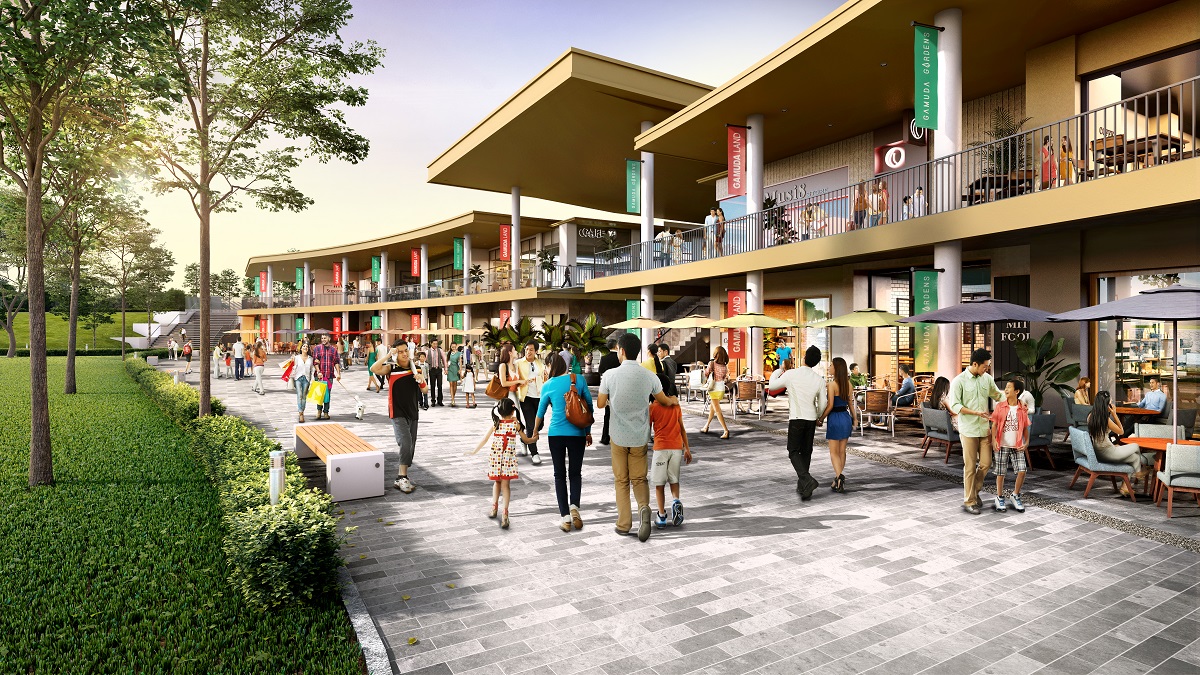 Confirmed tenants to date include KFC, Tealive, Freshii Neighbourhood Market, Mr DIY, GMT money changer and Ecocana Sports. Freshii Neighbourhood Market sells a variety of local and imported food, from fresh vegetables and fruits to quality frozen seafood and meats from the US, Australia and Japan. A line-up of organic products are also available.
The retail village is set to receive more tenants after March 2020, says developer Gamuda Gardens general manager Chu Wai Lune.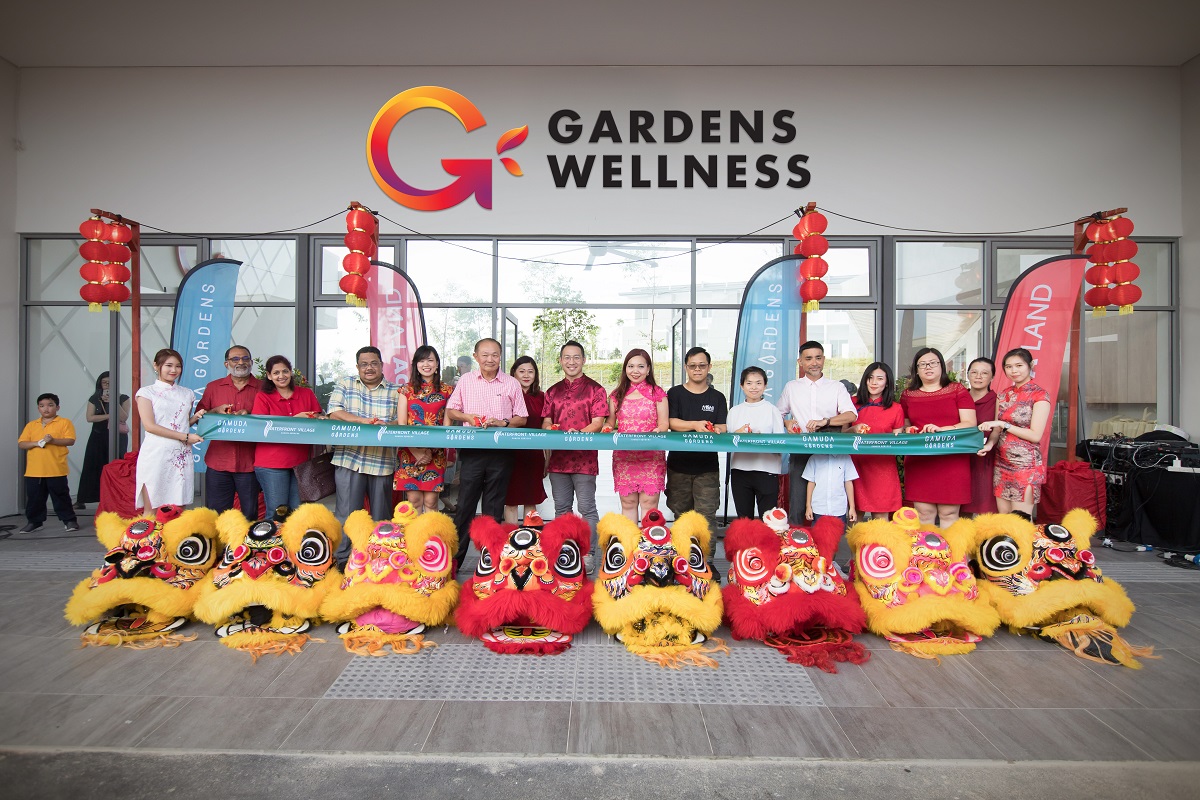 Unique design
With the 50-acre pet-friendly Central Park next to it, Waterfront Village's design traces the shape of the park's lakeside.
The seamless layout connects the retail village with the outdoor natural setting which encourages people to enjoy the outdoors and provides a relaxing vibe. For instance, nothing separates the lower ground floor of the retail village from the green lawn beside the lake, while the ground floor features a huge balcony that allows the public to enjoy scenic views of the green surroundings, especially of the two waterfalls and the five cascading lakes.
This means that besides visiting shops inside the building, one could also take a leisurely stroll or ride a bicycle along the lakeside, eat, read, relax or just wander around the beautiful and refreshing environs.
In the evening, a fountain in the middle of the lake will be lighted up to throw an impressive visual feast, while the Gardens of Lights will be lit up with interactive landscape lighting and fun LED stepping tiles.
"Gamuda Land has made a conscious effort to incorporate placemaking elements into Gamuda Gardens' commercial components," Chu says.
"Envisioned as a social hub, the retail village provides the ambience and the space for activities to take place, such as events, gatherings, casual business meetings, having coffee and other activities," he adds.
The Waterfront Village was officially completed on January 11. Along with the ribbon-cutting ceremony, a weekend bazaar with an Old Shanghai theme also kicked off in conjunction with the Chinese New Year festive season.
Interesting activities at the street bazaar will include acrobatic lion dance, mask-changing performance (bian lian), gold bar challenge, God of Prosperity walkabout, Chinese feather jianzi (shuttlecock) game and delicious authentic street food.
More excitement in store
Gamuda Gardens was first launched in 2017 and is steadily drawing more people to the area with its exciting new attractions.
For instance, already up and running is the Gardens Arena, a FIFA-sized football pitch that was opened in December 2019, allowing Gamuda Gardens to
host social leagues and tournaments.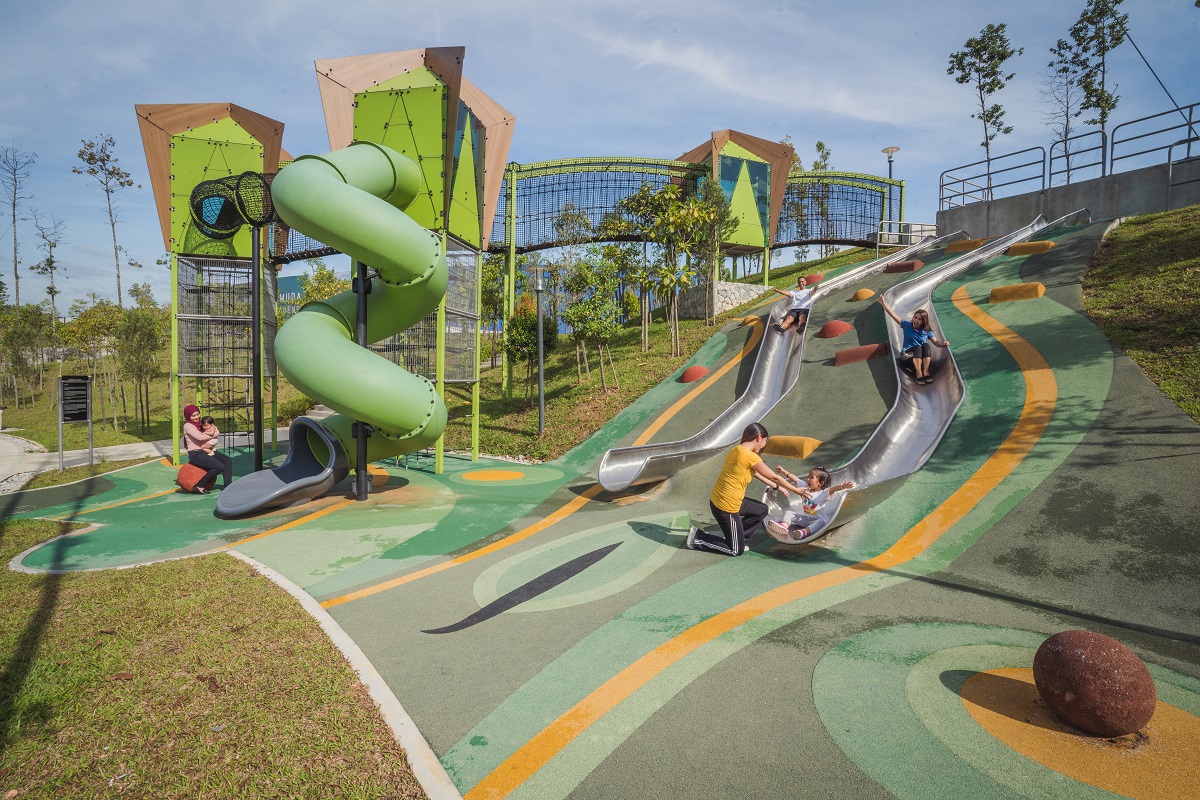 A water-play area called the Big Bucket Splash covering an area of around 1,180 sq m will be set up at the Waterfront Village while a lakeside wellness centre called Gardens Wellness will also sit beside the retail village to offer facilities such as a gym, eight badminton courts, a swimming pool, and a dance studio.
With its spectacular waterfall and lake setting, the Central Park is also suitable for wedding shoots, while events and parties can be held at Le Gardens Pavilion, an exquisitely crafted event space operated by Weddings by Emma.
Combining modern and country living
At Gamuda Gardens, everything is mindfully planned and thoughtfully brought together.
Besides the exciting retail, entertainment and leisure components, there will also be amenities such as educational institutions including Beaconhouse preschool and international schools.
So far, Gamuda Gardens has launched landed homes called Aida, Agalia, Lavena and Nara; high-rise homes Gaia Residences; Rumah Selangorku affordable housing Danau Ria; cluster semidees Jovita as well as superlink homes Joya. Gaia Residences and Joya are participating in Maybank Islamic's HouzKEY financial scheme for easy home ownership. Future launches will include semidees and bungalows.
The township has easy access to the North-South Expressway leading to Kuala Lumpur city centre, Petaling Jaya, Subang Jaya and Shah Alam; the Guthrie Corridor Expressway leading to Shah Alam's Bukit Jelutong; as well as LATAR Expressway that connects to Kuala Selangor and Selayang,
Selangor.

All are welcome to visit the
Old Shanghai Street Bazaar
at Gamuda Gardens' Waterfront
Village on Jan 18 & 19 and Feb 8 & 9 from 3pm to 9pm.
For more information, please visit gamudaland.com.my/gamudagardens.
Tel: +603-2727 7438