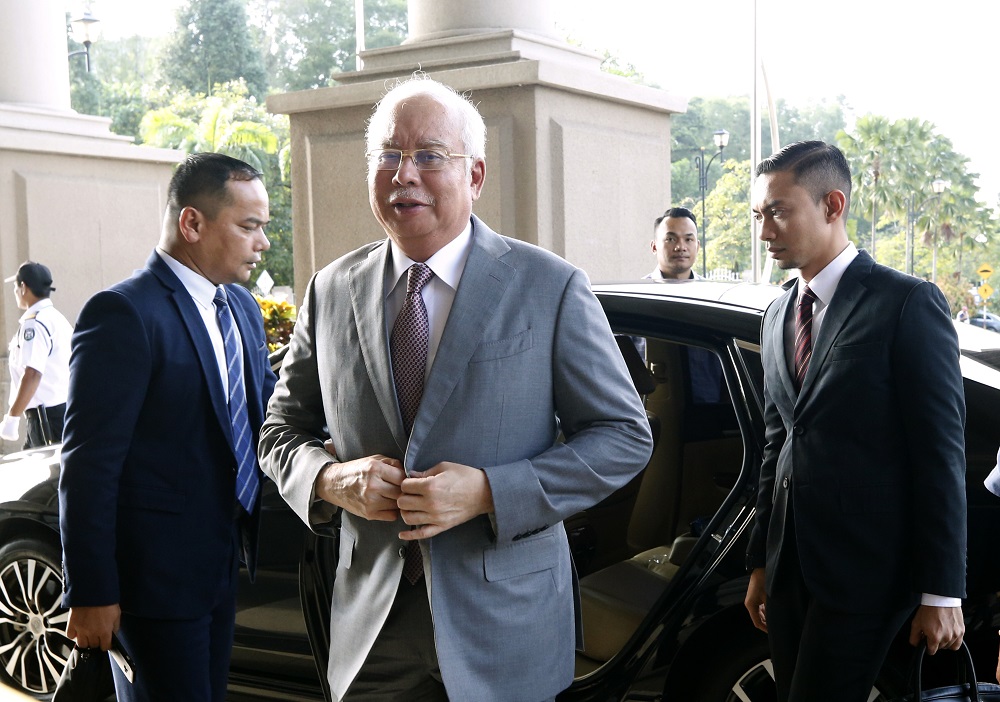 KUALA LUMPUR (Jan 22): Datuk Seri Najib Abdul Razak agreed that he had asked former Treasury secretary-general Tan Sri Dr Wan Abdul Aziz Wan Abdullah to expedite the first RM2 billion loan that Retirement Fund Inc (KWAP) granted to SRC International Sdn Bhd in 2011.
Responding to questions from ad hoc prosecutor Datuk V Sithambaram, Najib testified today that he contacted Wan Abdul Aziz to tell him to issue a letter requesting KWAP to disburse the loan to the former unit of 1Malaysia Development Bhd (1MDB) even before the cabinet had approved the government guarantee for the RM2 billion loan.
"I agree that I did contact Wan Abdul Aziz, but this doesn't illustrate my personal interest in the company," Najib replied when Sithambaram asked if Najib had used his position as prime minister and finance minister at that time to exert his influence on Wan Abdul Aziz to expedite the loan.
Najib pinned the blame on the pension fund, saying that it was for KWAP's investment panel to decide and that it was not his decision.
"I never gave direct instruction, it was for KWAP to look into," he told the court.
Sithambaram then suggested that Wan Abdul Aziz was bound to consider Najib's request due to the positions he held in government.
"I cannot say one way or another. It's up to KWAP to release the funds," Najib said.
Sithambaram then went on the offensive, accusing Najib of political feudalism because of the request for disbursement of the loan even before the government guarantee was secured.
"No, No I disagree (that this was political feudalism) because there were many times that KWAP had disagreed with me," said Najib.
Sithambaram: It's quite feudal to listen to the boss.
Najib: When I give instructions, they can disagree with me.
Sithambaram then made a subtle dig at Najib about those who didn't agree with him: "We all know what happened to those who disagreed with you."
Wan Abdul Aziz, who is a witness in the trial, had previously testified that he had been directly instructed by Najib to expedite the approval process for a RM2 billion loan from KWAP to SRC.
He had served as Treasury secretary-general from 2007 to 2012 and was also chairman of KWAP during the same period. Wan Abdul Aziz had testified it was unusual for KWAP to disburse loans before they are approved.
SRC had initially requested a RM3.95 billion loan from KWAP in 2011. KWAP decided to only approve RM1 billion, citing the original amount was an 'overconcentration' of money to just one company in one industry.
Wan Abdul Aziz had informed Najib of KWAP's decision to grant a RM1 billion loan to SRC. However, he was subsequently called into a private meeting with the former prime minister, where the latter stated specifically that RM2 billion was sufficient, instead of RM3.95 billion.
Najib also told the witness to expedite the loan approval process to allow for early disbursement, which would then be followed by a government guarantee.
SRC subsequently made an application for an additional RM2 billion loan in 2012.
Today is the 74th day of Najib's SRC trial at the KL Court. The former prime minister faces multiple counts of criminal breach of trust, money laundering and abuse of power involving a total of RM42 million SRC funds.
He is alleged to have received RM27 million and RM5 million on Dec 26, 2014, and another RM10 million on Feb 10, 2015.
The Edge is reporting the proceedings of the SRC trial live.
Users of The Edge Markets app may tap here to access the live report.