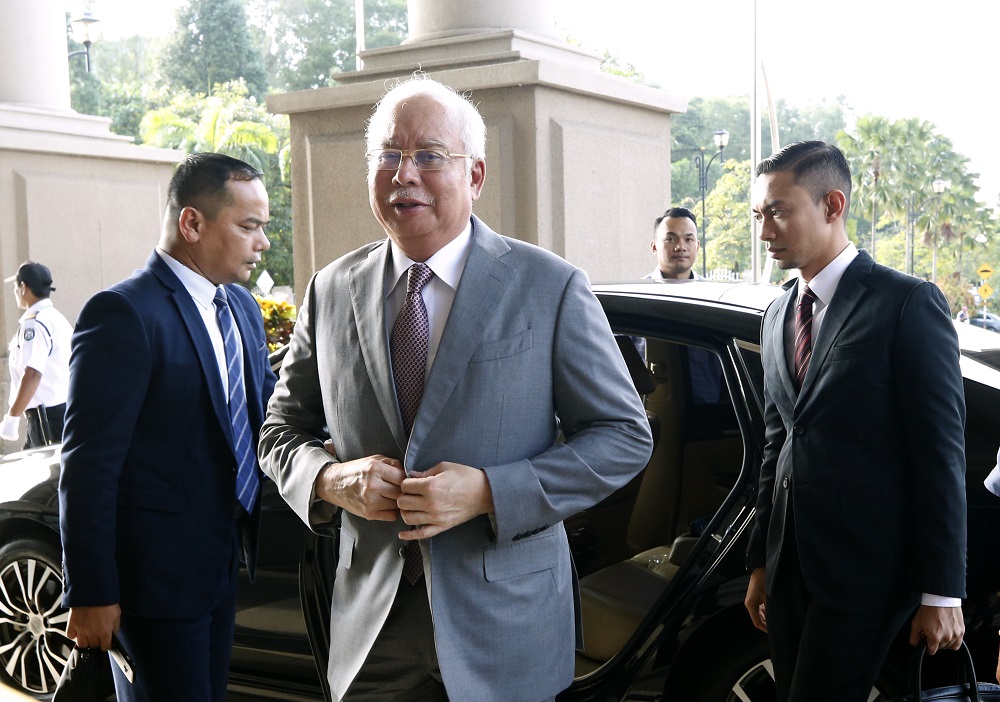 KUALA LUMPUR (Feb 4): Former prime minister Datuk Seri Najib Abdul Razak told the High Court here yesterday that it would have been more prudent for the then Attorney-General (AG) to retrieve RM3.6 billion of SRC International Sdn Bhd's funds which were frozen at a bank in Switzerland, instead of former second finance minister Datuk Seri Ahmad Husni Hanadzlah.
Speaking at the SRC trial yesterday, where he is under re-examination by his defence team, Najib was asked by his lawyer Farhan Read about not allowing Husni to lead a delegation to retrieve the frozen funds.
He had reiterated, as he had done before, that Husni's attempt to go to Switzerland was thwarted because he did not make a formal request with the cabinet.
"These foreign trips require cabinet approval as it involves financial expenditure by the government. It may have been more appropriate for the AG to visit instead of Husni," he said.
"I believe that input from the AG (then Apandi Ali), who was in touch with his counterpart (in Switzerland), is important for cabinet to decide whether Husni can go. That is what I mean by a proper plan," said Najib.
Najib: The paper submitted to cabinet will solicit the views of maybe the AG in this case, and one or two other ministries. Like the Ministry of Foreign Affairs and the AG, maybe the Ministry of International Trade and Industry.
Farhan: What is the difference between an official visit by a minister and by the management?
Najib: An official visit means that it would have to be endorsed by the other government. In other words, it's usually by invitation or the minister writes to the foreign government to inform [them of] his intention of visiting, with the foreign government acknowledging the visit.
Farhan: Can you explain why these formalities are in place?
Najib: It is to avoid any diplomatic sensitivities. For example, while a minister may be concerned with his own portfolio, we may have certain problems in other areas. The cabinet has to decide whether it is appropriate.
Previously, Najib admitted that he too did not have a plan to retrieve the funds despite not allowing Husni to do so.
Najib had said he had left the retrieval of the funds to the board of SRC despite being the Finance Minister and the Prime Minister at that time.
Husni had previously testified as a prosecution witness in the case that he had wanted to meet the Swiss authorities to help unfreeze the money but was advised against it by Najib.
"I feel it was not money laundering, and was prepared to convince the Swiss authorities that it is KWAP [Retirement Fund Inc] money. However, Najib did not agree to this," Husni said, adding that Najib did not give any reasons.
Najib faces multiple counts of criminal breach of trust, money laundering and abuse of power, involving a total of RM42 million SRC funds.
He is alleged to have received RM27 million and RM5 million on Dec 26, 2014, and another RM10 million on Feb 10, 2015.
The Edge is reporting the proceedings of the SRC trial live.
Users of The Edge Markets app may tap here to access the live report.