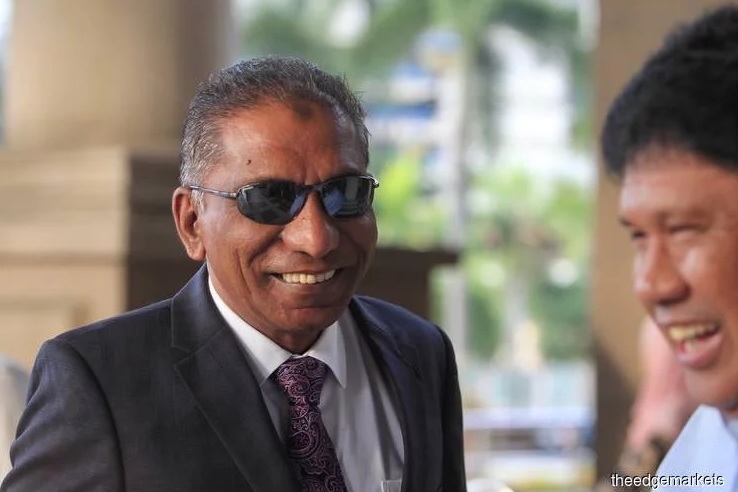 KUALA LUMPUR (Feb 5): Former Treasury Secretary-General Tan Sri Mohd Irwan Serigar Abdullah (pictured), the third defence witness in the SRC International Sdn Bhd trial, said a government guarantee (GG) cannot be "simply" granted just because national interest is involved.
During examination-in-chief by lawyer Farhan Read, Mohd Irwan, 62, was asked to explain the process involved in the application and approval of GGs.
He cited one occasion when Khazanah Nasional Bhd sought to raise bonds.
The sovereign fund submitted a request, which is then analysed by the Treasury Department of the Ministry of Finance and subsequently passed on to the finance minister, he said.
He added that any guarantee application will require the approval of the Cabinet, before the Finance Minister is able to issue a GG order to the relevant authority or entity.
Farhan: Based on your experience in the Treasury, was there a requirement, during your time, for the matter to be escalated to the Cabinet?
Mohd Irwan: I don't remember the specific provision [in the Act] but the practice was that it must go through Cabinet before a GG was issued.
He added that the track record of the company will be assessed and in some cases, the government will take into account the projects that the entity intends to carry out.
Farhan: So the government needs to establish the company's ability to service its debt first.
Mohd Irwan: For example, when [national public transport company Prasarana Malaysia Bhd] wanted to go to the market to raise funds for a project, we looked at the railway project and looked [at] whether it can sustain itself to service its interest and loan payments and so on.
Farhan then asked the witness if the consideration for granting a GG would be different in the event that the project is of key national interest and that companies that are newly established may also be granted a guarantee.
The witness reiterated that any entity that is seeking a GG must be able to demonstrate that they can service their debt payments.
Mohd Irwan: It depends on the request and justifications given by the entity. You cannot simply say "yes, it involves national interest" and grant a GG.
The lawyer then restructured his question and again asked whether a newly established company is precluded from getting a guarantee.
Mohd Irwan: I never came across this. But in this instance, if the company has a project that has been approved by the government, which can generate income to service its loan and principal, the government may consider. It would be a very exceptional case and they must be very sure income can be generated.
Farhan then brought up Petroliam Nasional Bhd (Petronas), which he said had been the recipient of a GG when it was starting out, and asked if the witness was familiar with how the national oil company started out.
Mohd Irwan previously served as a director on the board of Petronas.
Mohd Irwan: When I was in Petronas, they had a huge amount of money reserved. They didn't need any GG. In the early days of Petronas, I don't know. That was in the 1970s, I wouldn't know.
Farhan: What about projects such as [Minister of Finance Inc-owned concessionaire of the second Penang bridge] Jambatan Kedua Bhd and the Bakun dam?
Mohd Irwan: [Jambatan Kedua's] project collects toll charges which can generate income. Bakun is a good project because it generates cheap electricity which can be sold at a slightly higher price. GGs were given for these projects because they proved that they can generate income.
In general, the witness said the process, from the application to the granting of a GG, would take one to three months, depending on the urgency.
Mohd Irwan said he is not aware of any applications that were approved in less than a month, adding that it would take a month on average.
Najib is fighting charges of abuse of power, criminal breach of trust and money laundering in relation to RM42 million from SRC.
He is alleged to have received RM27 million and RM5 million on Dec 26, 2014, and another RM10 million on Feb 10, 2015.